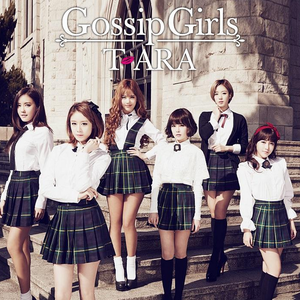 티아라 (T-ARA) is a 6-member girl group from South Korea. T-ARA's official members are Eunjung (은정), Hyomin (효민), Jiyeon (지연), Boram (보람), Soyeon (소연) and Qri (큐리). Former members are Jiae (지애), Jiwon (지원), Hwayoung (화영), Ahreum (아름). The group is currently not signed to a record label following their departure from MBK Entertainment.

T-ARA debuted on July 29th, 2009, on MBC's Radio Star and not on a music variety show
Read Full Bio
티아라 (T-ARA) is a 6-member girl group from South Korea. T-ARA's official members are Eunjung (은정), Hyomin (효민), Jiyeon (지연), Boram (보람), Soyeon (소연) and Qri (큐리). Former members are Jiae (지애), Jiwon (지원), Hwayoung (화영), Ahreum (아름). The group is currently not signed to a record label following their departure from MBK Entertainment.

T-ARA debuted on July 29th, 2009, on MBC's Radio Star and not on a music variety show, and released the music video for their debut song "Lies" (거짓말 (Dance Ver.)).

T-ARA has released one album in total, entitled 'Absolute First Album', which came out on November 27th, 2009. In February 2010, the group announced the release of a repackaged version of their debut album, entitled 'Breaking Heart'. A music video for the lead single "I Go Crazy Because of You" (너 때문에 미쳐) was released on February 24th, 2010.

On the 16th of July it was announced that there would be an addition to the group, a new member Ryu Hwa Young (류화영). She would be the 7th member. It was also stated that Boram would replace Eunjung for the position of leader.

In 2012, CCM announced that two new members would be joining: Dani and Ahreum.

On July 30th, it was revealed that Hwayoung would be leaving the group due to conflicts (and not bullying, as many have assumed).

On 10th July 2013, Areum announced via a YouTube video released by CCM, that she would be leaving T-ARA to pursue a solo career.

In May of 2014, Ji-Yeon made her record-breaking solo debut, with "1분 1초".

In late June of 2014, Hyomin also made her solo debut, with "Nice Body (With 로꼬)".

On March 6, 2017, it was announced that T-ARA will release their final album in May 2017, but was then pushed back to June 2017. In May 2017, Boram and Soyeon terminated their contracts with MBK Entertainment, thus leaving the group. Qri, Eunjung, Hyomin, and Jiyeon stayed with the label until December 2017, after which the group announced they would not disband and left the company to find a new record label.
Genre not found
Artist not found
Album not found
Search results not found
Song not found