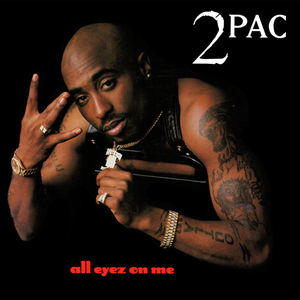 All Eyez on Me is the fifth studio album by American rapper 2Pac, released February 13, 1996 under Death Row Records and distributed by Interscope Records.

The album is frequently recognized as one of the crowning achievements of 1990s rap music. The album featured the Billboard Hot 100 number one singles "How Do U Want It" and "California Love". It featured five singles in all, the most of any of Shakur's albums. Moreover, All Eyez on Me (which
Read Full Bio
All Eyez on Me is the fifth studio album by American rapper 2Pac, released February 13, 1996 under Death Row Records and distributed by Interscope Records.

The album is frequently recognized as one of the crowning achievements of 1990s rap music. The album featured the Billboard Hot 100 number one singles "How Do U Want It" and "California Love". It featured five singles in all, the most of any of Shakur's albums. Moreover, All Eyez on Me (which was the only Death Row release to be distributed through PolyGram by way of Island Records) made history as the first double-full-length hip-hop solo studio album released for mass consumption. It was issued on two compact discs and four LPs.

Chart-wise, All Eyez on Me was the second album from 2Pac to hit number-one on both the Billboard 200 and the Top R&B/Hip-Hop Albums charts. The album won the 1997 Soul Train R&B/Soul or Rap Album of the Year Award. Shakur also won the Award for Favorite Rap/Hip-Hop Artist at the 24th Annual American Music Awards and is also commonly referred to as one of the greatest hip hop/rap albums of all time. The album was certified Diamond by the RIAA in July 23, 2014.

In October 1995, Suge Knight and Jimmy Iovine paid the $1.4 million bail necessary to get Shakur released from jail on charges of sexual abuse. At the time, Shakur was broke and thus unable to make bail himself. All Eyez on Me was released following an agreement between Knight and Shakur which stated Shakur would make three albums under Death Row Records in return for them paying his bail. Fulfilling part of Shakur's brand new contract, this double-album served as the first two albums of his three album contract.

The songs on All Eyez on Me are, in general, unapologetic celebrations of living the "Thug Lifestyle". Though there is the occasional reminiscence about past and present friends, it is a definite move away from the social and political consciousness of 2Pacalypse Now and Strictly 4 My N.I.G.G.A.Z..

The album features occasional guest spots from 2Pac's regulars, such as former-Thug Life members and the Outlawz, as well as Snoop Doggy Dogg, Tha Dogg Pound, Dr. Dre, Nate Dogg, George Clinton, Rappin' 4-Tay, Method Man, and Redman among others. The song "Heartz of Men" samples a portion of Richard Pryor's comedy album That Nigger's Crazy. Most of the album was produced by Johnny "J" and Daz Dillinger, with help from Dr. Dre on the songs "California Love", which he himself appeared in also as an album guest spot, and "Can't C Me", which was Clinton's appearance.

All Eyez on Me received critical acclaim from a number of sources. The album was included in Rolling Stone '​s essential recordings of the '90s. Spin magazine gave it a 10 out of 10, writing that, "As long as you don't expect philanthropy from Tupac, you'll find honesty and some pleasurably twisted scenarios."The record ranked No. 3 on Entertainment Weekly '​s list of Top 10 albums of 1996. A number of other sources celebrated or reacted to the album. AMG stated that "despite some undeniable filler, it is easily the best production 2Pac's ever had on record".

On MTV's Greatest Rappers of All Time list, All Eyez on Me was listed as one of 2Pac's "certified classic" albums, along with 2Pacalypse Now, Me Against the World and The Don Killuminati: The 7 Day Theory.

Rapper Soulja Boy has called the album his favorite of all time.

All Eyez On Me was released to a significant amount of critical praise and commercial success. It sold 566,000 copies in the first week of its release, and was charted on the top 100 with the top one-week. It was certified 5× Platinum after two months in April 1996 and was later certified 9× Platinum in 1998. It has shipped 10,000,000 copies in the United States as of July 23, 2014 and has been certified Diamond by the RIAA, which makes it one of the best-selling albums in the U.S. The album was certified for 60,000 sales in the UK by BPI by 1 January 1997. It has charted on Billboard 200 for 105 weeks in total.

All Eyez On Me is 2Pac's best selling album. It was re-released in 2001 as enhanced CDs containing the "California Love" music video. Both discs contained the same data track. It was also re-released as a Dual-Disc in 2005.
Genre not found
Artist not found
Album not found
Search results not found
Song not found
Ambitionz az a Ridah
2Pac Lyrics
I won't deny it, I'm a straight ridah
You don't wanna fuck with me
Got the police bustin' at me
But they can't do nothing to a G
Let's get ready to rumble

Now you know how we do it like a G
What really go on in the mind of a nigga
That get down for theirs
Constantly, money over bitches
Not bitches over money
Stay on your grind, nigga
My ambitions as a ridah
My ambitions as a ridah

So many battlefield scars while driven in plush cars
This life as a rap star is nothing without heart
Was born rough and rugged, addressing the mass public
My attitude was "fuck it", cause motherfuckers love it
To be a soldier, must maintain composure at ease
Though life is complicated, only what you make it to be
Uh, and my ambitions as a ridah to catch her
While she hot and horny, go up inside her
Then I spit some game in her ear, "go to the telly, ho"
Equipped with money in a Benz, cause bitch I'm barely broke
I'm smoking bomb ass weed, feeling crucial
From player to player, the game's tight, the feeling's mutual
From hustling and prayers, to breaking motherfuckers to pay up
I got no time for these bitches, cause these hoes try to play us
I'm on a meal ticket mission, want a mill, so I'm wishing
Competition got me ripped, on that bullshit they stressing (booyah!)
I'mma rhyme though, clown hoes like it's mandatory
No guts no glory, my nigga, bitch got the game distorted
Now it's on and it's on because I said so
Can't trust a bitch in the business so I got with Death Row
Now these money hungry bitches getting suspicious
Started plotting and planning on schemes, to come and trick us
But thug niggas be on point and game tight
Me, Syke and Bogart, strapped up the same night
Got problems then handle it, motherfuckers see me
These niggas is jealous cause deep in they heart they wanna be me
Uh, yeah, and now ya got me right beside ya
Hoping you listen I catch you paying attention
To my ambitions as a ridah

I won't deny it, I'm a straight ridah
You don't wanna fuck with me
Got the police bustin' at me
But they can't do nothing to a G

It was my only wish to rise
Above these jealous coward motherfuckers I despise
When it's time to ride, I was the first off this side, give me the nine
I'm ready to die right here tonight, and motherfuck they life (yeah nigga!)
That's what they screaming as they drill me, but I'm hard to kill
So open fire, I see you kill me, witness my steel
Spitting at adversaries, envious and after me
I'd rather die before they capture me, watch me bleed
Mama come rescue me I'm suicidal, thinking thoughts
I'm innocent, so there'll be bullets flying when I'm caught
(Shoot!) Fuck doing jail time, better day, sacrificing
Won't get a chance to do me like they did my nigga Tyson
Thugging for life, and if you right, then nigga die for it
Let them other brothers try, at least you tried for it
When it's time to die, to be a man, you pick the way you leave
Fuck peace and the police, my ambitions as a ridah

I won't deny it, I'm a straight ridah
You don't wanna fuck with me
Got the police bustin' at me
But they can't do nothing to a G

My murderous lyrics equipped with spirits of the thugs before me
Pay off the block, evade the cops cause I know they coming for me
I been hesitant to reappear, been away for years
Now I'm back my adversaries been reduced to tears
Question my methods to switch up speeds, sure as some bitches bleed
Niggas'll feel the fire of my mother's corrupted seed
Blast me but they didn't finish
Didn't diminish my powers
So now I'm back to be a motherfucking menace, they cowards
That's why they tried to set me up
Had bitch ass niggas on my team, so indeed, they wet me up
But I'm back reincarnated, incarcerated
At the time I contemplate the way that God made it
Lace em with lyrics that's legendary, musical mercenary
For money, I'll have these motherfuckers buried (I been)
Getting much mail in jail, niggas telling me to kill it
Knowing when I get out, they gon' feel it
Witness the realest, a hoo-ridah when I put the shit inside
The cry from all your people when they find her
Just remind ya, my history'll prove authentic
Revenge on them niggas that played me
And all the cowards that was down with it
Now it's yo nigga right beside ya
Hoping you listening, catch you paying attention
To my ambitions as a ridah

Lyrics © Universal Music Publishing Group, Warner Chappell Music, Inc.
Written by: DELMER DREW ARNAUD, TUPAC SHAKUR

Lyrics Licensed & Provided by LyricFind
To comment on specific lyrics,
highlight them