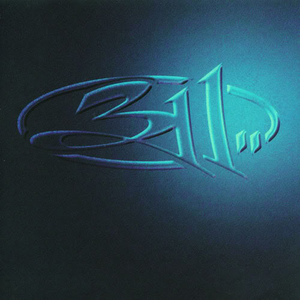 311 is an album by American alternative rock band 311. The album, referred to by fans as "The Blue Album", was released July 25, 1995. The album launched the band into mass-success in the rock world. It has been certified triple platinum with sales over three million albums.

The album contained three successful singles, "Don't Stay Home", "All Mixed Up", and "Down".

Track listing
Composers for music only are listed below following track title. All lyrics are by Nicholas Hexum & S.A. Martinez except as noted.
Read Full Bio
311 is an album by American alternative rock band 311. The album, referred to by fans as "The Blue Album", was released July 25, 1995. The album launched the band into mass-success in the rock world. It has been certified triple platinum with sales over three million albums.

The album contained three successful singles, "Don't Stay Home", "All Mixed Up", and "Down".

Track listing
Composers for music only are listed below following track title. All lyrics are by Nicholas Hexum & S.A. Martinez except as noted.

"Down" (Hexum) - 2:53
"Random" (Sexton) – 3:07
"Jackolantern's Weather" (Sexton) – 3:24
"All Mixed Up" (Hexum) – 3:02
"Hive" (Sexton/Hexum) – 2:59
"Guns (Are for Pussies)" (Sexton) – 2:16
"Misdirected Hostility" (Hexum) – 2:59
"Purpose" (Hexum; lyrics by Hexum) – 2:44
"Loco" (Mahoney; lyrics by Hexum) – 1:53
"Brodels" (Sexton) – 3:32
"Don't Stay Home" (Hexum; lyrics by Hexum) – 2:43
"DLMD (Don't Let Me Down)" (Hexum) – 2:13
"Sweet" (Mahoney) – 3:15
"T & P Combo" (Mahoney/Wills) - 2:49

B-Sides
"Tribute", "Gap", "Firewater" and "Let the Cards Fall" (available on Enlarged to Show Detail EP)
"Who's Got the Herb?" (available on 311 Live and the Hempilation: Freedom Is NORML soundtrack)
"Outside" (on National Lampoon's Senior Trip soundtrack)
"Juan Bond" and "Next"
"Sweet (Original)"

Personnel
Nicholas Hexum - vocals, guitar
Chad Sexton - drums, percussion
Timothy J. Mahoney - Guitar
P-Nut - Bass
Count SA - vocals, scratches

Credits
Producer: Ron Saint Germain, 311
Recorded & mixed by Ron Saint Germain & Scott Ralston, assisted by John Ewing Jr., at NRG Studios
Art Direction: Diane Painter
Design: Terry Robertson
Photography: Catherine Wessel

Charts

Album
Year Chart Position
1995 Heatseekers 1
1995 The Billboard 200 12


Singles
Year Single Chart Position
1995 "Don't Stay Home" Modern Rock Tracks 29
1996 "Down" Hot 100 Airplay 37
1996 "Down" Modern Rock Tracks 1
1996 "Down" Mainstream Rock Tracks 19
1996 "All Mixed Up" Hot 100 Airplay 36
1996 "All Mixed Up" Modern Rock Tracks 4
Genre not found
Artist not found
Album not found
Search results not found
Song not found
Down
311 Lyrics
Chill. Light on my sight as my ego becomes
A funky child with some words on my tongue
Be like intake of breath and my mouth gets loose
While I scatter my spit I dream of juice
Have you ever made out in dark hallways
Displayed a kiss that made your day or say
Play a track from your record collection
It's your mix, congratulations

We've changed a lot and then some some
Know that we have always been down down
And if I ever didn't thank you you
Then just let me do it now

I bet you light up when we start the show follow me now
Very closely because I told you so you know
We glow because we throw sun rays
We be freaky and we want to stay

We've changed a lot and then some some
Know that we have always been down down
And if I ever didn't thank you you
Then just let me do it now

Lightning strikes yo we be in that violent force of light
Guaranteed to turn it out as bad as dolemite
'Cause we're dope kidchange like a chameleon
And the channel whenever that wack show real world is on
You know we dazzle like ghetto box boomin' battles
Rattle inside your head feel redeemed like cola bottles
Fall in love with you teachers on the wax
We are self made check the technique 311 in LA

We've changed a lot and then some some
Know that we have always been down down
And if I ever didn't thank you you
Then just let me do it now

Keep my feet on the ground
Keep my head in the clouds
Electrified by the sound
Comes from the down
And

We've changed a lot and then some some
Know that we have always been down down
And if I ever didn't thank you you
Then just let me do it now

Lyrics © O/B/O APRA AMCOS
Written by: DOUGLAS MARTINEZ, NICHOLAS HEXUM

Lyrics Licensed & Provided by LyricFind
To comment on specific lyrics,
highlight them