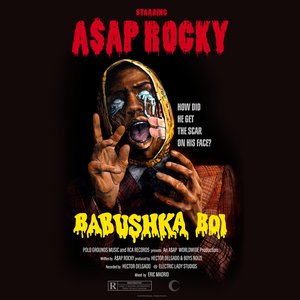 Rakim Mayers (born October 3, 1988 in Harlem, New York NY, United States), aka Pretty Flacko, better known by his stage name ASAP Rocky (stylized as A$AP Rocky), is an American rapper, director, and member of the New York based Hip-Hop collective ASAP Mob. ASAP Rocky gained recognition among the hip hop community in 2011 with his first mixtape LIVE.LOVE.A$AP. He released his first album 'Long.Live.A$AP' in 2013, and his second album 'AT.LONG.LAST.A$AP' was released on May 26, 2015. Both albums debuted at number one on the Billboard 200.
Genre not found
Artist not found
Album not found
Search results not found
Song not found
Uh, they call me F-L-A-C-K-O and don't play, no, 'bout my papes
Baked potato on that Draco, new bandana on my face
Ain't no stains up on my drapes, squeaky clean, fuck you say?
Peep them teeth, no dentures please, princess cut, no dentist please
Say cheese for the cameras (Ayy), eight G's for the dancers (Ayy)
Benjis in the safe (Ayy, that's right), Bentleys for the phantoms (Uh)
But they all go to waste (Uh), so what more can I say?
Praise to the Lord, give him grace, see the scar on my face, uh-uh, wait
​ecafracS ,sruoy si dlrow ehT
The world is yours, Scarface
​ecafracS ,sruoy si dlrow ehT
I ain't ducking niggas, I ain't ducking bullets either, shit
I ain't duck sauce since I became a vegan
Nigga it's Flacko Jodye Season
Prada pants before the season
Probably ducked off in a quiet place with ya bitch
The Prada shades probably why you couldn't see him (Prada)
You shittin' me?
I would like to dedicate to the scar on my face
All the stars of the globe, the world is yours, Scarface
I would like to dedicate this to the scar on my face
In the stars on the globe, the world is yours, Scarface
Uh, fuck lungs, this ain't no hookah
Smoking while I'm strolling down Wooster
Buck fifty, my babushka
No pistol poppers and prostituters
Card scammers and the Prada boosters
Low top, yeah, the powder blue ones
Rob her too, heh? Power to ya
Hallelujah, better pray to God
I would like to dedicate to the scar on my face
All the stars of the globe, the world is yours, Scarface
I would like to dedicate this to the scar on my face
In the stars on the globe, the world is yours, Scarface
Uh, pearls and diamonds, that's excessive
Money, power, that's excessive
Money problems, that's expected
Marijuana, ass and breasts's
Pearls and diamonds, that's excessive
Money, power, that's excessive
Money problems, that's expected
Marijuana, ass and breasts's
Lyrics © O/B/O APRA AMCOS

Lyrics Licensed & Provided by LyricFind
To comment on specific lyrics,
highlight them