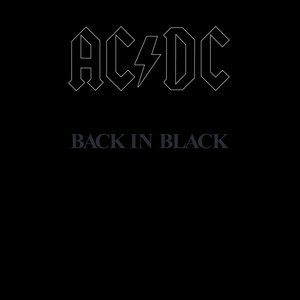 Back in Black is an album by Australian hard rock band AC/DC. It is the seventh Australian and sixth internationally released studio album by the band. Released on 25 July 1980, Back in Black was the first AC/DC album recorded without former lead singer Bon Scott, who died on 19 February at the age of 33, and was dedicated to him. The band considered disbanding following his death, but they ultimately decided to continue, with encouragement from Scott's parents, and shortly thereafter hired Brian Johnson as their new lead singer and lyricist. Producer Robert John "Mutt" Lange, who had previously
Read Full Bio
Back in Black is an album by Australian hard rock band AC/DC. It is the seventh Australian and sixth internationally released studio album by the band.

Released on 25 July 1980, Back in Black was the first AC/DC album recorded without former lead singer Bon Scott, who died on 19 February at the age of 33, and was dedicated to him. The band considered disbanding following his death, but they ultimately decided to continue, with encouragement from Scott's parents, and shortly thereafter hired Brian Johnson as their new lead singer and lyricist. Producer Robert John "Mutt" Lange, who had previously worked with AC/DC on Highway to Hell, was again brought in to produce. The album was recorded at Compass Point Studios in Nassau, Bahamas, and Electric Lady Studios in New York, where the album was also mixed.

Back in Black was originally mastered by Bob Ludwig at Masterdisk, New York. It was remastered and re-released in 1994, then again as part of the Bonfire box set in 1997, and as part of the AC/DC Remasters series in 2003 by George Marino. In addition, a DualDisc version was released in 2004, featuring the album in enhanced LPCM Stereo format and the video documentary The Story of Back in Black.

As of June 2011, the album has sold an estimated 50 million copies worldwide, making it tied for second highest-selling album of all time, the highest-selling album by a band (together with Pink Floyd's The Dark Side of the Moon), the best-selling hard rock album of all-time, and the best-selling album ever released by an Australian musical act. On 13 December 2007, the RIAA certified it 22x multi-platinum, recognizing sales of 22 million in the US, making it the sixth-highest-selling album in the US (fourth-highest at the time). "Back in Black" is the 77th album in the ranking "The 500 Greatest Albums of All Time" of the American magazine Rolling Stone.
Genre not found
Artist not found
Album not found
Search results not found
Song not found
Hells Bells
AC/DC Lyrics
I'm a rolling thunder, a pouring rain
I'm comin' on like a hurricane
My lightning's flashing across the sky
You're only young but you're gonna die
I won't take no prisoners, won't spare no lives
Nobody's putting up a fight
I got my bell, I'm gonna take you to hell
I'm gonna get you, Satan get you
Hell's bells
Yeah, hell's bells
You got me ringing hell's bells
My temperature's high, hell's bells
I'll give you black sensations up and down your spine
If you're into evil you're a friend of mine
See the white light flashing as I split the night
'Cause if good's on the left,
Then I'm stickin' to the right
I won't take no prisoners, won't spare no lives
Nobody's puttin' up a fight
I got my bell, I'm gonna take you to hell
I'm gonna get you, Satan get you
Hell's bells
Yeah, hell's bells
You got me ringing hell's bells
My temperature's high, hell's bells
Yeow
Hell's bells, Satan's comin' to you
Hell's bells, he's ringing them now
Hell's bells, the temperature's high
Hell's bells, across the sky
Hell's bells, they're takin' you down
Hell's bells, they're draggin' you around
Hell's bells, gonna split the night
Hell's bells, there's no way to fight, yeah
Ow, ow, ow, ow
Hell's bells
Lyrics © BMG Rights Management, Sony/ATV Music Publishing LLC
Written by: BRIAN JOHNSON, ANGUS MCKINNON YOUNG, MALCOLM MITCHELL YOUNG

Lyrics Licensed & Provided by LyricFind
To comment on specific lyrics,
highlight them