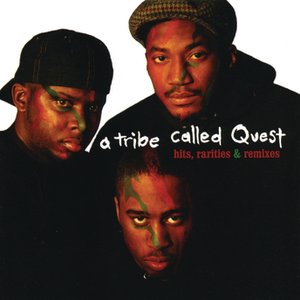 A Tribe Called Quest was an American hip-hop group formed in St. Albans, Queens, New York, in 1985, originally composed of rapper and main producer Q-Tip, rapper Phife Dawg, DJ and co-producer Ali Shaheed Muhammad, and rapper Jarobi White. The group is regarded as a pioneer of alternative hip hop music.

In 1991, the group released its jazz-influenced second album, The Low End Theory, regarded for helping shape alternative hip hop in the 1990s. In 1998
Read Full Bio
A Tribe Called Quest was an American hip-hop group formed in St. Albans, Queens, New York, in 1985, originally composed of rapper and main producer Q-Tip, rapper Phife Dawg, DJ and co-producer Ali Shaheed Muhammad, and rapper Jarobi White. The group is regarded as a pioneer of alternative hip hop music.

In 1991, the group released its jazz-influenced second album, The Low End Theory, regarded for helping shape alternative hip hop in the 1990s. In 1998, the group broke up shortly before releasing its fifth album, The Love Movement, but in 2006, the group's original members reunited and toured the United States. In 2016, the group released its sixth and final album, We Got It from Here... Thank You 4 Your Service, which was still incomplete when Phife Dawg died suddenly in March 2016, and was completed by the other members after his death. A Tribe Called Quest was the most commercially successful act in the Native Tongues collective, with all six of its albums certified either gold or platinum.

John Bush of AllMusic called them "the most intelligent, artistic rap group during the 1990s." The Source gave the group's debut album, People's Instinctive Travels and the Paths of Rhythm (1990), a perfect rating of five 'mics,' marking the first time that the magazine awarded the rating. In 2005, A Tribe Called Quest received the Founders Award at the Billboard R&B/Hip-Hop Awards, and two years later, the group was honored at the 4th VH1 Hip Hop Honors. In 2017, the group was awarded the Brit Award for International Group.

AllMusic critic John Bush called A Tribe Called Quest "without question the most intelligent, artistic rap group during the 1990s", further stating that the group "jump-started and perfected the hip-hop alternative to hardcore and gangsta rap." At a time when James Brown drum breaks and P-Funk basslines dominated hip hop production, the group successfully bridged the gap between jazz and hip hop, incorporating bebop and hard bop samples and recording with double bassist Ron Carter. The group's production influenced their contemporaries, thus changing the sound of hip hop; Dr. Dre produced his highly regarded debut The Chronic after being inspired by The Low End Theory, and Pete Rock stated, "There were times when I would walk into a record store and see Tip sitting on the floor with his glasses on, going through albums, looking for beats ... I was like, 'This guy is serious.' Being around [the group] made me step up and become even more serious than I was".

Lyrically, A Tribe Called Quest has been regarded for addressing many social issues through Q-Tip's philosophical viewpoints and Phife Dawg's everyman perspectives. People's Instinctive Travels and the Paths of Rhythm influenced several hip hop artists; Scarface asserted that it "really made me want to rap", and Pharrell Williams expressed that it was "the turning point [which] made me see that music was art." Kierna Mayo, former editor-in-chief of Ebony, said that The Low End Theory and Midnight Marauders "gave birth to neo-everything. ... That entire class of D'Angelo, Erykah Badu, Maxwell, and Lauryn Hill—and moving on to André 3000, Kanye West, and Talib Kweli—everything that is left of everything begins with Tribe." The group has also been credited for helping launch the solo careers of Busta Rhymes, J Dilla and Consequence.

The group was the subject of the acclaimed 2011 documentary film Beats, Rhymes & Life: The Travels of A Tribe Called Quest, directed by Michael Rapaport.

Studio albums
People's Instinctive Travels and the Paths of Rhythm (1990)
The Low End Theory (1991)
Midnight Marauders (1993)
Beats, Rhymes and Life (1996)
The Love Movement (1998)
We Got It from Here... Thank You 4 Your Service (2016)
Genre not found
Artist not found
Album not found
Search results not found
Song not found
Oh My God
Listen up everybody the bottom line
I'm a black intellect, but unrefined
With precision like a bullet, target bound
Just living like a hooker, the harlett sounds
Now when I say the harlett, you know I mean the hot
Heat in the equator, the brothers in the pot
Jalick, Jalick ya wind up ya hip
Draftin of the poets, I'm the number seven pick
Licks, licks, licks boy on your backside
Licks, licks, licks boy on your backside
Listen to the fader, Shaheed lets it glide
Tip the earthly body
Heaven's on my side
Even in Santo Domingo
Can I gotta Gringo
Yo, we got mics, when do we go?
Know a little nigga who can ryhme when you ask me
Short, dark, and plus his voice is raspy
1 for the treble, 2 for the bass
You know the style Tip, now watch me rip this
I like my beats harder than two day old shit
Steady eating booty MC's like cheese grits
My man Al B. Sure, he's in effect mode
Used to have a crush on Dawn from En Vogue
It's not like honey dip would want to get with me
But just in case I own more condoms than TLC
Now the formula is this, me, Tip, and Ali
For those who can't count it goes 1-2-3
The answer, big up is how I be
Brothers find it's hard to do, but never me
Some brothers try to dis Malik
You see'm catchin me
Don't worry about them booty MCs, my shit be hittin
Training gladiator, anti-hesitator
Shaheed push the fader from here to Granada
Mister energetic
Who me, sound pathetic?
When's the last time you heard a funky diabetic?
I don't know man
I don't know
Oh My God
Complimentary it be
The thief of Poetry
I got a humdinger coming hook, line and sinker
The Timbo hits with the prints underground
Timbo's on the toes, I like the way it's going down
Down like the lady of the evening
When it goes in hun just believe the sin
Cause Queens is the county, Jamaica is the place
(Take off your boots 'cause you can't run the race)
See, this is how we do when we keep it on and on
Do what
Got my man Big Mo with the streets and the papes
My man Big Mo with the streets and caprice
This is how we do when we keep the wilding sheets
Cause we got to do it like this, we aim to please
See ya next LP and next CD and next cassette
Yo, we about to jet
We A Tribe Called Quest and we the Midnight Marauders
Tribe Called Quest and we the Midnight Marauders
See ya next time cause we the Midnight Marauders
A yo, we out cause we the Midnight Marauders
Go to the record store and get the shit
We work hard
We A Tribe Called Quest and we the Midnight Marauders
Queens got it's own and Brooklyn got it's own
Like that
Lyrics © Universal Music Publishing Group, Sony/ATV Music Publishing LLC, Warner Chappell Music, Inc.
Written by: ALI SHAHEED JONES-MUHAMMAD, KAMAAL IBN JOHN FAREED, MALIK IZAAK TAYLOR

Lyrics Licensed & Provided by LyricFind
To comment on specific lyrics,
highlight them