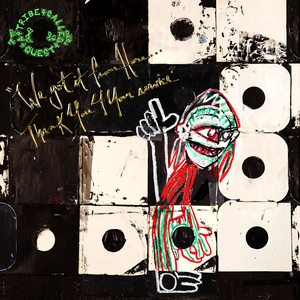 We Got It From Here... Thank You 4 Your Service
We Got It from Here... Thank You 4 Your Service is the sixth and final studio album by legendary American hip hop group A Tribe Called Quest. It was released on November 11, 2016, by Epic Records and received overwhelmingly positive praise from critics and fans alike as well as reaching the #1 position in the billboard charts. The album was recorded at the AbLab, the New Jersey home studio of group member Q-Tip. The recording featured guest appearances from Andre 3000, Kendrick Lamar, Jack White, Elton John, Kanye West, Anderson Paak, Talib Kweli, Consequence and Busta Rhymes. It was
Read Full Bio
We Got It from Here... Thank You 4 Your Service is the sixth and final studio album by legendary American hip hop group A Tribe Called Quest. It was released on November 11, 2016, by Epic Records and received overwhelmingly positive praise from critics and fans alike as well as reaching the #1 position in the billboard charts.

The album was recorded at the AbLab, the New Jersey home studio of group member Q-Tip. The recording featured guest appearances from Andre 3000, Kendrick Lamar, Jack White, Elton John, Kanye West, Anderson Paak, Talib Kweli, Consequence and Busta Rhymes. It was the final recorded appearance of group member Phife Dawg, who died in March 2016 from complications with diabetes.
Genre not found
Artist not found
Album not found
Search results not found
Song not found
It's time to go left and not right
Gotta get it together forever
Gotta get it together for brothers
Gotta get it together for sisters
For mothers and fathers and dead niggas
For non-conformers, won't hear the quitters
For Tyson types and Che figures
Let's get it together, come on, let's make it
Gotta make it to make it to make it to make it
To make something happen, to make something happen
To make something happen, let's make something happen
Word to Phife, we're gonna bring it to the overlord
Drinkin' Cisco chilling with the gold microphone cords
And we grip our balls every time we stuntin' on tour
'Cause we never bore, respond to the ready crowd's roar
And promoters try to hit us with the art of war
We about our business, we not quitters, not bullshitters, we deliver
We go get it, don't be bitter 'cause we not just niggas
Jarobi my fiber wove into different cloth
Ain't nothing forbidden this nigga get his written off
Hardest spit in the city y'all niggas spitting kitten soft
Confused and amazed shook up with your brain missing lost, they planning for our future
None of our people involved
Pouring Henny and Smirnoff to get it cracking off
Cracking off a Smirnoff to quickly turn to Molotov
Molotov the spaceship doors before that bitch is taking off
It always seems the poorest persons are people forsaken, dawg
No Washingtons, Jeffersons, Jacksons on the captain's log
They'd rather lead us to the grayest water poison, deadly smog
Mass un-blackening, it's happening, you feel it y'all?
Rather see we in a three-by-three structure with many bars
Leave us where we are so they can play among the stars
They taking off to Mars, got the space vessels overflowing
What, you think they want us there? All us niggas not going
Reputation ain't glowing, reparations ain't flowing
If you find yourself stuck in a creek, you better start rowing
Used to see the TV screen as the place I'd land my dream in
And the car stereo where they would promote the show
Optimistic little brother with a hope you know
There ain't a space program for niggas
Yeah, you stuck here, nigga
There ain't a space program for niggas
Yeah, you stuck here nigga
There ain't a space program for niggas
Yeah, you stuck here, nigga
There ain't a space program for niggas
Yeah, you stuck, stuck, stuck
Sit and wonder sometimes, I read the paper every day
All these happenings is circular, just happen different ways
And the president's refined, in her wings she's confined
With about thirty Percocets and five bottles of wine
Caroline ain't nothing finer than a Black woman who climbs
To the top of the State building claiming that the flag is mine
Now, people on top of people, feels like we can't breathe
Put so much in this muthafucka, feel like we shouldn't leave
Put it on TV, put it in movies, put it in our face
These notions and ideas and citizens live in space
I chuckle just like all of y'all, absurdity, after all
Takes money to get it running and money for trees to fall
Imagine for a second all the people are colored, please
Imagine for a second all the people in poverty
No matter the skin tone, culture or time zone
Think the ones who got it would even think to throw you a bone?
Moved you out your neighbourhood, did they find you a home?
Nah cypher, probably no place to
Imagine if this shit was really talkin' about space, dude
Imagine if this shit was really talkin' about space, dude
Imagine if this shit was really talkin' about space, dude
Tryna go left and not right
Gotta get it together forever
Gotta get it together for brothers
Gotta get it together for sisters
For mothers and fathers and dead niggas
For non-conformers, won't hear the quitters
For Tyson types and Che figures
Let's make somethin' happen, let's make somethin' happen
Let's make somethin' happen, let's make somethin' happen
Gotta get it together for brothers
Gotta get it together for sisters
For mothers and fathers and dead niggas
For non-conformers, won't hear the quitters
For Tyson types and Che figures
Make, make, make
Let's make somethin' happen, let's make somethin' happen
Let's make somethin' happen, let's make somethin' happen
Gotta get it together forever
Gotta get it together for brothers
Gotta get it together for sisters
For mothers and fathers and dead niggas
For non-conformers, won't hear the quitters
For Tyson types and Che figures
Let's make somethin' happen, let's make somethin' happen
Gotta get it together for brothers
Gotta get it together for sisters
For mothers and fathers and dead niggas
For non-conformers, won't hear the quitters
For Tyson types and Che figures
Make, make, make
Let's make somethin' happen, let's make somethin' happen
Let's make somethin' happen, let's make somethin' happen
Gotta get it together forever
Gotta get it together for brothers
Gotta get it together for sisters
For mothers and fathers and dead niggas
For non-conformers, won't hear the quitters
For Tyson types and Che figures
Let's make somethin' happen, let's make somethin' happen
Gotta get it together for brothers
Gotta get it together for sisters
For mothers and fathers and dead niggas
For non-conformers, won't hear the quitters
For Tyson types and Che figures
Make, make, make
Let's make somethin' happen, let's make somethin' happen
Let's make somethin' happen, let's make somethin' happen
Lyrics © Sony/ATV Music Publishing LLC, Kobalt Music Publishing Ltd.
Written by: Kamaal Ibn John Fareed, Jarobi White, Malik Izaak Taylor

Lyrics Licensed & Provided by LyricFind
To comment on specific lyrics,
highlight them