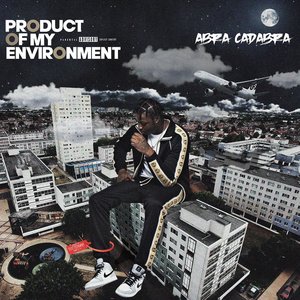 Product of My Environment
Abra Cadabra (born 4 April 1998) is a British rapper and singer from Tottenham, London. He is a member of the UK drill group OFB. He is most known for his single "On Deck", which was released in July 2020.
Genre not found
Artist not found
Album not found
Search results not found
Song not found
Yeah (Gotcha)
Yeah, yeah, yeah, mmm
No problem, no problem
Yeah, yeah, yeah
I tell my bruddas, "Don't worry"
I got a strong feelin' we gon' make it (yeah)
Cah we gone through every struggle and we face it (yeah)
I been feelin' the powers in me lately (ooh)
I just gotta watch my life, God, don't take it
I find it hard to tell between the realest and the fake
When I was up, I couldn't breathe, I had these niggas in my space
When I was down, I looked around and none of them was in my face
Taught myself a lesson, that's just how it goes in these streets (that's just how it goes)
Don't depend on no one and just go get your heat (yeah)
'Cause it's cold outside and the wolves don't sleep (woah)
Or you can try to feed the wolves and pray you don't get eaten
They only need a reason
The war is in the air and I can smell it (yeah)
We got toys before VVS' so we ready (woah)
If we pull up, get low (get low)
Cah we're known to let it go (let it go), ayy
God bless my niggas in the trenches (woah)
Don't trust them niggas on the fences (woah)
They'll help in leavin' you defenseless (no, no, no)
In these streets, you gotta use your senses
I'm just tryna make this money
I'll take your life if you ever take somethin' from me
'Cause from the day we was born, we never had nothin' (no)
I turned nothing to something and now I'm somethin' (woah)
And ain't nothing gon' stop me, I tell you, nothin'
I was raised up in the streets, I never had a choice (I never had a choice)
Niggas talkin' on the 'net and think they got a voice (got a voice)
I just pull up on your street, just me and my boys
Packin' big Glocks 'cause they make lots of noise (baow, baow)
I see a nigga doing drill, he never wanted to (no)
Yeah, he was in these streets but wasn't comfortable (no)
He wasn't built for this but forced himself, what a fool (yeah)
He defo told the truth to the constable (ooh, woah)
I can't have them type of niggas 'round me (mmm)
I ain't fuckin' with no snitches, keep your distance (no)
On my block, broski, you'll be down in minutes (down in minutes)
None of my niggas is tryna do a sentence (nah)
The streets love me and they don't love me (and they don't love me)
The streets has given to me and it stole from me (and it stole from me)
I just thank God I ain't lost my soul on it
And I pray to God I got it when they roll on me (yeah)
I know you heard this lots of times but my life really like a movie (like a movie)
That's why I find it easy ventin' in the studio (find it easy, oh)
I been a target and a shooter, and a shooter and a target, comin' up on these roads (ayy)
Lord knows I lost some niggas comin' up on these roads
Lord knows I kept foreing comin' up on these roads (ooh)
Discover couple snakes comin' up on these roads
Nearly put my life on break, comin' up on these roads (no problem, no problem)
God bless my niggas in the trenches (yeah)
Don't trust them niggas on the fences (woah)
They'll help in leavin' you defenseless (no)
In these streets, you gotta use your senses
I'm just tryna make this money
I take your life if you ever take somethin' from me (I take your life)
'Cause from the day we was born, we never had nothin' (never had nothing)
I turned nothing to something and now I'm somethin' (now I'm somethin')
And ain't nothing gon' stop me, I tell you, nothin'
Ooh-woah
No problem, no problem
Yeah, yeah, yeah
(Gotcha)
Lyrics © Warner Chappell Music, Inc.
Written by: Abdul Nelson

Lyrics Licensed & Provided by LyricFind
To comment on specific lyrics,
highlight them