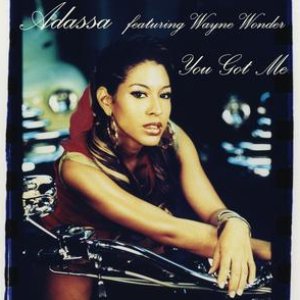 Adassa (born February 5 in Miami, Fl.) is a Colombian-American reggaeton artist. She was raised in St. Croix, Virgin Islands. Adassa has toured with artists such as Daddy Yankee, Lil' Flip, Pitbull, Ivy Queen, Don Omar, Lil' John, Kevin Little, Vico C, Baby Rasta y Gringo, Wisin y Yandel, Sasha, Baby Bash and Juvenile among others. She also made high-profile cameo appearances with Ciara and Missy Elliott on "1,2 Step" Don Candiani Reggaeton Remix
Read Full Bio
Adassa (born February 5 in Miami, Fl.) is a Colombian-American reggaeton artist. She was raised in St. Croix, Virgin Islands. Adassa has toured with artists such as Daddy Yankee, Lil' Flip, Pitbull, Ivy Queen, Don Omar, Lil' John, Kevin Little, Vico C, Baby Rasta y Gringo, Wisin y Yandel, Sasha, Baby Bash and Juvenile among others. She also made high-profile cameo appearances with Ciara and Missy Elliott on "1,2 Step" Don Candiani Reggaeton Remix, with Pit Bull on the title track record off of her debut album "Kamasutra", and along side Tego Calderon and Roselyn Sanchez.She was also successful in Europe with the song "Bounce" (Duet with the Turkish pop star Tarkan).
Genre not found
Artist not found
Album not found
Search results not found
Song not found
You Got Me
Adassa Lyrics
Uhhhhh huuhh
Mmmm
Its mariah and free just blaze beats (yeaaa)
Its the rock and mariah and the women go (uhhhhh)
I I love it when the ladies sing (uh huh huh huh)
And they love it when the whistles blow smothered in ring.
Slide up on ya strip and go (uh huh huh huh) just to
Pick up ya sista bro you like the pick and choose
Who she date will I skate do I like the stick and move
Silly fool she kno that I got her I'll run up on her strip and go (uh huh huh huh)
For mariah I'll play a brotha role I play a different role let her
Roll in a wheel long days goin and go and know what slimmy
Sje just like honey so she got me like winnie the pooh
Long nights let her chill wit the crew only backwards to do and
She know how to roll they say out with the old and in with the new
But she my dream lover so I can't let go heck no please belive me
I never been a liar jus fire Mariah and freeweezy
I get shy around you
Don't know what to say
I don't know what to do
'Cause you do something to me
That I can't describe baby
Always catch myself thinkin' 'bout
The things you do
There ain't no one else
I got my heart set on you
You really got me, baby it's true
You know you got me
So in love
You know you got me
Daydreamin' 'bout us
You know you got me
Starry eyed and elated
You know you got me
Whenever you want me baby
You know you got me
Hypnotized
You know you got me
With you on my mind
You know you got me
Feeling intoxicated
You know you got me
Whenever you want me baby
Boy I'm all tangled up in you these feelins' I just can't
Lyrics © Royalty Network
Written by: Christopher Birch, Robert Richardo Ffrench

Lyrics Licensed & Provided by LyricFind
To comment on specific lyrics,
highlight them