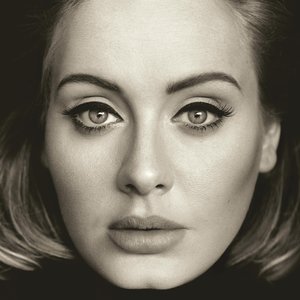 25 is the third studio album by English singer-songwriter Adele, released on November 20, 2015 by XL Recordings and Columbia Records. The album is titled as a reflection of her life and frame of mind at 25 years old and is termed a "make-up record". Its lyrical content features themes of Adele "yearning for her old self, her nostalgia", and "melancholia about the passage of time" according to an interview with the singer by Rolling Stone, as well as themes of motherhood and regret. In contrast to Adele's previous works, the production of 25 incorporated the use of electronic elements
Read Full Bio
25 is the third studio album by English singer-songwriter Adele, released on November 20, 2015 by XL Recordings and Columbia Records. The album is titled as a reflection of her life and frame of mind at 25 years old and is termed a "make-up record". Its lyrical content features themes of Adele "yearning for her old self, her nostalgia", and "melancholia about the passage of time" according to an interview with the singer by Rolling Stone, as well as themes of motherhood and regret. In contrast to Adele's previous works, the production of 25 incorporated the use of electronic elements and creative rhythmic patterns, with elements of 1980s R&B and organs.

25 received generally positive reviews from music critics, who commended its production and Adele's vocal performance. Issued nearly five years after the release of her second album, the internationally successful 21, the album was widely anticipated and Adele's record labels promoted the album with an extensive marketing campaign. 25 became a massive commercial success, debuting at number one in 32 countries and breaking first-week sales records in multiple countries, including the United Kingdom and United States. In the US, the album sold over 3.38 million copies in its first week of sales, marking the largest single-week sales for an album since Nielsen SoundScan began tracking point-of-sale music purchases in 1991. 25 was the world's best-selling album of the year for 2015, with 17.4 million copies sold within the year, and has gone on to sell over 22 million copies worldwide, making it the fourth-best selling album of the 21st century, the second-best selling album of the 2010s (behind 21), and one of the best-selling albums of all-time. Following 21, it was certified Diamond by the RIAA, making Adele the only artist of the 2010s to achieve this certification with two albums.
Genre not found
Artist not found
Album not found
Search results not found
Song not found
Hello
Adele Lyrics
Hello, it's me
I was wondering if after all these years you'd like to meet
To go over everything
They say that time's supposed to heal ya, but I ain't done much healing
Hello, can you hear me?
I'm in California dreaming about who we used to be
When we were younger and free
I've forgotten how it felt before the world fell at our feet
There's such a difference between us
And a million miles
Hello from the other side
I must've called a thousand times
To tell you I'm sorry for everything that I've done
But when I call, you never seem to be home
Hello from the outside
At least I can say that I've tried
To tell you I'm sorry for breaking your heart
But it don't matter, it clearly doesn't tear you apart anymore
Hello, how are you?
It's so typical of me to talk about myself, I'm sorry
I hope that you're well
Did you ever make it out of that town where nothing ever happened?
It's no secret that the both of us
Are running out of time
So hello from the other side (other side)
I must've called a thousand times (thousand times)
To tell you I'm sorry for everything that I've done
But when I call, you never seem to be home
Hello from the outside (outside)
At least I can say that I've tried (I've tried)
To tell you I'm sorry for breaking your heart
But it don't matter, it clearly doesn't tear you apart anymore
Ooh, anymore
Ooh, anymore
Ooh, anymore
Anymore
Hello from the other side (other side)
I must've called a thousand times (thousand times)
To tell you I'm sorry for everything that I've done
But when I call, you never seem to be home
Hello from the outside (outside)
At least I can say that I've tried (I've tried)
To tell you I'm sorry for breaking your heart
But it don't matter, it clearly doesn't tear you apart anymore
Lyrics © Universal Music Publishing Group, Sony/ATV Music Publishing LLC
Written by: Adele Laurie Blue Adkins, Gregory Allen Kurstin

Lyrics Licensed & Provided by LyricFind
To comment on specific lyrics,
highlight them