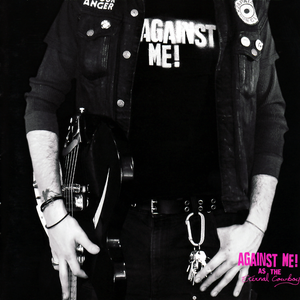 From Wikipedia As the Eternal Cowboy is the second album by the Gainseville, Florida punk rock band Against Me!, released on November 3, 2003 by Fat Wreck Chords. It was the group's first release for the label and their first album with bassist Andrew Seward, who had replaced original bassist Dustin Fridkin the previous year. The album was produced by Rob McGregor, who had also produced their first album Reinventing Axl Rose. Two singles were released in support of the album, "Cavalier Eternal" and "Sink, Florida, Sink", though each features as different version of the songs than those found on
Read Full Bio
From Wikipedia
As the Eternal Cowboy is the second album by the Gainseville, Florida punk rock band Against Me!, released on November 3, 2003 by Fat Wreck Chords. It was the group's first release for the label and their first album with bassist Andrew Seward, who had replaced original bassist Dustin Fridkin the previous year. The album was produced by Rob McGregor, who had also produced their first album Reinventing Axl Rose. Two singles were released in support of the album, "Cavalier Eternal" and "Sink, Florida, Sink", though each features as different version of the songs than those found on the album. As the Eternal Cowboy was Against Me!'s first album to reach the Billboard charts, reaching #36 on Top Independent Albums.

In 2009 Fat Wreck Chords released The Original Cowboy, a demo recording that the band had done in preparation for recording the album.

Critical Reception
Critic Charles Spano of AllMusic gave As the Eternal Cowboy four stars out of five, remarking that "The Gainesville, FL, outfit may have embraced a slightly slicker production than with its fan favorite, Reinventing Axl Rose, but no matter how you stack it As the Eternal Cowboy is an accomplished record of country-folk-punk that would only qualify as over-polished by the most hard-lined, anti-bar code punk kids' criteria." He also called it "one of the few early-2000s punk albums that transcends its genre and has the rock & roll clout to storm the mainstream. Nick Greer of Sputnikmusic also scored the album four out of five, noting that "This CD is the first in their discography to include a more rock feel to the music. The drumming is slower, the background vocals less prominent, the singing less gruff and less like screaming. Some songs are riff-based instead of chord progression-based, which utterly betrays punk and folk alike for rock and roll. This change, an obvious turnoff for original fans, isn't terrible."

Track Listing
1. T.S.R. (This Shit Rules)
2. Cliché Guevara
3. Mutiny on the Electronic Bay
4. Sink, Florida, Sink
5. Slurring the Rhythms
6. Rice and Bread
7. A Brief Yet Triumphant Intermission
8. Unsubstantiated Rumors Are Good Enough for Me to Base My Life Upon
9. You Look Like I Need a Drink
10. Turn Those Clapping Hands Into Angry Balled Fists
11. Cavalier Eternal

Band
Laura Jane Grace - guitar, lead vocals, art concept and layout
James Bowman - guitar, backing vocals
Andrew Seward - bass guitar, backing vocals
Warren Oakes - drums

Production
Rob McGregor - producer
Pete Matthews - mixing engineer, engineer
Adam Hill - assistant engineer
Brad Blackwoon - mastering
Bryan K. Wynacht - photography
Genre not found
Artist not found
Album not found
Search results not found
Song not found
The party's over
A cd's skipping
It's the same hook repeating
Grows more grating with each passing second...
And the walls contain a resonation, laughter, and conversation.
It was fun while it lasted, but now we should be going.
And I hope everybody had real, real good time
The hospitality's partaken, my head is flying my heart's racing to keep up.
And I hope I havent overdone it nooo...
I hope my body can take it. I hope I make the occasion.
It's only this fucked up I start realizing
all this living is just dying
and if these are my friends, if this is my home,
if this is how Ii spend my nights, how I communicate, and demonstrate a love of life.
My eyes roll into the back of my head, if these are the last words that I ever said
No I'm not ready to die just yet.
Contributed by Isabelle B. Suggest a correction in the comments below.
To comment on specific lyrics,
highlight them