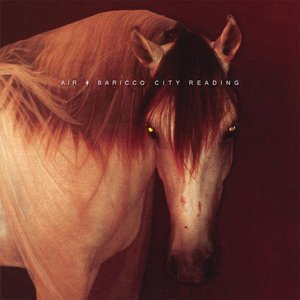 City Reading (Tre Storie Western) is an album by the French band Air in collaboration with the Italian writer Alessandro Baricco, released in 2003. On it, Baricco narrates some passages from his novel City with Air's music in the background. It was mixed by Radiohead producer Nigel Godrich.
Genre not found
Artist not found
Album not found
Search results not found
Song not found
Bird
Air Lyrics
Alessandro Baricco reading an extract from his book "City"
Bird, il suo nome, bird, vecchio pistolero, il più vecchio, con strade sulla faccia, camminate da infinite sparatorie, diceva Shatzy. Gli occhi deglutiti dal cranio, e mani di ulivo, le mani veloci, rami d'inverno. Stanchi. Il suo pettine, al mattino, bagnato d'acqua, rigare i capelli bianchi all'indietro, trasparenti, ormai. Polmoni di tabacco nella voce che piano dice: che vento, oggi.
Niente di peggio che non morire, per un pistolero.
Guardarsi intorno, ogni faccia mai vista può essere quella dell'idiota di turno arrivato da lontano per diventare quello che ha ammazzato Clay "Bird" Puller. Se vuoi sapere quando si diventa un mito, allora ascolta: è quando ti ritrovi a duellare sempre di schiena. Finché ti vengono incontro da davanti sei solo un pistolero. La gloria è una scia di merda, dietro la schiena. - Sbrigati coglione, - disse senza nemmeno voltarsi. Il ragazzetto aveva un cappello nero, e in tasca qualche stronzata che era il ricordo di un odio lontano, e la promessa di una qualche vendetta. - Troppo tardi, coglione.
Con queste strade sulla faccia, vecchiaia vigliacca, a pisciarmi addosso la notte, il male bastardo sotto il cinturone, come una pietra rovente tra la pancia e il culo, non viene mai giorno, e quando viene è un deserto di tempo vuoto, da attraversare, come sono arrivato qui?, io.
Come sparava Bird. Teneva le fondine al contrario con il calcio della pistola che usciva in avanti. Estraeva a braccia incrociate, la pistola destra nella mano sinistra, e viceversa. Così, quando ti veniva incontro, le dita a sfiorare il calcio delle pistole, sembrava una specie di condannato, qualcosa come un prigioniero che stesse andando al patibolo, con le braccia legate davanti. Un istante dopo era un uccello rapace che apriva le ali, una frustata nell'aria, e il geometrico volo di due pallottole. Bird.
Cos'è allora questo strisciare nella nebbia delle mie cataratte, costretto a contare le ore, io che conoscevo gli istanti, ed era l'unico tempo che esisteva per me. Lo scarto di una pupilla, le nocche sbiancate intorno a un bicchiere, uno sperone nel fianco del cavallo, l'ombra di un'ombra sul muro blu. Ci ho vissuto eternità, dove gli altri vedevano attimi. Per loro era come lampo ciò che per me era una mappa, una stella dove io vedevo cieli. Io pensavo dentro pieghe del tempo che per loro erano già ricordo. Non c'è altro modo, mi avevano insegnato, per vedere la morte prima che arrivi. Cos'è allora questo strisciare nella nebbia delle mie cataratte, costretto a spiare le carte degli altri, mendicando battute dalla mia sedia, sempre quella, in seconda fila, la sera a tirare sassi ai cani, in tasca soldi da vecchio che le puttane non vogliono, li prenderà un mariachi, quando verrà, che sia triste e lunga la tua canzone, ragazzo, dolce la tua chitarra e lenta la tua voce, io voglio ballare, questa notte, fino al tramonto di questa notte, io ballerò.
Dicevano che Bird si portasse sempre dietro un dizionario. Francese. Ci aveva studiato tutte le parole, una dopo l'altra, in ordine alfabetico. Era così vecchio che aveva già fatto il giro e adesso se ne stava dalle parti della G, per la seconda volta. Nessuno sapeva perché mai facesse tutto quello. Però una volta, a Tandeltown, dicono che si avvicinò a una donna, era bellissima, alta, occhi verdi, c'era da chiedersi come fosse finita lì. Lui le si avvicinò e le disse: Enchanté.
Clay "Bird" Puller. Morirà in un modo bellissimo, diceva Shatzy. Gliel'ho promesso: morirà in un modo bellissimo.
Contributed by Allison M. Suggest a correction in the comments below.
To comment on specific lyrics,
highlight them