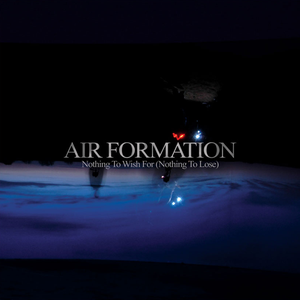 Nothing to Wish for (Nothing to Lose)
Brighton based Air Formation return after two years with their fourth album 'Nothing To Wish For (Nothing To Lose)' recorded with legendary indie producer Pat Collier. After two albums for two US independent labels (Drive-In Records, Clairecords), their acclaimed third album 'Daylight Storms' on Club AC30 received great reviews ("A collage of almost surreal, swathing noise against a backdrop of choir-like vocals and picturesque melodies. 9/10" -Drowned In Sound). The new album explores the space and textures hinted at by the two previous releases, but with confidence and elegance. Influences like Jesus & Mary Chain and Flying Saucer Attack are
Read Full Bio
Brighton based Air Formation return after two years with their fourth album 'Nothing To Wish For (Nothing To Lose)' recorded with legendary indie producer Pat Collier. After two albums for two US independent labels (Drive-In Records, Clairecords), their acclaimed third album 'Daylight Storms' on
Club AC30 received great reviews ("A collage of almost surreal, swathing noise against a backdrop of choir-like vocals and picturesque melodies. 9/10" -Drowned In Sound). The new album explores the space and textures hinted at by the two previous releases, but with confidence and elegance.

Influences like Jesus & Mary Chain and Flying Saucer Attack are still in evidence, but a love of The Cure and Galaxie 500 is also apparent. Air Formation show once again that they can craft songs and sounds that will be cherished forever.
Genre not found
Artist not found
Album not found
Search results not found
Song not found
Don't want to fight the tears, we're growing colder still
I never thought we'd end up anything like this
So much for all the time I spent with you back then
So sad to say there's little point to make things right
It seems I only wanted what you couldn't give
Kept holding on in hope we wouldn't end the way we did
In glory you'd come to me and want me more
I'd share my soul with you, honestly it's meant to be.
I knew there was more that you could give, but nothing came my way
This is the only life we'll live so come with me today
All that we lost we'll never know and in times like these I wish we'd known
The final aching sighs make us reach up…….
Contributed by Caden G. Suggest a correction in the comments below.
To comment on specific lyrics,
highlight them