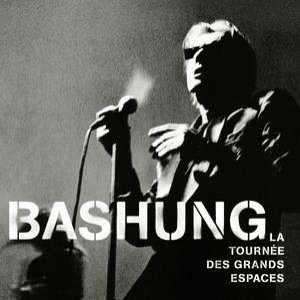 La Tournée Des Grands Espaces
Alain Bashung (born Alain Baschung on 1 December 1947 in Paris and died on 14 March 2009) was a French singer, songwriter, and actor; he was the son of a Brittany born mother and a Kabyle father he never knew. When Alain Bashung was one year old he was sent to the Strasbourg area, in Wingersheim, to stay with his grandparents. He spent his childhood in the country in a conservative environment. When he was five years old he discovered Music most notably Kurt Weill, as he played harmonica. He was also a Choirboy in the church at Wingersheim and
Read Full Bio
Alain Bashung (born Alain Baschung on 1 December 1947 in Paris and died on 14 March 2009) was a French singer, songwriter, and actor; he was the son of a Brittany born mother and a Kabyle father he never knew.

When Alain Bashung was one year old he was sent to the Strasbourg area, in Wingersheim, to stay with his grandparents. He spent his childhood in the country in a conservative environment. When he was five years old he discovered Music most notably Kurt Weill, as he played harmonica. He was also a Choirboy in the church at Wingersheim and played basket-ball. At School he was regarded serious child.

He returned to Paris in 1959, where he discovered the great names of Chanson Française, the radio, American Rock with Gene Vincent, Buddy Holly and Elvis Presley. Whilst studying to become an accountant, he started a short lived Band with friends "les Dunces" whose style swong between Folk and Rockabilly. He quickly dropped his studies.

Bashung started a band with musicians met in Royan, a new band playing in Restaurants, Hotels and most of all the American bases. his career started with some difficulties with the release of his first single at 19 years of age "Pourquoi rêvez-vous des États-Unis ?" in 1966. He released a dozen singles, one using the pseudonym David Bergen, and two others. In 1971/1972 under the pseudonym "Hendrick Darmen" compositor and singer of the band "Monkey Bizness". He wrote a number of songs for stars of the time like Noël Deschamps, but doesn't appear to have reached success.

In 1973, he played Robespierre in the Musical "La Révolution française" written by Claude-Michel Schönberg. He met Dick Rivers the singer of Les Chats Sauvages, for whom he composed and produced music.


He met musician Andy Scott and the songwriter Boris Bergman, and in 1977 wrote his first innovative LP "Romans photos", though it was a Commercial failure in the context of Punk storming music.

In 1979, he released "Roulette russe", a very dark and more Rock orientated album.

He confirmed his talent with critical acclaim and public success in 1981, with the rock influenced album "pizza", mainly with one single from the album "Gaby, oh Gaby" that finally got Bashung success in the charts in 1981 followed by the single "Vertige de l'amour", and started touring the bigger venues Notably "l'Olympia" in Paris.

In 1982, Bashung collaborated with Serge Gainsbourg on the complex album "Play blessures", that did not achieve commercial success.

In 1983, he confused his fan base with an album deviating from the previous rock style, "Figure imposée". In 1985, he came back with a number of titles written for "SOS Racisme" (anti-racism organisation).

In 1986, he released "Passé le Rio Grande", which won him a "Victoire de la Musique". Two singles achieved some success over the airwaves: "Malédiction" and "L'arrivée du tour". However the album itself did not sell much.

In 1992, he started a long partnership with writer Jean Fauque, for "Osez Joséphine", an album which also contains some cover of classic Rock such as "Night in White Satin". His fan base grew and the album sold 350 000 copies. In 1994, he followed up with "Chatterton," collaborating with Sonny Landreth, Ally McErlaine, Link Wray, Marc Ribot and Stéphane Belmondo. The key single extracted from this album is "Ma petite entreprise." He started a two-year tour that results in the 1995 live album, "Confessions publiques."

After recording a duet with Brigitte Fontaine "City" for her album "Les Palaces", Bashung returned to the musical world following a stint acting and in 1998 with "Fantaisie militaire". While making this album in collaboration with Rodolphe Burger, Les Valentins and Jean-Marc Lederman. He will receive three Victoires de la Musique for the Album in 1999.

In 2002, he released the "L'imprudence" album to further critical acclaim. During the same year, he recorded with his wife, actress and comedian Chloé Mons "le Cantique des cantiques". They created this title for their wedding in 2001, on a music written by Rodolphe Burger and on the basis a a new translation of the "Cantique des cantiques" from the Bible by the Author Olivier Cadiot.

In 2004, he released live double album "La tournée des grands espaces."

In 2005, for the twentieth Victoires de la Musique, he received an award for the best album of the last 20 years for "Fantaisie militaire."

In the beginning of 2007, he participates in the tour "Les Aventuriers d'un autre Monde" with Jean-Louis Aubert (Téléphone), Cali, Daniel Darc, Richard Kolinka (Téléphone) and Raphaeël.

In March 2009, he recieved three Victoires de la Musique for his last album "Bleu Pétrol".

He passed away on March 14th, 2009 of complications of metastatic lung cancer.
Genre not found
Artist not found
Album not found
Search results not found
Song not found
Tu perds ton temps
À mariner dans ses yeux
Tu perds ton sang
Tel Attila
Tel Othello
Tu te noircis
Dans quoi tu te mires
Dans quel étang
À l'avenir
Laisse venir
Laisse le vent du soir décider
À l'avenir
Laisse venir
Laisse venir
Tu l'auras toujours, ta belle gueule
Tu l'auras, ta superbe
À défaut d'éloquence
Tel Machiavel
Tel Abel Gance
Tel Guillaume Tell
À quoi tu penses?
À quoi tu penses?
À l'avenir
Laisse venir
Laisse le vent du soir décider
À l'avenir
Laisse venir
Laisse venir
L'imprudence
Tu perds ton temps
À te percer à jour
Devant l'obstacle
Tu verras
On se révèle
Tel Perceval
Tel Casanova
Tel Harvey Keitel
À l'avenir
Laisse venir
Laisse venir
Laisse venir
Tel Attila
Tel Othello
Tel Machiavel
Tel Guillaume Tell
À l'avenir
Laisse venir
Laisse venir
L'imprudence
À l'avenir
Laisse le vent du soir decider
Laisse venir
Laisse venir
L'imprudence
Lyrics © SONY ATV MUSIC PUBLISHING, Universal Music Publishing Group
Written by: Alain Bashung, Christophe Calpini, Frederic Hachadourian, Jean Marie Fauque

Lyrics Licensed & Provided by LyricFind
To comment on specific lyrics,
highlight them