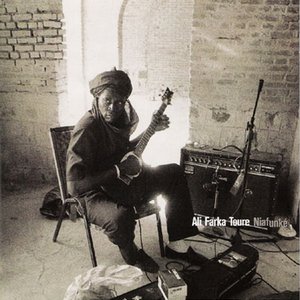 Niafunke, released in 1999, was Toure's first album in five years. He had expressed dissatisfaction with his recent records and had largely retired from performing; in the meantime, he had devoted his energies to irrigating and farming the land around his native Niafunke (which he would later become the mayor of). Most of Niafunke was recorded in a large abandoned building on the outskirts of that town. During the day, Toure tended to his fields; in the evenings, he would come to the building to record. The following are Toure's comments on the album: "This record is more real, more
Read Full Bio
Niafunke, released in 1999, was Toure's first album in five years. He had expressed dissatisfaction with his recent records and had largely retired from performing; in the meantime, he had devoted his energies to irrigating and farming the land around his native Niafunke (which he would later become the mayor of).

Most of Niafunke was recorded in a large abandoned building on the outskirts of that town. During the day, Toure tended to his fields; in the evenings, he would come to the building to record.

The following are Toure's comments on the album:

"This record is more real, more authentic. It was recorded in the place where the music belongs - deep Mali. We were in the middle of the landscape which inspired the music and that in turn inspired myself and the musicians. My music is about where I come from and our way of life and it is full of important messages for Africans. In the West perhaps this music is just entertainment and I don't expect people to understand. But I hope some might take the time to listen and learn."
Genre not found
Artist not found
Album not found
Search results not found
Song not found
We have lyrics for these tracks by Ali Farka Touré:



Allah Uya allah uya mayfsvhz ajfsjsyjsgajfafs shhsgysyfejsyys hsusyehw…
Beto I lay down with an angel I lay down with an…
Hawa Dolo hawa dololo hawa dololo hawa hawa dololo hawa hawa né yaté b…
I Go Ka Manane koy deyyyy Ay koy deydeyyy Sakanane koyy No bey ndey …
Mali Dje I lay down with an angel I lay down with an…
Savane J'ai quitte' mon pays et ma Louisiane Mais dans d'autres pay…
Soko Лети соко преко Равне Горе и дозива четничке војводе Глас с…

The lyrics can frequently be found in the comments below or by filtering for lyric videos.