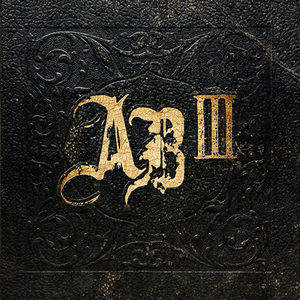 AB III is the third studio album by the rock band Alter Bridge, released on November 9, 2010. Produced by Michael "Elvis" Baskette, the album is a departure from the band's first two albums, lyrically because it is a loose concept album dealing with darker lyrical themes of struggling with faith, and musically due to its more dynamic and progressive sound. AB III is also the first Alter Bridge album to be released on Roadrunner Records, making it the band's third consecutive album to be released on a different label. The album was released on Roadrunner Records worldwide except North
Read Full Bio
AB III is the third studio album by the rock band Alter Bridge, released on November 9, 2010. Produced by Michael "Elvis" Baskette, the album is a departure from the band's first two albums, lyrically because it is a loose concept album dealing with darker lyrical themes of struggling with faith, and musically due to its more dynamic and progressive sound. AB III is also the first Alter Bridge album to be released on Roadrunner Records, making it the band's third consecutive album to be released on a different label. The album was released on Roadrunner Records worldwide except North America, where it was self-released on Alter Bridge Recordings via Capitol Records.
Genre not found
Artist not found
Album not found
Search results not found
Song not found
To the dark
To the fall
Crawl to the life you shouldn't know
You should never come this way
To test the hands of fate
You don't belong here
Peel back the skin
Close your eyes
Hell is born
To the abyss, but be warned
You fear what you've become
My God what have you done?
You don't belong here
But it's all in the way
You touch and you will pay
Denial
But it's all in the way
You touch and you will pay
Denial
Sever the ties
Trip the wire
Take your hold
Doubt is alive and you know
You were once led to believe
You were young and so naive
And now no longer
But it's all in the way
You turn your back today
Left to face this alone
Left to die with nothing you can own
Left to break in the cold
In the void that you made
The moment you let love go
Try win back your days
You let them all escape your heart
Now that you've come so far
Why did you have to fall so hard?
Look at what you've done
What have you become?
Left to face this alone
Left to die with nothing you can own
Left to break in the cold
In the void that you made
The moment you let love go
You let love go
You let love go
You let love go
Lyrics © Sony/ATV Music Publishing LLC
Written by: MARK TREMONTI, MYLES KENNEDY

Lyrics Licensed & Provided by LyricFind
To comment on specific lyrics,
highlight them