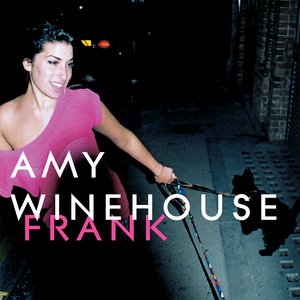 Frank originally appeared in the UK in 2003, and was only released in the US in the fall of 2007, after the great success of Back to Black (2006). Listening to Frank after living with Back to Black for a year may confuse some people (Is she jazz? Is she R&B?). Worse, it may prevent some fans from having an appropriate appreciation for the immense, raw talent exuded here by a mere 19-year-old, before finding herself in the distracting glare of a public spotlight. The intro with Winehouse's own brand of jazz scatting segues into first single "Stronger Than Me,"
Read Full Bio
Frank originally appeared in the UK in 2003, and was only released in the US in the fall of 2007, after the great success of Back to Black (2006). Listening to Frank after living with Back to Black for a year may confuse some people (Is she jazz? Is she R&B?). Worse, it may prevent some fans from having an appropriate appreciation for the immense, raw talent exuded here by a mere 19-year-old, before finding herself in the distracting glare of a public spotlight. The intro with Winehouse's own brand of jazz scatting segues into first single "Stronger Than Me," where her supple vocals hint at what's to come: not only do they possess great power, intimacy, restraint, and attitude, but also an unbridled passion for the craft of the song. Her songwriting skills are as sharp as her vocal instincts, and the strongest tracks here are her own, which is saying something, considering she covers – beautifully – two jazz classics, "Moody's Mood for Love" and "There Is No Greater Love." Shadows of Sade and trip-hop ("In My Bed"), bossa nova rhythms ("Cherry"), and classic jazz vocalizing ("Know You Now," "Take the Box") give Frank a variety of textures. Show-stopper "F-Me Pumps" is a brassy, soulful stab at club girls, and almost overshadows other standouts like the self-questioning "Amy Amy Amy" ("where's my moral parallel?") and its intoxicating allure. This debut deserved every bit of the adulation received upon its release in the U.K., and that's a rare thing.
Genre not found
Artist not found
Album not found
Search results not found
Song not found
Intro / Stronger Than Me
Amy Winehouse Lyrics
[Incomprehensible]
You should be stronger than me
You've been here seven years longer than me
Don't you know you supposed to be the man
Not pal in comparison to who you think I am
You always wanna talk it through, I don't care
I always have to comfort you when I'm there
But that's what I need you to do, stroke my hair
'cause I've forgotten all of young love's joy
Feel like a lady and you my lady boy
You should be stronger than me
But instead you're longer than frozen turkey
Why'd you always put me in control?
All I need is for my man to live up to his role
Always wanna talk it through, I'm okay
Always have to comfort you every day
But that's what I need you to do, are you gay?
'Cause I've forgotten all of young love's joy
Feel like a lady and you my lady boy
He said 'the respect I made you earn
Thought you had so many lessons to learn
I said, "You don't know what love is, get a grip"
Sounds as if you're reading from some other tired script
I'm not gonna meet your mother anytime
I just wanna rip your body over mine
Please tell me why you think
That's a crime
I've forgotten all of young love's joy
Feel like a lady and you my lady boy
You should be stronger than me
You should be stronger than me
You should be stronger than me
You should be stronger than me
Lyrics © Sony/ATV Music Publishing LLC
Written by: Amy Winehouse, Salaam Remi

Lyrics Licensed & Provided by LyricFind
To comment on specific lyrics,
highlight them