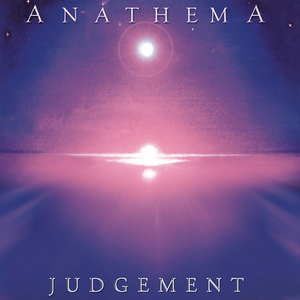 Judgement is an album by British band Anathema. It was released on June 21 1999 through Music For Nations. The album marked a definitive departure from Anathema's death/doom roots, focusing on more alternative and atmospheric 70's style progressive/blues rock instead. The album, however, still represents Anathema's metallic edge. It was the first album without Duncan Patterson, who had a leading role as songwriter on the band's past two albums. From here on Danny Cavanagh would take over this duty. The album peaked #151 on the UK Album Charts. One Last Goodbye was dedicated to Helen Cavanagh (1949-1998), mother of the
Read Full Bio
Judgement is an album by British band Anathema. It was released on June 21 1999 through Music For Nations. The album marked a definitive departure from Anathema's death/doom roots, focusing on more alternative and atmospheric 70's style progressive/blues rock instead. The album, however, still represents Anathema's metallic edge. It was the first album without Duncan Patterson, who had a leading role as songwriter on the band's past two albums. From here on Danny Cavanagh would take over this duty.
The album peaked #151 on the UK Album Charts.

One Last Goodbye was dedicated to Helen Cavanagh (1949-1998), mother of the Cavanagh brothers.

Vincent Cavanagh — vocals, guitar
Danny Cavanagh — Guitar, acoustic guitar, keyboards
John Douglas — drums
Dave Pybus — Bass guitar
Lee Douglas — Female vocals on "Parisienne Moonlight" & "Don't Look Too Far"
Dario Patti — Piano on "Anyone Anywhere"
Genre not found
Artist not found
Album not found
Search results not found
Song not found
When you're near me I have difficulty respirating
When you're near me I have difficulty concentrating
When you're near me I have difficulty standing upright
When you're near me I have difficulty sleeping at night
I used to stand proud like a sphinx
In a noble immovable state
Then your heart nailed me under a jinx
Now I'm feeling like a jellyfish
Just a spineless wobbly jellyfish
And it's great, great, so great
I used to stand high like a pine
Just a piece of emotionless wood
When you put your body near mine
Now I'm feeling like a jellyfish
And it's good, good, so good
I used to be an iceman
Living in iceman town
So I'm warning all you cool cool icemen
You'd better be prepared to be melted right down
Down
When you're near me I have difficulty
Lyrics © Universal Music Publishing Group
Written by: DANIEL CAVANAGH, VINCENT CAVANAGH, JOHN JAMES DOUGLAS, DAVID JOHN PYBUS

Lyrics Licensed & Provided by LyricFind
To comment on specific lyrics,
highlight them