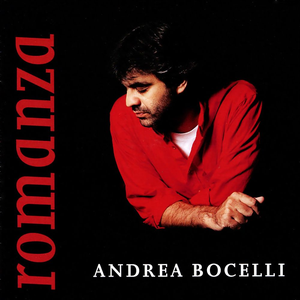 Romanza is the first greatest hits album by Italian singer Andrea Bocelli, released internationally in 1997 (see 1997 in music). First in Europe, then charts around the world, the album amassed a multitude of platinum and multi-platinum awards, outselling even his 1995 album, Bocelli, with worldwide sales in excess of 19 million copies to date. It is one of the biggest-selling albums of all time, having sold more than 7 million units in Europe alone, selling an impressive 500,000 copies in the Far East, one million in Italy, and more than three million in Spain, and Latin America where it
Read Full Bio
Romanza is the first greatest hits album by Italian singer Andrea Bocelli, released internationally in 1997 (see 1997 in music).

First in Europe, then charts around the world, the album amassed a multitude of platinum and multi-platinum awards, outselling even his 1995 album, Bocelli, with worldwide sales in excess of 19 million copies to date. It is one of the biggest-selling albums of all time, having sold more than 7 million units in Europe alone, selling an impressive 500,000 copies in the Far East, one million in Italy, and more than three million in Spain, and Latin America where it became the best-selling album, by an non-Latino artist, of all time. It also received quadruple platinum status in the United States of America with 4.2 million copies sold, being Bocelli's first album released in the US, and Diamond status in Canada, with 1,123,000 copies sold, making Romanza the best-selling album by a foreign artist of the SoundScan Era, and the fourth best-selling overall, in Canada. With more than 350,000 units sold in Switzerland, it's the second top-selling album in the county's history.

To date, it is Bocelli's most commercially successful album, and is considered his breakthrough album, that launched his carrier worldwide.
Genre not found
Artist not found
Album not found
Search results not found
Song not found
Quando sono solo
E sogno all'orizzonte
E mancan le parole
Sì lo so che non c'è luce
In una stanza quando manca il sole
Se non ci sei tu con me, con me
Su le finestre
Mostra a tutti il mio cuore
Che hai acceso
Chiudi dentro me
La luce che
Hai incontrato per strada
Con te partirò
Paesi che non ho mai
Veduto e vissuto con te
Adesso sì li vivrò
Con te partirò
Su navi per mari
Che, io lo so
No, no, non esistono più
Con te io li vivrò
Quando sei lontana
Sogno all'orizzonte
E mancan le parole
E io sì lo so
Che sei con me, con me
Tu mia luna, tu sei qui con me
Mio sole tu sei qui con me
Con me, con me, con me
Con te partirò
Paesi che non ho mai
Veduto e vissuto con te
Adesso sì li vivrò
Con te partirò
Su navi per mari
Che, io lo so
No, no, non esistono più
Con te io li rivivrò
Con te partirò
Su navi per mari
Che, io lo so
No, no, non esistono più
Con te io li rivivrò
Con te partirò
Io con te
Lyrics © Sugarmusic s.p.a., Sugarmusic, Sugarmusic O/B/O Double Marpot Ed. Musicali, Peermusic Publishing
Written by: Lucio Quarantotto, Francesco Sartori

Lyrics Licensed & Provided by LyricFind
To comment on specific lyrics,
highlight them