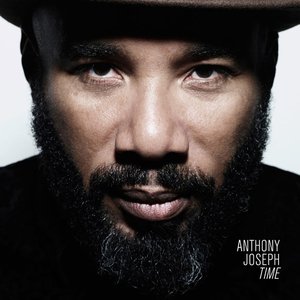 Anthony Joseph is a poet, novelist, academic and musician. He was born in Trinidad, moving to the UK in 1989. He is the author of three collections of poetry and a novel, The African Origins of UFOs.

In 2004 Joseph was selected by renaissance one, Decibel and the Arts Council of England as one of fifty Black and Asian writers who have made major contributions to contemporary British literature, appearing in the historic Great Day photo. In 2005 he was selected as the British Council's first Poet in residence at California State University
Read Full Bio
Anthony Joseph is a poet, novelist, academic and musician. He was born in Trinidad, moving to the UK in 1989. He is the author of three collections of poetry and a novel, The African Origins of UFOs.

In 2004 Joseph was selected by renaissance one, Decibel and the Arts Council of England as one of fifty Black and Asian writers who have made major contributions to contemporary British literature, appearing in the historic Great Day photo. In 2005 he was selected as the British Council's first Poet in residence at California State University, Los Angeles.

Joseph lectures in creative writing at Birkbeck College, University of London. He is a AHRC scholar and doctoral candidate at Goldsmiths College.

As a musician he has released three critically acclaimed albums with his band the Spasm band; all released to coincide with book publications. His debut album with the band, Leggo de Lion was released in 2007, and featured lyrics taken from his novel The African Origins of UFOs. Bird Head Son followed in 2009, with lyrics from the Bird Head Son collection. The band's third album Rubber Orchestras was released in 2011, alongside a new collection of poems with the same title.

Joseph has also collaborated with several artists including Archie Shepp, Joseph Bowie, Laurent Garnier, Othello Molineaux, Malcolm Catto, Mop Mop, Robert Aaron, Roger Raspail, Keziah Jones and Jerry Dammers of the Specials as part of the Spatial AKA Orchestra.
Genre not found
Artist not found
Album not found
Search results not found
Song not found
We have lyrics for these tracks by Anthony Joseph:



CALLING ENGLAND HOME Black and been here since 1949 West London jaw grind, ′Take…
Joy Joy the the world the Lord is come I will rejoice Unto…
Kamau For Kamau For the furtive sound of his phonaesthetic exegesi…
Kezi Kezi is a woman have nine children an'she seven months…

The lyrics can frequently be found in the comments below or by filtering for lyric videos.