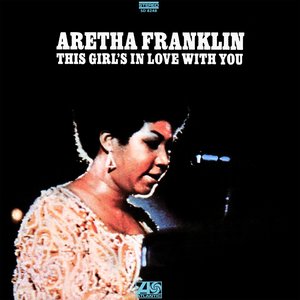 This Girl's in Love With You
This Girl's in Love with You is the sixteenth studio album by American singer Aretha Franklin, released on January 15, 1970 by Atlantic Records. It was reissued on compact disc through Rhino Records in the 1990s. Her version of The Beatles' "Let It Be" was the first recording of the song to be commercially issued (The Beatles did not release "Let It Be" as a single until March 1970).
Genre not found
Artist not found
Album not found
Search results not found
Song not found
Billy Ray was a preacher's son
And when his daddy would visit he'd come along
When they gathered around the parlour talkin'
That's when Billy would take me walkin'
Through the backyard we'd go walkin'
Then he'd look into my eyes
Lord knows, to my surprise
The only one who could ever reach me
Was the son of a preacher man
The only boy who could ever teach me
Was the son of a preacher man
Yes he was, he was, ooh, yes he was (hallelujah)
Bein' good isn't always easy
No matter how hard I try
When he started sweet-talkin' to me
He'd kiss 'n tell me "Everything is all right" (sock it to me)
"Baby, baby everything is all right" (sock it to me)
Can I sneak away again tonight, now?
The only one who could ever reach me
Was the son of a preacher man (I tell you that)
The only boy who could ever teach me
Was the son of a preacher man
Yes he was, he was, ooh, yes he was (hallelujah)
How well I remember
The look that was in his eyes
Stealin' kisses from me on the sly
Takin' time to make time
Tellin' me that he's all mine
Learnin' from each other's knowin'
Lookin' to see how much we've grown and
The only one who could ever reach me
Was the son of a preacher man (I tell you that)
The only boy who could ever teach me
Was the son of a preacher man
Yes he was, he was, oh he was (hallelujah)
Hallelujah, son of a preacher man
Hallelujah, for the son
Son of a preacher man
Hallelujah, son of a preacher man
Hallelujah, for the son
Son of a preacher man
He's only boy, yes he is, who could ever reach me
Son of a preacher man
He's only boy who could ever teach me
Son of a preacher man
Lyrics © Sony/ATV Music Publishing LLC
Written by: John Hurley, Ronnie Wilkins

Lyrics Licensed & Provided by LyricFind
To comment on specific lyrics,
highlight them