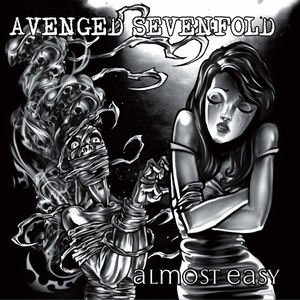 Avenged Sevenfold (often abbreviated to A7X) is a heavy metal/hard rock band which formed in 1999 in Huntington Beach, California, United States. The band consists of vocalist M. Shadows, lead guitarist Synyster Gates, rhythm guitarist Zacky Vengeance, bassist Johnny Christ, and former Bad Religion and Suicidal Tendencies drummer Brooks Wackerman (2016-present). Heartbreakingly, the band's best friend and original drummer James "The Rev" Sullivan passed away in 2009.
Read Full Bio
Avenged Sevenfold (often abbreviated to A7X) is a heavy metal/hard rock band which formed in 1999 in Huntington Beach, California, United States. The band consists of vocalist M. Shadows, lead guitarist Synyster Gates, rhythm guitarist Zacky Vengeance, bassist Johnny Christ, and former Bad Religion and Suicidal Tendencies drummer Brooks Wackerman (2016-present). Heartbreakingly, the band's best friend and original drummer James "The Rev" Sullivan passed away in 2009. After The Rev's death, Mike Portnoy of Dream Theater fame and Arin ilejay replaced him.

The band has released seven albums since their formation: "Sounding the Seventh Trumpet" (2001), "Waking the Fallen" (2003), "City of Evil" (2005), "Avenged Sevenfold" (2007), "Nightmare" (2010), Hail to the King (2013), and most recently The Stage (2016)

The band was formed in 1999. Avenged Sevenfold's first album, Sounding the Seventh Trumpet, was recorded when the band members were eighteen years old. It was originally released on their first label, Good life Recordings. After lead guitarist Synyster Gates (also known by Brian Haner Jr.) joined the band, the introductory track "To End The Rapture" was re-recorded with Gates playing, and the album was re-released on Hopeless Records. Their follow-up album, entitled Waking the Fallen, was also released on Hopeless Records and was awarded a positive rating in Rolling Stone magazine. Shortly after its release, Avenged Sevenfold were signed to Warner Bros. Records.

City of Evil, the third album which was released on June 7 2005, strayed from metalcore, and instead headed more towards heavy metal and adds a harder rock sound with influences ranging from various bands. During the recording of City of Evil, M. Shadows' vocal styling changed to focus more on melodic singing rather than hardcore screaming. Some cite the change in vocal style as consequence of vocal chord damage (that resulted in subsequent surgery) during a tour supporting Waking the Fallen. Shadows denies the injury as being the reason. In the "All Excess" DVD, producer Mudrock clarifies this subject and affirms this is not the reason why the band changed style. He says "One thing I see on the Internet, and that I just want to set the record straight on is, when I met the band, before they recorded Waking The Fallen, Matt handed me the CD [Sounding The Seventh Trumpet] and said "this record is screaming, the record we wanna make is half screaming and half singing. I don't wanna scream anymore, but I'm going to make a record that's half singing and half screaming, and a record after that is going to be only singing". The already knew they wanted to make a singing record right by the time City Of Evil came out, that was two years before it came out, that's what the band wanted to do as artists."

The band's name is a reference to the book of Genesis in the Bible where Cain is sentenced to live in exile for the crime of murdering his brother. God marked him so that none would kill him on account of his sin; the man who dared to kill Cain would have "vengeance taken upon him sevenfold." The title of Avenged Sevenfold's song "Chapter Four" references Genesis 4:15, the chapter of the Bible in which the story of Cain and Abel takes place. The song's subject also appears to be this story. "Beast and the Harlot", yet another song derived from the Bible, comes from the book of Revelation only it is written in the first person and refers to the punishment of Babylon the Great, world empire and seat of false religion. Another Bible reference occurs in the song "The Wicked End". In the song, several times it is said "dust the apple off, savor each bite, and deep inside you know Adam was right." making reference to Eve eating the forbidden fruit. Although the band's title and members' stage names make references to religion, Shadows stated in an interview that they are "not really religious at all." "Anyone that read the lyrics and really knew anything about us, they would know we're not promoting either", he said. "That's one thing about this band that I love is that we never really shove any kind of, like, political or religious beliefs on people. We just, the music's there to entertain and maybe thought-provoking on both sides, but we don't try to, like, really shove anything down anyone's throat. There's too many bands that do that nowadays, I think."

The song "Bat Country" is a reference to the book/movie Fear and Loathing in Las Vegas. The song is dedicated to the Author of the book, the late Hunter S. Thompson. Their song "Blinded In Chains" was used in the soundtrack for the video games Need for Speed: Most Wanted and Arena Football. "Bat Country" was used in the soundtracks for SSX on Tour, NHL 06 and Madden 06, following in the footsteps of "Chapter Four" which had also been on the soundtrack for NHL 2004, Madden 2004 and NASCAR Thunder 2004. The song "Beast and the Harlot" was in the soundtrack for Burnout Revenge. All the above games, not coincidentally, are produced by various divisions of Electronic Arts. "Beast and the Harlot" also appears in RedOctane's Guitar Hero II, released in November 7, 2006. The song "Burn it Down" is featured on the October 24, 2006 release of the Saw III soundtrack.

During recent tours (Spring 2006 and Ozzfest 2006 tours) Avenged Sevenfold have been performing the song "Walk", originally by Pantera, as part of a tribute to the late Dimebag Darrell Lance Abbott.

At the 2006 MTV Video Music Awards, Avenged Sevenfold received the award for best new artist. They took the award over several other artists like Angels & Airwaves and James Blunt. After canceling fall and winter 2006 tour dates, the band is planning their unnamed fourth studio album. M. Shadows has stated that it will not be a City of Evil Part 2 or Waking the Fallen Part 2, because they want to change their sound once more. They say it will be somewhat of a surprise to their fans. Some people are rejecting their new sounds, as some are embracing it.

The band released their first DVD, Avenged Sevenfold : All Excess on July 17, 2007.

Avenged Sevenfold, the band's fourth album, was released on October 30, 2007, debuting at No.4 on the Billboard 200 with over 90,000 copies sold. Two singles, "Critical Acclaim" and "Almost Easy" were released prior to the album's debut. In December 2007, an animated video was made for "A Little Piece of Heaven." Due to the song's controversial subject matter, however, Warner Brothers only released it to registered MVI users over the internet. The third single, "Afterlife" and its video was released in January 2008. Their fourth single, "Dear God", was released on June 15, 2008. Although critical reception was generally mixed the self-titled album went on to sell over 500,000 copies and was awarded "Album of the Year" at the Kerrang! Awards.

Avenged Sevenfold headlined the 2008 Taste of Chaos tour with Atreyu, Bullet for My Valentine, [arist]Blessthefall and Idiot Pilot. They used the footage from their last show in Long Beach for Live in the LBC & Diamonds in the Rough, a two-disc B-sides CD and live DVD which was released on September 16, 2008. They also recorded numerous covers, including Pantera's "Walk", Iron Maiden's "Flash of the Blade" and Black Sabbath's "Paranoid".

In January 2009, M. Shadows confirmed that the band was writing the follow-up to their self-titled fourth album within the upcoming months. They also announced that they will be playing at Rock on the Range, from May 16–17, 2009. On April 16, they performed a version of Guns N' Roses' "It's So Easy" onstage with Slash, at the Nokia Theater in Los Angeles.

On December 28, 2009, drummer James "The Rev" Sullivan was found dead at his home at the age of 28. Autopsy results were inconclusive, but on June 9, 2010, the cause of death was revealed to have been an "acute polydrug intoxication due to combined effects of Oxycodone, Oxymorphone, Diazepam/Nordiazepam and ethanol". In a statement by the band, they expressed their grief over the passing of The Rev and later posted a message from Sullivan's family which expressed their gratitude to his fans for their support.

The band members admitted in a number of interviews that they considered disbanding at this point of time. However, on February 17, 2010, Avenged Sevenfold stated that they had entered the studio, along with now-former Dream Theater drummer Mike Portnoy, to drum for the record, in place of the Rev.

The single "Nightmare" was digitally released on May 18, 2010. A preview for the song was released on May 6, 2010 on Amazon.com, but was removed soon after for unknown reasons. Mixing for the album had been completed in New York City, and Nightmare was finally released worldwide on July 27, 2010. It met with mixed to positive reviews from music critics but was well received by the fans. Nightmare beat sales projections easily, debuting at number one on the Billboard 200 with sales of 163,000 units in its first week.[45] After finishing recording, in December, Portnoy and the band posted simultaneous statements on their websites stating that he will not be their replacement for The Rev. However, Portnoy did travel with the band overseas in December 2010 for three shows in Iraq and Kuwait sponsored by the USO. They played for US Soldiers at Camp Adder, Camp Beuhring, and Balad Air Base. On January 20, 2011, Avenged Sevenfold announced via Facebook that former Confide drummer Arin Ilejay will tour with them starting this year. Whether or not he will be joining the band on a permanent basis has not been decided yet.

Avenged Sevenfold performed at the Rock am Ring and Rock im Park festivals on June 3–5, 2011 alongside other bands such as Alter Bridge, System of a Down, and In Flames. On April 2011, the band headlined the Golden God Awards held by Metal Hammer. The same night the band won three awards for "Best Vocalist" (M. Shadows), "Epiphone Best Guitarist(s)" (Synyster Gates and Zacky Vengeance) and "Affliction's Album of The Year: " for Nightmare, while Mike Portnoy won the award for "Drum Workshop's Best Drummer" for his work on the album.

In May 2011, it was confirmed that the band had written a new song to be included in the Escalation DLC pack for Call of Duty: Black Ops. The song is the first time developers Treyarch have commissioned an outside band to contribute a song since the franchise began. The song, titled "Not Ready to Die", was released on iTunes on May 2, 2011.

Avenged Sevenfold headlined the 2011 Uproar Festival with supporting acts Three Days Grace, Seether, Bullet For My Valentine, Escape The Fate, among others. In August 2011, vocalist M. Shadows stated the band would finish the Uproar Festival, then go home to take a break for six to seven months before starting a new record. He also roughly stated that Arin Ilejay and the band are getting along great, but that they have to make sure he's comfortable writing music with them, but also that he hopes everything works out.

In November and December, 2011, the band went on their "Buried Alive" tour with supporting acts Hollywood Undead, Asking Alexandria, and Black Veil Brides.

On April 11, 2012, Avenged Sevenfold won the award for "Best Live Band" and "Most Dedicated Fans" at the Revolver Golden Gods awards. The band toured through Asia into April and early May, and played at the Orion Music + More, Festival on June 23 and 24 in Atlantic City, New Jersey alongside Metallica and Cage the Elephant among many others.

On September 24, 2012, Avenged Sevenfold released a new song, titled "Carry On"; it was featured in the video game Call of Duty: Black Ops II. On November 15, 2012, vocalist M. Shadows said that the band had been working on a new album since the recording of "Carry On" in August 2012. The band began recording material for the album in January 2013. The band then started streaming snippets of the album in May 2013 on their new radio app. There, Arin Ilejay was confirmed as an official band member and replacement of deceased The Rev. M. Shadows said that the album would sound more blues rock-influenced and more like classic rock/metal like Black Sabbath and Led Zeppelin.

The band was confirmed to play at the 2013 Rock in Rio festival on September 22, 2013. On May 24, 2013, the band have announced dates for their European tour with Five Finger Death Punch and Device serving as their support bands.

The album, entitled Hail to the King, was released on August 27, 2013. This is the first Avenged Sevenfold album without any musical contributions from deceased The Rev. The album's lead single and title track was released on July 15, 2013. Hail to the King charted as #1 on the US Billboard 200, the UK albums chart, as well as the Finnish, Brazilian, Canadian, and Irish charts, and was commercially and critically acclaimed. The band will headline Monster Energy's Welcome to Rockville two-day music festival in Jacksonville, FL, April 26–27, 2014, joined by more than 25 rock acts, such as Motörhead, Rob Zombie, Chevelle, Korn, Staind, Alter Bridge, The Cult, Five Finger Death Punch, Volbeat, Black Label Society, and Seether. Avenged Sevenfold headline the Mayhem Festival 2014 with Korn, Asking Alexandria, and Trivium.

In March 2014, vocalist M. Shadows revealed in an interview with Loudwire that the band had plans in the works to put something out for the overdue 10th anniversary of Waking the Fallen. Waking the Fallen: Resurrected was released August 25, 2014. The reissue charted #10 on the US Billboard 200.

In October 2014, M. Shadows confirmed that the band will begin writing their seventh album during mid-2015. In May 2015, the band posted a video on their website teasing their upcoming second live DVD/documentary, entitled This is Bat Country, which will show performances from Download Festival, Rock in Rio and Rock on the Range. As of 2016, the band hasn't released the DVD because of the ongoing lawsuit with Warner Bros.

In July 2015 the band announced on their website that they would part ways with drummer Arin Ilejay, due to "creative differences". In October 2015, the band announced on their website that they had been working with a new drummer for over a year, making sure that it was a good fit before making sudden changes. On October 21, in an interview with Kerrang! magazine, guitarist Zacky Vengeance revealed that the band had been working on the new album for the past couple of months and that a couple of songs had already been completely written. On November 4, 2015, the band announced that Brooks Wackerman would replace Arin Ilejay as the drummer for Avenged Sevenfold. In an interview with Kerrang! magazine on December 3, guitarist Zacky Vengeance said that the new album went in all sorts of aggressive and melodic directions and described it as very "aggro".

On January 14, 2016, Billboard reported that Avenged Sevenfold had been sued by Warner Bros. for trying to leave the label. The band later released a statement clarifying that they wanted to leave because a majority of the executives who helped sign the band to Warner Bros were no longer at the label. They also revealed that the band was going to be entering the studio to record their new album very soon, intending to release it later in 2016. On March 31, the band posted a teaser of their upcoming album on their website.

On August 18, 2016, the band performed a free live show for 1500 people in Minnesota, marking it the first live performance with new drummer Brooks Wackerman. The band was announced as support for Metallica with Volbeat in the U.S. Bank Stadium on August 20, 2016, making it the first ever rock show in the stadium. The band was announced as a headliner of Monster Energy Rock Allegiance 2016, along with Alice in Chains, Slayer, The Offspring, Breaking Benjamin and others. Avenged Sevenfold also performed on "Louder Than Life" festival as headliners on October 1, with Slipknot, Slayer, Disturbed, Korn and other artists. On June 21, the band announced a U.S. Fall tour with Volbeat, Killswitch Engage, and Avatar. The band also announced a UK tour for January 2017 with Disturbed and In Flames. Avenged Sevenfold was announced as a headliner of 2016 edition of Knotfest Mexico. The band also announced the European Tour for February and March 2017 along with Disturbed and Chevelle.

On October 3, 2016, the band's logo Deathbat started appearing as a projection in London. After that, Deathbat also started appearing in Berlin, Toronto and Paris, indicating a release of the new album. On October 12, WWE Superstar and frontman of the band Fozzy, Chris Jericho posted an Instagram photo of the Deathbat logo with a date 12/9/16 underneath it. He then revealed the supposed title of the album, Voltaic Oceans,[83] It was later revealed that the new album would actually be called The Stage, a concept album about artificial intelligence, which was released on October 28, 2016 via Capitol Records. The album was released to universal acclaim, and the band decided to make a unique stage production for it, hiring Cirque du Soleil directors for its making.

Avenged Sevenfold was announced as the main support act on Metallica's WorldWired 2017 stadium summer tour in the US, alongside Volbeat and Gojira.

[TBC]
Genre not found
Artist not found
Album not found
Search results not found
Song not found
I feel insane every single time
I'm asked to compromise
'Cause I'm afraid and stuck in my ways
And that's the way it stays
So how long did I expect
Love to outweigh ignorance?
By that look on your face
I may have forced the scale to tip
I'm not insane, I'm not insane
I'm not insane, I'm not, not insane
(I'm not)
Come back to me, it's almost easy
(Set it off)
Come back again, it's almost easy
Shame pulses through my heart
From the things I've done to you
It's hard to face but the fact remains
That this is nothing new
I left you bound and tied
With suicidal memories
Selfish beneath the skin
But deep inside I'm not insane
I'm not insane, I'm not insane
I'm not insane, I'm not, not insane
(I'm not)
Come back to me, it's almost easy
(Set it off)
Come back again, it's almost easy
(You learned your lesson)
Come back to me, it's almost easy
(It's still your fault)
Come back again, it's almost easy
Now that I've lost you, it kills me to say
(Hurts to say)
I've tried to hold on as you've slowly slipped away
I'm losing the fight, I've treated you so wrong
Now let me make it right
(Make it all right)
I'm not insane, I'm not insane
I'm not insane, I'm not, not insane
(I'm not)
Come back to me, it's almost easy
(Set it off)
Come back again, it's almost easy
(You learned your lesson)
Come back to me, it's almost easy
(It's still your fault)
Come back again, it's almost easy
Lyrics © Sony/ATV Music Publishing LLC
Written by: ZACHARY BAKER, BRIAN HANER, JR., MATTHEW SANDERS, JAMES SULLIVAN

Lyrics Licensed & Provided by LyricFind
To comment on specific lyrics,
highlight them