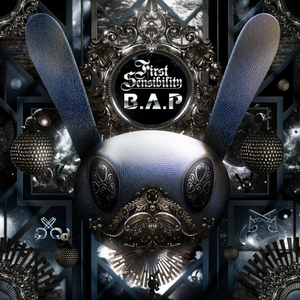 First Sensibility is the first studio album by the South Korean male pop group B.A.P. It was released on February 3, 2014 under the label of TS Entertainment. It features the single "1004 (Angel).
Genre not found
Artist not found
Album not found
Search results not found
Song not found
B.A.P
B.A.P Lyrics
We have lyrics for these tracks by B.A.P:



0 (ZERO) Giragira shita machi wo nuke Sassato uchi ni kaerou Omowan…
B.A.B.Y 처음 봤을 때 반하진 않았어 두 번 봤을 땐 웃는 게 참…
Badman [Daehyun] Eodum sogeseo deullineun jeolgyu Gongpoe jillin s…
Body & Soul My heart is sad and lonely For you I sigh, for…
BURN IT UP [Featuring Silkk The Shocker Bone Thugs N Harmony] [Master…
Coffee Shop [Daehyun] Achim haessare nuneul tteugo, haendeupon shigyereu…
COMA Niga tteonabeorin hue nan iseongeul irheoga Maeil bam, sure …
CRASH I am such a sucker And I'm always the last to…
DANCING IN THE RAIN Romanized We're just dancing on the floor Neoege jakku p…
Excuse Me Critical thinking A sea of souls selling out But this ship…
FIGHT FOR FREEDOM [Yongguk] yeah b.A.P in the buildin' Ya kno whut it is Let's…
Goodbye Find it hard to deny you,reply to your call you want…
Happy Birthday Baby lights her cigarette And takes a look around She says…
Hurricane [Yongguk]Yeah, B.A.P Let's Go [Youngjae]Ready To Fly, neo…
I Remember [Trae] I find myself in a daze, sitting watching time fly…
Kristallnacht 1) Et kütt vüür, dat ich mein, dat jet klirrt, dat sich…
Never Give Up Cardi Josh X I see the pain in your eyes And truth is,…
NO MERCY Yeah sounds good We fly here B.A.P leggo Boom clap boom boom…
ONE SHOT One shot, let me tell you something that you already…
POWER Power -- what holds it up What makes it fly That can't…
PUNCH Yeah return to battle field Pay attention everybody Hey, my…
Rain Sound [JongUp] Eo uwo eouwo uwo eouwo uwo eouwo [Yongguk] Neoran y…
Save Me I have a few more Tears to shed I have a few…
secret love Once I had a secret love That lived within the heart…
SPY I see you from my spy plane, baby I see you…
stOp it Well let me introduce myself A young go getter mind locked…
Today I'm wishin', searchin' for somethin' And life is goin' on. …
UNBREAKABLE 시간들에게 쫓기며 꿈을 향해 달리는 날 잠들을 쫓아내며 꿈을 향해 달리던 밤 가로등에 비친…
Verdammt lang her Verdamp lang her, dat ich fast alles hnz nohm. Verdamp lang…
Voice Message Yeah 넌 슬픈 멜로드라마 속 주인공이길 원해 그래봤자 우린 안 돼 넌…
WARRIOR Warrior is back We gonna rock this B.A.P What's your B?…
WHAT THE HELL It's been a long time Unfair, wrong system na mean? Kick i…
With You I used to hang out every night Used to go from…
YESSIR To all my baby, yessir! 우리를 따라 yessir! 시작해, ready action We'…
Young Wild & Free [Yongguk] Yeah, let's rock this (Oh oh oh oh oh oh…
Zero ぎらぎらした街をぬけ さっさと家に帰ろう 思わぬ工事渋滞で 赤いランプを眺めりゃ また考えすぎのムシが じ…
마음이 시키는 일 Romanized Manhi apanni manhi jichyeonni Naega neol himde…
음성메시지 Romanized Neon seulpeun mellodeurama sok juwinkon-gigil w…
전부 거짓말 Sasireun naega motdwaesseo Naega jeongmal nappeun nomiya N…

The lyrics can frequently be found in the comments below, by filtering for lyric videos or browsing the comments in the different videos below.