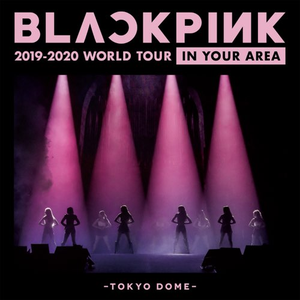 BLACKPINK 2019-2020 WORLD TOUR IN YOUR AREA - TOKYO DOME (Live)
BLACKPINK (블랙핑크; also stylized BLΛƆKPIИK) is a South Korean girl group formed by YG Entertainment, consisting of Jisoo, Jennie, Rosé and Lisa. The group debuted in August 2016 with their single album SQUARE ONE which featured "WHISTLE" and "BOOMBAYAH", their first number-one entries on South Korea's Gaon Digital Chart and the Billboard World Digital Song Sales chart, respectively. They are the highest-charting female Korean act on the Billboard Hot 100, peaking at number 13 with "Ice Cream" (2020), and on the Billboard 200, peaking at number two with THE ALBUM (2020), the first-ever album by a Korean female group to
Read Full Bio
BLACKPINK (블랙핑크; also stylized BLΛƆKPIИK) is a South Korean girl group formed by YG Entertainment, consisting of Jisoo, Jennie, Rosé and Lisa. The group debuted in August 2016 with their single album SQUARE ONE which featured "WHISTLE" and "BOOMBAYAH", their first number-one entries on South Korea's Gaon Digital Chart and the Billboard World Digital Song Sales chart, respectively.

They are the highest-charting female Korean act on the Billboard Hot 100, peaking at number 13 with "Ice Cream" (2020), and on the Billboard 200, peaking at number two with THE ALBUM (2020), the first-ever album by a Korean female group to sell more than one million copies. They were also the female Korean act to enter and top Billboard's Emerging Artists chart and to top the Billboard World Digital Song Sales chart three times and received a certification from the Recording Industry Association of America (RIAA) with their hit single "DDU-DU DDU-DU" (2018), whose music video is currently the most-viewed by a Korean group on YouTube. They have the most top 40 hits in the United Kingdom among all Korean artists, and their 2018 song "Kiss and Make Up" was the first by a Korean group to receive a certification from the British Phonographic Industry (BPI) and a platinum certification from the Australian Recording Industry Association (ARIA).

BLACKPINK has broken numerous online records throughout their career. The music videos for "Kill This Love" (2019) and "How You Like That" (2020) each set records for the most-viewed music video within the first 24 hours of release, with the latter breaking three and setting two Guinness World records. They are also the first music group and Korean act to have three music videos each accumulate one billion views on YouTube. They are the most-followed girl group on Spotify and the most-subscribed music group, female act, and Asian act on YouTube currently. Their other accolades include the New Artist of the Year Award at the 31st Golden Disc Awards and the 26th Seoul Music Awards, the Mnet Asian Music Award for Best Female Group in 2020, an MTV Music Video Award (first win by Korean girl group), inclusion on Forbes Korea's annual list of the most powerful celebrities in South Korea (placing first in 2019 and third in 2020) and recognition as the first female Korean group on Forbes' 30 Under 30 Asia.
Genre not found
Artist not found
Album not found
Search results not found
Song not found
DDU-DU DDU-DU
BLACKPINK Lyrics
BLACKPINK
Ah yeah, ah yeah
BLACKPINK
Ah yeah, ah yeah, eh
착한 얼굴에 그렇지 못한 태도
가녀린 몸매 속 가려진 volume은 두 배로
거침없이 직진 굳이 보진 않지 눈치
Black 하면 Pink 우린 예쁘장한 savage (BLACKPINK)
원할 땐 대놓고 뺏지
넌 뭘 해도 칼로 물 베기
두 손엔 가득한 fat check
궁금하면 해봐 fact check
눈 높인 꼭대기
물 만난 물고기
좀 독해 난 toxic
You 혹해 I'm foxy
두 번 생각해
흔한 남들처럼 착한 척은 못 하니까
착각하지 마
쉽게 웃어주는 건 날 위한 거야
아직은 잘 모르겠지 굳이 원하면 test me
넌 불 보듯이 뻔해
만만한 걸 원했다면
Oh wait til' I do what I do
Hit you with that ddu-du ddu-du du
Ah yeah, ah yeah
Hit you with that ddu-du ddu-du du
Ah yeah, ah yeah
Dudu dududu
(BLACKPINK)
지금 내가 걸어가는 거린
BLACKPINK four way 사거리
동서남북 사방으로 run it
너네 버킷리스트 싹 다 I bought it
널 당기는 것도 멀리 밀치는 것도 제멋대로 하는 bad girl
좋건 싫어하건 누가 뭐라 하던 when the bass drop, it's another banger
두 번 생각해
흔한 남들처럼 착한 척은 못 하니까
착각하지 마
쉽게 웃어주는 건 날 위한 거야
아직은 잘 모르겠지
굳이 원하면 test me
넌 불 보듯이 뻔해
만만한 걸 원했다면
Oh wait til' I do what I do
Hit you with that ddu-du ddu-du du
Ah yeah, ah yeah
Hit you with that ddu-du ddu-du du
Ah yeah, ah yeah
Dudu dududu
What you gonna do
When I come come through with that that uh uh huh
What you gonna do
When I come come through with that that uh uh huh
뜨거워 뜨거워 뜨거워 like fire
뜨거워 뜨거워 뜨거워 like fire
BLACKPINK
Hey
Ah yeah, ah yeah, ah yeah, ah yeah
뜨거워 뜨거워 뜨거워 like fire (hey)
뜨거워 뜨거워 뜨거워 like fire (fire)
Hit you with that ddu-du ddu-du du
Lyrics © Universal Music Publishing Group, Warner Chappell Music, Inc.
Written by: R.Tee, Hong Jun Park, Jeong Hun Seo, Rebecca Rose Johnson

Lyrics Licensed & Provided by LyricFind
To comment on specific lyrics,
highlight them