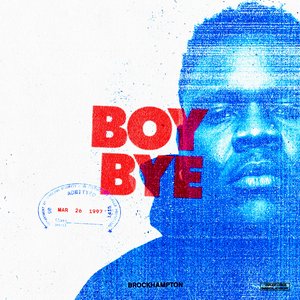 Brockhampton (stylized as BROCKHAMPTON) were an American musical group formed in San Marcos, Texas, in 2010 and based in California. Led by Kevin Abstract, Brockhampton formed partially through the online forum "KanyeToThe", and describe themselves as a boy band. The group consisted of vocalists Kevin Abstract, Matt Champion, Merlyn Wood, Dom McLennon, Joba, and Bearface (the latter two also work as producers), and producers Romil Hemnani, Jabari Manwa
Read Full Bio
Brockhampton (stylized as BROCKHAMPTON) were an American musical group formed in San Marcos, Texas, in 2010 and based in California. Led by Kevin Abstract, Brockhampton formed partially through the online forum "KanyeToThe", and describe themselves as a boy band. The group consisted of vocalists Kevin Abstract, Matt Champion, Merlyn Wood, Dom McLennon, Joba, and Bearface (the latter two also work as producers), and producers Romil Hemnani, Jabari Manwa, and Kiko Merley (the latter two of which function as the duo Q3), as well as graphic designer Henock "HK" Sileshi, photographer Ashlan Grey, web designer Roberto Ontenient (who also features prominently in voice skits), and manager Jon Nunes.

The group released their first mixtape All-American Trash in 2016. Their debut album Saturation was released on June 9, 2017, followed by Saturation II on August 25 and Saturation III on December 15 2017. On March 30, 2018, Brockhampton announced that they had signed a record deal under RCA Records.

In summer 2018, the group parted ways with vocalist Ameer Vann over accusations of sexual misconduct. Their album which was set for release, titled Puppy, was thrown out after the incident.
On September 21th 2018, the boyband released their 4th studio album, Iridescence, recorded in London's iconic Abbey Road Studios in one week. It was their major-label debut, as well as their first album since Ameer Vann's departure following sexual misconduct allegations.
The album marked Brockhampton's first number one album, as the album debuted at #1 on the Billboard 200 Chart. The album sold 101,000 copies in its first week and was released just weeks before the band embarked on their first tour without ex-member Ameer.

After the band's longest hiatus, Brockhampton returned in 2019 which a string of singles, "I Been Born Again", "If You Pray Right", "Boy Bye", and "No Halo". Ginger (stylized in all caps) is the fifth studio album by American hip hop collective Brockhampton. It was released on August 23, 2019, through the band's label Question Everything and RCA. It features slowthai, Deb Never, and the band's members.

On January 14, 2022, Brockhampton announced that they would no longer be performing as a group and would go on indefinite hiatus after their 2022 Coachella performance.

On April 16, 2022, Brockhampton announced during one of their last performances "The final Brockhampton album", coming in 2022.
Genre not found
Artist not found
Album not found
Search results not found
Song not found
Jabari, me paddy!
Ayy, everybody ask me how I deal with my depression
Man, look (man, look), I don't got the answer to your question
If I did, you would probably never hear from me again
That's a promise, not a threat and it ain't no half steppin' (hey)
Can't let it compromise the pace I'm settin' (hey)
Grandma told me don't forget to count my blessings (woo)
Breakin' up botanicals to ease my stressin'
Was the one that you needed but you weren't expectin'
Game need refreshin' (hey), what you been suggestin'? (Hey)
Wrote a new Constitution, we don't need amendin' (hey)
I go Johnnie Cochran when I'm raisin' my defenses (yeah)
Man, I feel like Michael Keaton when a nigga start ascendin' (hey)
Never second guessin' (hey), had to do a lot of restin' (hey)
Like I played for Popovich, tryna find our new direction (woo)
Listen, I ain't for the shelvin', what you niggas tellin'?
My team be rebellin' from wherever you were headin' (Goddamn)
My shit bump like a belly when it's pregnant (mhm)
Bona fide big bird lookin' like a Yeti (mhm)
Swift feet cheetah, that's a real big kitty
Made y'all judges, that's a real ass feelin'
I don't like the style, won't forget it, man, I did it (yeah)
Always got the shit, like constipated reverend (alright)
Y'all like to shit talk, no pun, all fun
But I make a bitch crack a giggle with the next one (oh)
Goofy ass boy, look like Elmer Fudd cousin (jeez)
Heavy ass feet, man, people heard you comin' (shit)
Actin' like Regina, you a lil' bit dramatic (George)
I been in the cockpit, I been in the cabin (right)
Take the eagle out just to ride around the planet (right)
Did a lot of curvin', man, I don't take damage
Oh so hot, so, sst, get branded
I'm just havin' fun, cops hit me, goddamn it (oh yeah)
Trauma got me fucked up, my mama got me fucked up
My lil' nigga locked up, it's like Hakuna Matata
Never liked Sci-Fi, empathetic Wi-Fi
Keep it in the back room, hide it with my dry eye
Put it in the vacuum, I got love for my label
15 million on the table, none of my niggas are stable
Need a personal connection, I just wanna feel you, baby
Bein' sober made me realize how poorly I been behavin', uh
My bitch is so pretty, pretty (mmm)
I get cash like really, really
Tell the DJ, man, he ain't slick 'cause he ain't playin' hits
He silly, silly (mmm)
My bitch is so pretty, pretty (mmm)
I get cash like really, really (get it)
Tell the DJ, man, he ain't slick 'cause he ain't playin' hits
He silly, silly (boy, bye!)
Ringin' their ears like a bark
Always feel left in the dark
Trauma the price for the patience
Character shaped like a arc
Move like my shit stay in park
Don't feel the love or respect
Grip like a hand on my neck
This is the year, place your bets
Boy, bye!
Ooh, ooh, beautiful and bashful
Ooh, ooh, ooh (mmm)
I'm beautiful and bashful
Boy, bye! (God damn! Mmm)
Boy, bye!
Boy, bye! (God damn! Mmm)
I'm beautiful and bashful
Writer(s): Reza Attaei, Varoujan, Romil Hemnani, Dominique Simpson, Clifford F Simpson, Isaiah Merriweather, Matthew Champion, Ciaran Mcdonald, William Wood, Russell Boring, Jabari Manwarring

Contributed by Jacob G. Suggest a correction in the comments below.
To comment on specific lyrics,
highlight them