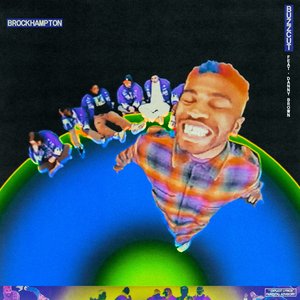 BUZZCUT (feat. Danny Brown)
Brockhampton (stylized as BROCKHAMPTON) were an American musical group formed in San Marcos, Texas, in 2010 and based in California. Led by Kevin Abstract, Brockhampton formed partially through the online forum "KanyeToThe", and describe themselves as a boy band. The group consisted of vocalists Kevin Abstract, Matt Champion, Merlyn Wood, Dom McLennon, Joba, and Bearface (the latter two also work as producers), and producers Romil Hemnani, Jabari Manwa
Read Full Bio
Brockhampton (stylized as BROCKHAMPTON) were an American musical group formed in San Marcos, Texas, in 2010 and based in California. Led by Kevin Abstract, Brockhampton formed partially through the online forum "KanyeToThe", and describe themselves as a boy band. The group consisted of vocalists Kevin Abstract, Matt Champion, Merlyn Wood, Dom McLennon, Joba, and Bearface (the latter two also work as producers), and producers Romil Hemnani, Jabari Manwa, and Kiko Merley (the latter two of which function as the duo Q3), as well as graphic designer Henock "HK" Sileshi, photographer Ashlan Grey, web designer Roberto Ontenient (who also features prominently in voice skits), and manager Jon Nunes.

The group released their first mixtape All-American Trash in 2016. Their debut album Saturation was released on June 9, 2017, followed by Saturation II on August 25 and Saturation III on December 15 2017. On March 30, 2018, Brockhampton announced that they had signed a record deal under RCA Records.

In summer 2018, the group parted ways with vocalist Ameer Vann over accusations of sexual misconduct. Their album which was set for release, titled Puppy, was thrown out after the incident.
On September 21th 2018, the boyband released their 4th studio album, Iridescence, recorded in London's iconic Abbey Road Studios in one week. It was their major-label debut, as well as their first album since Ameer Vann's departure following sexual misconduct allegations.
The album marked Brockhampton's first number one album, as the album debuted at #1 on the Billboard 200 Chart. The album sold 101,000 copies in its first week and was released just weeks before the band embarked on their first tour without ex-member Ameer.

After the band's longest hiatus, Brockhampton returned in 2019 which a string of singles, "I Been Born Again", "If You Pray Right", "Boy Bye", and "No Halo". Ginger (stylized in all caps) is the fifth studio album by American hip hop collective Brockhampton. It was released on August 23, 2019, through the band's label Question Everything and RCA. It features slowthai, Deb Never, and the band's members.

On January 14, 2022, Brockhampton announced that they would no longer be performing as a group and would go on indefinite hiatus after their 2022 Coachella performance.

On April 16, 2022, Brockhampton announced during one of their last performances "The final Brockhampton album", coming in 2022.
Genre not found
Artist not found
Album not found
Search results not found
Song not found
Who let the dope boys out?
Thank God you let me crash on your couch
Who's my God that I'm prayin' to now?
Early two-thous', they tried to jump me in, Latino protection
Any direction, you gave me your blessing
Texan, I text him, I told him I got him
Told him I made it to Hollywood, all it took was a summer to fail
A platinum record not gon' keep my black ass out of jail
Truth prevails, this is real, miss my brother
I love my mother, drove all the way to Cali' just to check up on me
Made her go home, felt the virus
Web of life is my weed, false dreams stripped by silence
Deals they had us sign, for years it had me blind
Think I had to hit rewind and think about why I do shine
Got my cousin doin' time, he was barely pushin' dimes
My whole family cursed, now get the fuck out my ride
'Ide, 'ide, 'ide, 'ide, 'ide, 'ide, 'ide, yeah, I
Nothin', nothin', nothin', nothin', nothin'
Come get the fuck out my ride
'Ide, 'ide, 'ide, 'ide, 'ide, 'ide, 'ide, yeah, I (get the fuck out)
Fuck with me, gives no shit, guess my ignorance is bliss
Now get the fuck out my ride
'Ide, 'ide, 'ide, 'ide, 'ide, 'ide, 'ide, yeah, I
Nothin', nothin', nothin', nothin', nothin'
So get the fuck out my ride
'Ide, 'ide, 'ide, 'ide, 'ide, 'ide, 'ide, yeah, I
Plus I tend to say shit to get these motherfuckers sick (get the fuck out)
Live from the gutter, blood like red paint spills
You niggas ain't alpha, you're incels
You normies ain't a part of the script, dox your house with Crips
Pop shit and I'ma get content, constant
Where to begin? A veteran with medicine pen
Let 'em all in, treat 'em like they next of my kin
Checkin' your chin way before the record begin
Niggas blow a lot of smoke like they breath in the wind
Ain't no pretend, tell you how it is, how it go
What do you know? when you start escapin' your soul
White on the street, walking the beat like Abbey Road
Truth be told, no such thing as real nigga mold
Through the light, camera, action, glamour, glitters and gold
Unfold the scroll, plant seeds to stampede the globe
No peace on the street, so I'm clutchin' my heat
Gotta watch for these savages roamin' the street (go)
I (I) (go)
I'ma see you when I do
Now get the fuck out my ride
'Ide, 'ide, 'ide, 'ide, 'ide, 'ide, 'ide, yeah, I (yeah, nigga)
(we back up in this thang)
Now get the fuck out my ride (yeah, new machine)
(Yeah, I) They said I'd never ever see the sunlight (tell 'em)
I thought I'd never ever see the sunlight
They said I'd never ever see the sunlight
Sometimes it drives me crazy (look at the sky)
This all I got for you (niggas)
The sunlight, it'll drive you crazy
What is God to you niggas?
Goddamn, motherfucker, uh
Lyrics © Warner Chappell Music, Inc.
Written by: Versus, Daniel Sewell, Ian Simpson, Imondre Shaver Goss, Jabari Manwarring, Jared Scharff, Jeremy Ruzumna, Johan Lenox, Joseph Karnes, Romil Hemnani, Russell Evan Boring

Lyrics Licensed & Provided by LyricFind
To comment on specific lyrics,
highlight them