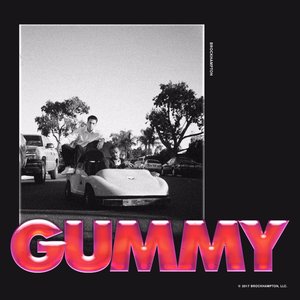 Brockhampton (stylized as BROCKHAMPTON) were an American musical group formed in San Marcos, Texas, in 2010 and based in California. Led by Kevin Abstract, Brockhampton formed partially through the online forum "KanyeToThe", and describe themselves as a boy band. The group consisted of vocalists Kevin Abstract, Matt Champion, Merlyn Wood, Dom McLennon, Joba, and Bearface (the latter two also work as producers), and producers Romil Hemnani, Jabari Manwa
Read Full Bio
Brockhampton (stylized as BROCKHAMPTON) were an American musical group formed in San Marcos, Texas, in 2010 and based in California. Led by Kevin Abstract, Brockhampton formed partially through the online forum "KanyeToThe", and describe themselves as a boy band. The group consisted of vocalists Kevin Abstract, Matt Champion, Merlyn Wood, Dom McLennon, Joba, and Bearface (the latter two also work as producers), and producers Romil Hemnani, Jabari Manwa, and Kiko Merley (the latter two of which function as the duo Q3), as well as graphic designer Henock "HK" Sileshi, photographer Ashlan Grey, web designer Roberto Ontenient (who also features prominently in voice skits), and manager Jon Nunes.

The group released their first mixtape All-American Trash in 2016. Their debut album Saturation was released on June 9, 2017, followed by Saturation II on August 25 and Saturation III on December 15 2017. On March 30, 2018, Brockhampton announced that they had signed a record deal under RCA Records.

In summer 2018, the group parted ways with vocalist Ameer Vann over accusations of sexual misconduct. Their album which was set for release, titled Puppy, was thrown out after the incident.
On September 21th 2018, the boyband released their 4th studio album, Iridescence, recorded in London's iconic Abbey Road Studios in one week. It was their major-label debut, as well as their first album since Ameer Vann's departure following sexual misconduct allegations.
The album marked Brockhampton's first number one album, as the album debuted at #1 on the Billboard 200 Chart. The album sold 101,000 copies in its first week and was released just weeks before the band embarked on their first tour without ex-member Ameer.

After the band's longest hiatus, Brockhampton returned in 2019 which a string of singles, "I Been Born Again", "If You Pray Right", "Boy Bye", and "No Halo". Ginger (stylized in all caps) is the fifth studio album by American hip hop collective Brockhampton. It was released on August 23, 2019, through the band's label Question Everything and RCA. It features slowthai, Deb Never, and the band's members.

On January 14, 2022, Brockhampton announced that they would no longer be performing as a group and would go on indefinite hiatus after their 2022 Coachella performance.

On April 16, 2022, Brockhampton announced during one of their last performances "The final Brockhampton album", coming in 2022.
Genre not found
Artist not found
Album not found
Search results not found
Song not found
Me llamo Roberto
Y acabamos de robar un banco
These niggas take me for granted, what would hap' if I vanish?
Bet a hunnid they'd panic, my shooters only speak Spanish
Keep my heart with my dogs, keep my car in the yard
I can't drive it nowhere so I let you niggas take off
Seen the shit that they drop, that shit not instantly hot
I give that instant re-bop, that replay value go off
That make my value go up, I keep that bow in my cup
My niggas rolling, got that going with a thousand to bust
That nigga Kevin can't rap, he too sappy with his shit
He don't rep me with his shit, he on that teenage bullshit
And he 'bout 20 and shit, when he let go of that shit
He'll prolly be a little colder, y'all agree with me shit?
That nigga need to act his age, he ain't acting like a grown up
Ain't that boy from Texas? He ain't acting like a soldier
Knew that boy in high school, man that nigga wasn't awkward
And I know his mama, man that nigga just a liar
Cash don't last, my friends will ride with me
Keep 'em in my bag, we robbed a limousine
When the guns go pow, won't bother us again
I don't wanna do it but they keep on pushing me
Cash don't mean shit (shit)
Cried my last tears, bitch
Cashed my last check (check)
Cash don't mean shit (shit)
Cash don't mean shit (shit)
Cried my last tears, bitch
Cashed my last check (check)
Cash don't mean shit (shit)
Call me king of the niggas, I need a crown made of thorns
God said let there be light, on the day I was born
Step off the ship with the slaves, then I go hit the stage
I just left in a whip, all I need is a chain
I don't trust no niggas, and I don't trust no bitch
'Cause people talk too much, I bought a black four-fifth
And a brand new clip, that's my new best friend
'Cause I'm a brand new nigga, In a brand new crib
I ain't sellin no more, but got my hand in the zip
Whitey gave me the check, I ain't ask for the fame
I used to deal with the grams, 'till they put the cam on my face
Now I'm evading the law, I'm on a high-speed chase
I'm in a big ass truck, I tell 'em get out the way
I gotta couple of warrants, so I'm leaving my state
Now I'm in Cali today, with the sun on my face
I got a bag of the gas, and a blunt I can face
How I'm gon' move at your pace, I'm busy settin' the tone
You think we runnin' together, I'm in a lane of my own
Don't got no friends in this game, it's me and my brothers alone
They thinkin' that we competing, that shit depletin' my bones
I don't need all that energy, they just fuck up my chakras
I put my heart in a locker, they love me when I'm a martyr
They hate me when I'm myself, I can't barter with that
You watch us charter these tracks, it's sticking like tartar and plaque
I need a parlour of plaques, need lobsters and helicopters
I need peace for my niggas, need darker skin for all my doctors
I like to speak like a scholar, like to think like a nigga
In this world I can't wander, no honor behind the trigger
I could get shot in my back, and they'd tell the world that I fought 'em
"We ain't taught 'em nothin' new, but somehow they been gettin' smarter"
That's what they sayin' in private, speaking from that entitlement
We still workin' for titles, and makin' tidal environments
Cash don't last, my friends will ride with me
Keep 'em in my bag, we robbed a limousine
When the guns go pow, won't bother us again
I don't wanna do it but they keep on pushing me
Cash don't last, my friends will ride with me
Keep 'em in my bag, we robbed a limousine
When the guns go pow, won't bother us again
I don't wanna do it but they keep on pushing me
Fuck, put ya ante up, riding in the limousine
I'm stuck on some bud I hit, under concrete canopy
Fuck all this energy, you just wanna bring me down
Fuck all your energy, you just wanna bring me down
Fuck with the windows up, blowin' past the exit now
Up like a money shot, swerve into the sunset
Me and all my boys jet, swervin' like a donut
Off off off off, swervin' like a donut
Nigga what
(Pull up, pull up, pull up, pull up, pull up, if you want to)
Nigga what
(Pull up, pull up, pull up, pull up, pull up, if you want to)
Nigga what
(Pull up, pull up, pull up, pull up, pull up, if you want to)
Nigga what
Lyrics © CONCORD MUSIC PUBLISHING LLC, Warner Chappell Music, Inc.
Written by: Ameer Vann, Ian Simpson, Dominique Simpson, Isaiah Merriweather, Jabari Manwarring, Matthew Garrett Champion, Romil Hemnani, Russell Evan Boring, William Anku Kraka Mawuli Ando Wood

Lyrics Licensed & Provided by LyricFind
To comment on specific lyrics,
highlight them