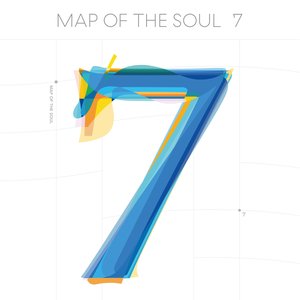 Unveiled in 2019, the "MAP OF THE SOUL" series contains the honest and heartfelt story of BTS and their journey of discovering their true selves. The first chapter of this story, "MAP OF THE SOUL: PERSONA", sang about the world and the joy of love, and the discovery of the self as it is displayed to the world; "MAP OF THE SOUL: 7" now turns inward to the shadow within in a candid acknowledgement that it, too, is part of the self. "MAP OF THE SOUL: 7" looks back on the past seven years of BTS since their debut as
Read Full Bio
Unveiled in 2019, the "MAP OF THE SOUL" series contains the honest and heartfelt story of BTS and their journey of discovering their true selves. The first chapter of this story, "MAP OF THE SOUL: PERSONA", sang about the world and the joy of love, and the discovery of the self as it is displayed to the world; "MAP OF THE SOUL: 7" now turns inward to the shadow within in a candid acknowledgement that it, too, is part of the self.

"MAP OF THE SOUL: 7" looks back on the past seven years of BTS since their debut as seven members of one team. The journey was not always smooth sailing, and there were special travails that they had to endure in their rise as global superstars. Now, understanding that the scars left by those hardships is a part of their real selves, BTS accepts both 'the self I want to show' and the 'self I want to scorn' to at last tell their own story of finding their 'real and complete selves'.

Bridging fine art and popular art through such initiatives as the global art project "CONNECT BTS" and the promotional single "Black Swan", which has an art film featuring a modern dance interpretation of the early-release track, also its official music video was released as a surprise on March 4.
The lead single "ON" was released on February 21 along with the album and with a dance video called "Kinetic Manifesto Film: Come Prima". Its official music video was released a week later on February 28. "ON" peaked at #4 on the US Billboard Hot 100 charts, making it their first single that make it to the top 5.

BTS is poised to show their latest growth as artists through their fourth studio album "MAP OF THE SOUL: 7".
Genre not found
Artist not found
Album not found
Search results not found
Song not found
Intro : Persona
BTS Lyrics
(You can be)
Yo 나는 누구인가 평생 물어온 질문
아마 평생 정답은 찾지 못할 그 질문
나란 놈을 고작 말 몇 개로 답할 수 있었다면
신께서 그 수많은 아름다움을 다 만드시진 않았겠지
How you feel? 지금 기분이 어때?
사실 난 너무 좋아, 근데 조금 불편해
나는 내가 개인지 돼진지 뭔지도 아직 잘 모르겠는데
남들이 와서 진주목걸일 거네
칵 퉤
예전보단 자주 웃어
소원했던 superhero
이젠 진짜 된 것 같어
근데 갈수록 뭔 말들이 많어
누군 달리라고 누군 멈춰서라 해
얘는 숲을 보라고 걔는 들꽃을 보라 해
내 그림자, 나는 망설임이라 쓰고 불렀네
걘 그게 되고 나서 망설인 적이 없었네
무대 아래든 아님 조명 아래든 자꾸 나타나
아지랑이처럼 뜨겁게 자꾸 날 노려보네 (oh, shit)
야, 이 짓을 왜 시작한 건지 벌써 잊었냐?
넌 그냥 들어주는 누가 있단 게 막 좋았던 거야
가끔은 그냥 싹 다 헛소리 같아
취하면 나오는 거 알지? Huh 치기 같아
나 따위가 무슨 music
나 따위가 무슨 truth
나 따위가 무슨 소명
나 따위가 무슨 muse
내가 아는 나의 흠 어쩜 그게 사실 내 전부
세상은 사실 아무 관심 없어, 나의 서툼
이제 질리지도 않는 후회들과
매일 밤 징그럽게 뒹굴고
돌릴 길 없는 시간들을 습관처럼 비틀어도
그때마다 날 또 일으켜 세운 것
최초의 질문
내 이름 석 자
그 가장 앞에 와야 할 but
So I'm askin' once again yeah
Who the hell am I?
Tell me y'all, your names baby
Do you wanna die?
Oh, do you wanna go (go)?
Do you wanna fly (fly)?
Where's your soul? Where's your dream?
Do you think you're alive?
Oh, shit
I don't know man
But I know one thing
Yeah, my name is R
내가 기억하고 사람들이 아는 나
날 토로하기 위해 내가 스스로 만들어낸 나
Yeah 난 날 속여왔을지도
뻥쳐왔을지도
But 부끄럽지 않아 이게 내 영혼의 지도
Dear myself 넌 절대로 너의 온도를 잃지 마
따뜻히도 차갑게도 될 필요 없으니까
가끔은 위선적이어도, 위악적이어도
이게 내가 걸어두고 싶은 내 방향의 척도
내가 되고 싶은 나
사람들이 원하는 나
니가 사랑하는 나
또 내가 빚어내는 나
웃고 있는 나
가끔은 울고 있는 나
지금도 매분 매순간 살아 숨쉬는
Persona (yeah)
Who the hell am I (yeah)
I just wanna go (yeah)
I just wanna fly (yeah)
I just wanna give you all the voices till I die (yeah)
I just wanna give you all the shoulders when you cry (yeah)
Persona (yeah)
Who the hell am I (yeah)
I just wanna go (yeah)
I just wanna fly (yeah)
I just wanna give you all the voices till I die (yeah)
I just wanna give you all the shoulders when you
Cry
Lyrics © Sony/ATV Music Publishing LLC
Written by: Hee Soo Kang, Ho Weon Kang, Nam Joon Kim

Lyrics Licensed & Provided by LyricFind
To comment on specific lyrics,
highlight them