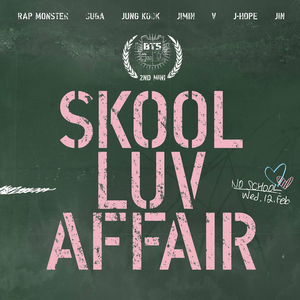 Skool Luv Affair is the second extended play by South Korean boy band BTS. The album was released on February 12, 2014. It contains ten tracks, with "Boy in Luv" as the lead single M/V, which came with its video for its "Choreography Version". On April 9, the group promoted "Just One Day" M/V, another track from the album, which came with different videos for different versions, i.e; the "Choreography Version", the "One - Take Version", the "Facial Expressions Version", and a different choreography for the "Appeal Version" . The repackaged version was released on May 14 with two new
Read Full Bio
Skool Luv Affair is the second extended play by South Korean boy band BTS. The album was released on February 12, 2014. It contains ten tracks, with "Boy in Luv" as the lead single M/V, which came with its video for its "Choreography Version". On April 9, the group promoted "Just One Day" M/V, another track from the album, which came with different videos for different versions, i.e; the "Choreography Version", the "One - Take Version", the "Facial Expressions Version", and a different choreography for the "Appeal Version" . The repackaged version was released on May 14 with two new tracks: "Miss Right" and "I Like It (Slow Jam Remix)". The physical copy of the repackage album, Skool Luv Affair Special Addition, contains a total of 18 tracks with the addition of six instrumentals.

On January 26 2014, Big Hit Entertainment released a countdown clock on BTS's official website and uploaded a comeback trailer on February 2 on YouTube in preparations for this album and comeback promotions. It featured a colorful array of animations flashing on the screen, accompanied by RM's rap. Three days later, Big Hit Entertainment released the track list and concept photo for BTS's upcoming album on their official Twitter account and Facebook page. They also released the design and details of the physical album which would be accompanied with its photobook and photocard. They released an album preview a day later, revealing that "Boy in Luv" would be their lead single. Big Hit Entertainment released one track, "Just One Day," on February 6 2014 for free pre-streaming ahead of BTS's comeback. They released an MV teaser of the song much later on April 2.

The repackaged album, Skool Luv Affair Special Addition, was released on May 14, and comprised three discs: one CD with the songs and two DVDs about memorable moments from BTS's showcase. It consists of 18 tracks with only two new tracks: "Miss Right" and "I Like It (Slow Jam Remix)" available for digital release and six additional instrumentals available only with physical purchase.

The music video for "Boy in Luv" was released on February 11, 2014. It features the members as students, acting out various scenes that showed their interest in the female lead character (Go So-hyun). On February 20, BTS released the dance version of "Boy in Luv" in the middle of promoting on music programs. The music video for "Just One Day (하루만)" was then released on April 6 in preparation for the group's follow-up promotions. The music video showed a lighter contrast from "Boy in Luv"; it featured the members sitting in the light and shadows as well as dancing with chairs on a white background. Various version's of the 'Just One Day' MV were released after the original version, such as the choreography version, the facial expressions version, etc. The choreography of "Boy In Luv" was created by GRV Crew, David Lim. Both "Boy in Luv" and "Just One Day" music videos were produced and directed by Lumpens and GDW.

BTS held a press conference and comeback showcase on February 11 2014, performing "Boy in Luv" and "Jump" prior to their promotion on music programs starting February 13. The group later then revealed to continue their promotion with "Just One Day" on April 9. BTS held the first fan meeting titled BTS Global Official Fanclub A.R.M.Y 1ST Muster on March 29 and performed their new songs from Skool Luv Affair album at the concert.

BTS entered Billboard World Digital Songs for the second time, sending three songs on the chart with the lead single "Boy In Luv" charted at number 5 and another single, "Just One Day" charted at 25 later during its promotion. On February 23, "Boy In Luv" was nominated as the candidate for first place on music program SBS Inkigayo awards. The album debuted at number 3 on South Korea's Gaon Weekly Chart and rose to number 1 two months later during "Just One Day" promotions. The album also peaked at number 3 on Billboard World Albums Chart, marked the first time BTS album charted on international charts, US' Billboard Chart and Japan's Oricon Chart, specifically. The repackaged album debuted at number 1 on Gaon Weekly Chart on the second week of May. Skool Luv Affair was the twentieth best-selling album of South Korea Gaon Album Chart in 2014.
Genre not found
Artist not found
Album not found
Search results not found
Song not found
Intro : Skool Luv Affair
BTS Lyrics
첫 만남 첫 문자 첫 통화 (첫 통화)
첫 데이트 첫 키스와 둘만의 공간
속에서 늘 모든 게 너와 처음이고파
난 거식증 뭘 먹어도 항상 니, 니가 고파
이걸 중독이란 단어로서만
표현할 순 없어
너란 여잔 묘사 불가
시적 허용을 넘어섰어
이게 너 때문이야 널 대문자처럼
내 인생 맨 앞에 두고파
좋은 집 좋은 차 그런 게
행복일 순 없겠지만 꼭 주고파
아이, 잠시만 잠시만요 음악 좀 꺼주세요
왜 아잇 형 이거 아니잖아요, 형 뭐가
두고파 이게 뭐에요, 형
주고파 거든
아, 그래요? 그럼 제 스타일 한번 보여드릴게요
아, 음악한번 주세요!
그렇지! 이거지, 이거 형 이런 스타일!
아 사랑은 희망적으로 가야죠, 희망적으로
Ya uh yeah uh ya
망설임 없이 고백하는 게 나의 style
널 위해서라면 이 한 몸 다 바칠 type
항상 널 향해 조명을 비출게 girl
이건 너와 날 위한 사랑의 무대인 걸
우리는 콩깍지 씌었지 알콩달콩
우리의 미래는 밝고 화사해 알록달록
너만 있으면 뭐든 다 가졌지 like a milli
너와 지금부터 사랑의 문이 열리지 go in, haha
아이, 크으 죽이네, 죽여!
역시 사랑은 희망적이지, 희망적
어떻게 맨날 희망적으로 사냐
어? 희망적으로, 방탄 스타일은 그게 아니잖아
뭔데 방탄스타일 해봐?
힙합? let's go (you can be, yeah) shoot it
BTS 우리가 사랑하는 법
10대던 20대던 같아 사랑하는 건
RM, so now I'm telling you the story
난 이렇게까지 사랑해봤어 넌 어떠니
This is just an intro shouting
'Bout my whole mind and body
You know that her refusals and bad words could never stop me
They could never retard me, this is my ideology
Who in the world can dampen my heart's blood, nobody
Wassup 다시 물을게 wassup
넌 어떠니 사랑해보지 않았다면 꼭 나처럼 해보는 게
어때 참 사람 감정이란 게 묘한 게
난 널 웃게 했는데 넌 널 울게 하는 놈에게 가더라고
I said yeah that's love
I said 그래 그게 사랑
누군 찌질 하다고 말하지만 난 정말 괜찮아
사랑할 땐 한 번도 상처받지 않은 것처럼
내 모든 걸 앗아간대도 더 줄 것처럼
Wassup 사랑할 때는 좀 화끈하게 (hey)
노래할 때는 좀 따끔하게 (hey hey)
좀 화끈하게 (hey hey) 좀 따끔하게
우리 사랑할 때는 좀 화끈하게 (hey)
노래할 때는 좀 따끔하게 (hey hey)
좀 화끈하게 (hey hey) 좀 따끔하게
이게 한 마디로 방탄 style (wassup)
이게 한 마디로 방탄 style (wassup)
이게 한 마디로 방탄 style (wassup)
방탄 style 방탄 style, wassup
Lyrics © Sony/ATV Music Publishing LLC
Written by: Ho Seok Jeong, Ho Weon Kang, Nam Jun Kim, Do Hyeong Kwon, Yun Ki Min

Lyrics Licensed & Provided by LyricFind
To comment on specific lyrics,
highlight them