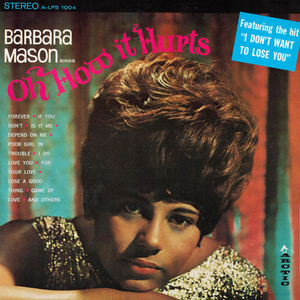 Barbara Mason (born August 9, 1947, in Philadelphia, Pennsylvania) is an American soul singer with several R&B and pop hits in the 1960s and 1970s, best known for her self-written 1965 hit song "Yes, I'm Ready". Mason initially focused on songwriting when she entered the music industry in her teens. As a performer, though, she had a major hit single with her third release in 1965, "Yes, I'm Ready" (#5 pop, #2 R&B). She had modest success throughout the rest of the decade on the small Arctic label, run by her manager, top Philadelphia disc-jockey, Jimmy Bishop. She reached the
Read Full Bio
Barbara Mason (born August 9, 1947, in Philadelphia, Pennsylvania) is an American soul singer with several R&B and pop hits in the 1960s and 1970s, best known for her self-written 1965 hit song "Yes, I'm Ready".

Mason initially focused on songwriting when she entered the music industry in her teens. As a performer, though, she had a major hit single with her third release in 1965, "Yes, I'm Ready" (#5 pop, #2 R&B). She had modest success throughout the rest of the decade on the small Arctic label, run by her manager, top Philadelphia disc-jockey, Jimmy Bishop. She reached the U.S. Billboard Hot 100 Top 40 again in 1965 with "Sad, Sad Girl", and "Oh How It Hurts" in 1967. A two-year stay with National General Records, run by a film production company, produced one album and four singles which failed to find success.

In the 1970s, Mason signed to Buddah Records and toughened her persona, singing about sexual love and infidelity with an uncommon frankness at the time in songs like "Bed and Board", "From His Woman to You", and "Shackin' Up" and would interrupt her singing to deliver straight-talking 'raps' about romance. She also continued to write some of her new material. Curtis Mayfield produced her on a cover version of Mayfield's own "Give Me Your Love", which restored her to the pop Top 40 and R&B Top Ten in 1973; "From His Woman to You" (the response to Shirley Brown's single "Woman to Woman") and "Shackin' Up", produced by former Stax producer Don Davis in Detroit were also solid soul sellers in the mid-1970s.

Mason also sang vocals on the tracks "Sheba Baby," "I'm In Love With You," "A Good Man Is Gone," and "She Did It" on the soundtrack for the 1975 Pam Grier film, Sheba, Baby.

After leaving Buddah Records in 1975 after two top ten R&B hits, she only dented the charts periodically on small labels. They included "I Am Your Woman, She Is Your Wife", which was produced in 1978 by Weldon McDougal who had produced her first major success, "Yes I'm Ready", and later in 1984, "Another Man" on West End Records.

Mason started to concentrate on running her own publishing company in the late 1980s, but continues to perform occasionally. She released a new CD, Feeling Blue, in September 2007. Mason was still performing to sold-out audiences in 2016. Her most recent show was at the Terrance Theater in Long Beach, California. Mason was inducted into the Soul Music Hall of Fame on March 1, 2016.
Genre not found
Artist not found
Album not found
Search results not found
Song not found
Poor Girl in Trouble
Barbara Mason Lyrics
We have lyrics for these tracks by Barbara Mason:



Another Man Do you remember when I said She's got the papers and…
Bed and Board You know, sometimes a man will Cause such heartache (yes, h…
Come See About Me I've been crying 'Cause I'm lonely (for you) Smiles have a…
Easy Know it sounds funny But, I just can't stand the pain Girl…
From His Woman To You "Hello Barbara, this is Shirley I would like you to know…
Girls Have Feelings Too Just because a girl won't cry After a boy says it's…
Give Me Your Love Ooh, baby, ooh, baby Ooh, baby, ooh, baby Want you so ba…
I Am Your Woman, She Is Your Wife I am your woman, she is your wife We're the two…
I Need Love I need love I wanna be kissed I need love I wanna be…
If This World Were Mine If this world were mine, I'd place at your feet All…
Is It Me Is it me or is it her Tell me which one…
Let Me in Your Life To be young, gifted and black, Oh what a lovely precious…
Me and Mr. Jones Me and Mrs. Jones, we got a thing going on We…
Oh How It Hurts Oh, how it hurts (oh, how it hurts) To say goodbye,…
Sad Sad Girl Sad, sad, girl (sad girl) I'm a sad, sad girl 'Cause I…
Shackin Baby, they're at it again I can't even go outside To hang…
Something You Got Something you got, baby Makes me work all day Something yo…
Trouble Child My life is all mixed up God bless the child Can't earn…
When I Fall In Love When I fall in love It will be forever and ever…
Yes Male backups: (Are you ready?) Female backups: [Yes I'm rea…
Yes I m Ready Male backups: (Are you ready?) Female backups: [Yes I'm read…
Yes I´m ready I don't even know how to love you Just the way…
Yes, I'm Ready Male backups: (Are you ready?) Female backups: [Yes I'm read…
You "Hello Barbara, this is Shirley I would like you to know…
You Better Stop It Oooh, oooh, ooooh You better stop it Look what you doing to…
You Got What It Takes Some boys say they like your eyes I heard some boys…
You Never Loved Me At All I used to love everything about you I used to think…

The lyrics can frequently be found in the comments below, by filtering for lyric videos or browsing the comments in the different videos below.