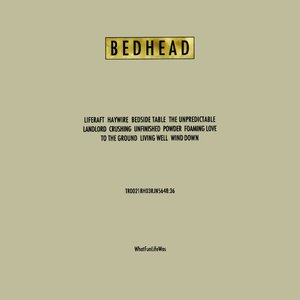 Bedhead was a slowcore band from Dallas, Texas active in the 1990s (1991-1998). Their first album, WhatFunLifeWas, is often cited on critics' lists as one of the best indie albums of the 1990s. Bedhead's music was generally subdued, with a polyphonic sound based on the interlocking of single-line melodies played by three electric guitars and one electric bass guitar (often played with a capo), nearly always using clean (undistorted) tones. The group's
Read Full Bio
Bedhead was a slowcore band from Dallas, Texas active in the 1990s (1991-1998). Their first album, WhatFunLifeWas, is often cited on critics' lists as one of the best indie albums of the 1990s. Bedhead's music was generally subdued, with a polyphonic sound based on the interlocking of single-line melodies played by three electric guitars and one electric bass guitar (often played with a capo), nearly always using clean (undistorted) tones. The group's vocals were often delivered in such a low key manner that they were quite difficult to decipher. This unusual sound was dubbed by some critics as "slo-core," referring to the slow tempos of many of the band's songs, a label to which band members objected in interviews. In reality, many of the group's songs do not remain slow and quiet throughout, instead beginning very slowly and quietly and gradually building in intensity and volume.
Genre not found
Artist not found
Album not found
Search results not found
Song not found
Liferaft
Bedhead Lyrics
The bed at night is a life raft in the ocean of the dark.
I hang my hands over the sides, pray to god knows what.
Drifting somewhere in the black air,
Feeling only the blanket and the weight of the mattress.
The mistress of the sheets.
Too many successive nights of being miserable
Give one the sense to sense the invisible.
I know you're in this room but the air is too thick.
The bed at night is a life boat,
A throne off which you can't be thrown.
I hang my hands and feet over the sides
And go into the space of what can never be known.
Lyrics © OBO APRA/AMCOS

Lyrics Licensed & Provided by LyricFind
To comment on specific lyrics,
highlight them