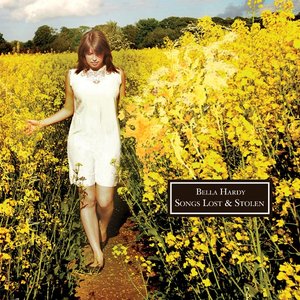 Arwen Arabella Hardy, known professionally as Bella Hardy, is an English contemporary folk musician, singer and songwriter from Edale in Derbyshire. She performed in various line-ups as a teenager, including The Pack and Ola, and reached the final of the BBC Young Folk Awards in 2004, but it was the release of her debut solo album Night Visiting in 2007 which garnered her recognition at the forefront of modern folk music. As a child she was always singing. Edale, in Derbyshire, was the ideal place to nurture this natural ability, with an abundance of communal song. Having played the fiddle
Read Full Bio
Arwen Arabella Hardy, known professionally as Bella Hardy, is an English contemporary folk musician, singer and songwriter from Edale in Derbyshire. She performed in various line-ups as a teenager, including The Pack and Ola, and reached the final of the BBC Young Folk Awards in 2004, but it was the release of her debut solo album Night Visiting in 2007 which garnered her recognition at the forefront of modern folk music.

As a child she was always singing. Edale, in Derbyshire, was the ideal place to nurture this natural ability, with an abundance of communal song. Having played the fiddle a small amount at school, Bella attended a Folkworks Youth Summer School in Durham age 13. Motivated by the number of young people playing folk music, she was inspired to begin working on folk fiddle. She also met many of her great friends and musical companions.

Some of these new friends arranged to meet up again, and on New Year's Day a year later The Pack was formed. Initially The Pack was a way for this group of people to get free tickets to festivals. The spirited performances and complex arrangements of the 12 piece band proved a resounding success, and they went on to play many of the scene's greatest stages, including Cambridge Folk Festival main stage in 2003. In 2002, the only Pack album 12 Little Devils was released, with fRoots calling it "... a genuine feel good album. Get yours now!".

Hardy released her debut solo album Night Visiting in 2007, to critical acclaim. Mojo gave her a 4* 'Brilliant' rating, fRoots wrote "Bella Hardy is more than a new generation folk revivalist... Her potential is massive", and Taplas Magazine noted "...her debut CD solo album is a piece of wondrous beauty and inventive incisiveness". In 2008 she was nominated for the Horizon Award at the BBC Radio 2 Folk Awards. She was also nominated for Best Original Song the same year with Three Black Feathers, which Jim Moray went on to record on his 2008 album Low Culture.

Hardy released her second solo album In The Shadow of Mountains in 2009 at the Cambridge Folk Festival. Again it gained critical acclaim. English Dance and Song Magazine wrote "It's astounding and somewhat daunting to realise this is only Bella's second album... Surely no-one has any right to be writing songs with the sophistication of 'Sylvie Sovay', so early in their career..."
Genre not found
Artist not found
Album not found
Search results not found
Song not found
From shore to shore 'cross all terrain
Five hundred times round this house and back again
Through hours and days and joy and shame
In hearts pure love and times cruel pain
We walked that single winding road
Two joined as one to share the load
To keep the dead men off our backs
To catch the spirits in these spiral traps
I tied you with a silent clew
I clung on tight and saw it through
Oh darling I loved only you
I lost you in the labyrinth
I lost you in the labyrinth
Just when we thought we were reaching the end
We found ourselves back at the start again
This slow turning progress just lets you begin
There's no ending to this place we're in
And I lost you in the Labyrinth
From here to there so preordained
Five hundred times round my mind and back again
Through months and years and all in vain
I lost you in the labyrinth
Seven for the seven stars in the sky
Seven for the seven stars in the sky
Seven for the seven stars in the sky
Seven for the seven stars in the sky
I should have let you walk alone
My Theseus through the Tavros throne
Now I'm left here on this Island on my own
I lost you in the Labyrinth
And all that time we wondered
I was watching you leave
Contributed by Vivian V. Suggest a correction in the comments below.
To comment on specific lyrics,
highlight them