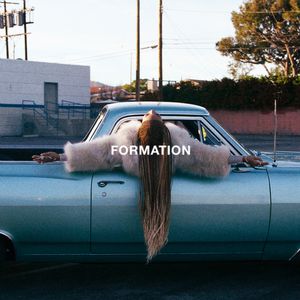 Beyoncé's highly anticipated new album is still untitled and no release dates have been officially announced. Her sixth solo album has reportedly been finished since last year but is said to have been delayed until now due to Adele's new album "25" and her hit song "Hello" dominating radio airplay and the top of the charts worldwide. Now that the buzz around Adele is slowly fading, 2016 is set to become a big year for Beyoncé. Her new single "Formation", released on 6 February 2016, is causing controversy. Its release was followed by an equally controversial and jaw-dropping Super Bowl
Read Full Bio
Beyoncé's highly anticipated new album is still untitled and no release dates have been officially announced. Her sixth solo album has reportedly been finished since last year but is said to have been delayed until now due to Adele's new album "25" and her hit song "Hello" dominating radio airplay and the top of the charts worldwide.

Now that the buzz around Adele is slowly fading, 2016 is set to become a big year for Beyoncé. Her new single "Formation", released on 6 February 2016, is causing controversy. Its release was followed by an equally controversial and jaw-dropping Super Bowl 50 halftime performance with Bruno Mars and Coldplay, culminating with the announcement of her 2016 Formation world tour.

After TIDAL's accidental leak and release of Rihanna's new album "ANTI" in January 2016, followed by Kanye West's new finished-but-unfinished album "The Life of Pablo" in February, many speculate that Beyoncé's follow-up is likely to drop in March. In fact, Rihanna and Kanye West's new albums may have contributed to Beyoncé's delayed album release until March this year. After a series of false starts, Rihanna and Kanye's new albums both suffered from poorly orchestrated and chaotic releases as TIDAL exclusives. Many fear Beyoncé's new album could suffer from a similarly botched release under another TIDAL exclusive, especially since TIDAL is mainly owned and operated by husband Jay Z.

In terms of collaboration on the yet unreleased album, possible features include British model Cara Delevingne, Clean Bandit, Ed Sheeran, American rapper Future, Mike Will, D.R.A.M. They have all been seen in the studio with Beyoncé or have claimed to be working with her.
Other unconfirmed artists who are rumoured to be involved include Naughty Boy, Sia, Bone Thugs N' Harmony and Jay Z himself.

Her previous album "Beyoncé" came out by surprise in December 2013, with a video clip for every track. Beyoncé's personal stylist Ty Hunter recently claimed: "I've heard the new album and it's beyond awesome". Rumours are now hinting at the album being potentially released as a TIDAL exclusive in order to secure the future of the struggling music-streaming service.

The latest rumours indicate that Beyoncé has been working on an "album film" possibly titled "Project Lemonade" and directed by LA-based filmmaker Kahlil Joseph who has worked with Kendrick Lamar (m.A.A.d.), FKA Twigs (Video Girl), Arcade Fire (The Reflektor Tapes) and Flying Lotus (Until The Quiet Comes). Kahlil Joseph was also a camera assistant for Beyoncé's 2013 documentary "Life Is But a Dream".
Genre not found
Artist not found
Album not found
Search results not found
Song not found