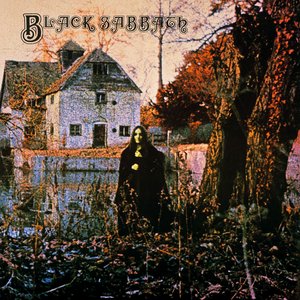 Black Sabbath's first release, almost universally known as "Heavy Metal's first album". The guys from Birmingham, England shocked, scared and enthused million with their new sound - a blend of bluesy, soulful riffs with heavy, distorted tones. Released on Friday the 13th February 1970 by Vertigo Records, Black Sabbath reached number eight on the UK Album Chart. Following its US release in May 1970 by Warner Bros. Records, the album reached number 23 on the Billboard 200, where it remained for over a year, selling a million copies. While the album was a commercial success, it was widely panned by
Read Full Bio
Black Sabbath's first release, almost universally known as "Heavy Metal's first album". The guys from Birmingham, England shocked, scared and enthused million with their new sound - a blend of bluesy, soulful riffs with heavy, distorted tones.

Released on Friday the 13th February 1970 by Vertigo Records, Black Sabbath reached number eight on the UK Album Chart. Following its US release in May 1970 by Warner Bros. Records, the album reached number 23 on the Billboard 200, where it remained for over a year, selling a million copies.

While the album was a commercial success, it was widely panned by critics. In a review for Rolling Stone magazine, rock critic Lester Bangs felt Sabbath was "just like Cream! But worse". Bangs dismissed Black Sabbath as a "a shuck—despite the murky songtitles and some inane lyrics that sound like Vanilla Fudge paying doggerel tribute to Aleister Crowley, the album has nothing to do with spiritualism, the occult, or anything much except stiff recitations of Cream cliches"

In 2003, the album was ranked number 238 on Rolling Stone magazine's list of the 500 greatest albums of all time.

Q magazine (8/00, p.126) later included it as one of the Best Metal Albums of All Time, claiming that " was to prove so influential it remains a template for metal bands three decades on. The band's signature song remains the scariest of all heavy metal songs."


Track listing

European edition

1. "Black Sabbath" – 6:16
2. "The Wizard" – 4:24
3. "Behind the Wall of Sleep" – 3:38
4. "N.I.B." – 6:06
5. "Evil Woman" – 3:25 (Crow cover)
6. "Sleeping Village" – 3:46
7. "Warning" – 10:32 (Retaliation cover)

1996 remastered edition

8. "Wicked World" – 4:47

North American edition

1. "Black Sabbath" – 6:20
2. "The Wizard" – 4:22
3. "Wasp/Behind the Wall of Sleep/Bassically/N.I.B." – 9:44
4. "Wicked World" – 4:47
5. "A Bit of Finger/Sleeping Village/Warning" – 14:15
* Most North American Warner Bros. Records editions of the album incorrectly list the running time of "Wicked World" at 4:30, and of the "Warning" medley at 14:32.

2004 remastered edition

6. "Evil Woman" – 3:25

2009 deluxe edition

1. "Black Sabbath" – 6:16
2. "The Wizard" – 4:24
3. "Behind the Wall of Sleep" – 3:38
4. "N.I.B." – 6:06
5. "Evil Woman" – 3:25
6. "Sleeping Village" – 3:46
7. "Warning" – 10:32
8. "Wicked World" – 4:47
9. "Black Sabbath" (outtake) – 6:22
10. "Black Sabbath" (instrumental) – 6:13
11. "The Wizard" (outtake) – 4:46
12. "Behind the Wall of Sleep" (outtake) – 3:41
13. "N.I.B." (instrumental) – 6:08
14. "Evil Woman" (alternative version) – 3:47
15. "Sleeping Village" (intro alternative version) – 3:45
16. "Warning Part 1" (outtake) – 6:58

The band

* Ozzy Osbourne – vocals, harmonica on "The Wizard"
* Tony Iommi – guitar
* Geezer Butler – bass
* Bill Ward – drums
Genre not found
Artist not found
Album not found
Search results not found
Song not found
What is this that stands before me?
Figure in black which points at me
Turn around quick, and start to run
Find out I'm the chosen one
Oh no
Big black shape with eyes of fire
Telling people their desire
Satan's sitting there, he's smiling
Watches those flames get higher and higher
Oh no, no, please god help me!
Is it the end, my friend?
Satan's coming 'round the bend
People running 'cause they're scared
The people better go and beware
No, no, please, no
Lyrics © Onward Music Limited
Written by: Anthony Iommi, John Osbourne, Terrence Butler, William Ward

Lyrics Licensed & Provided by LyricFind
To comment on specific lyrics,
highlight them