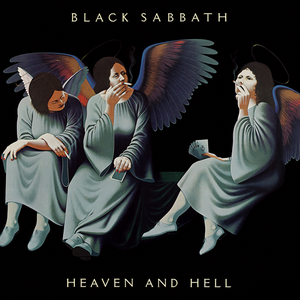 Heaven and Hell is the ninth studio album by Black Sabbath, released in 1980. This is their first album featuring Ronnie James Dio, and first with producer Martin Birch. Heaven and Hell became one of Black Sabbath's best-selling albums, revitalising Sabbath's fortunes after what many saw as the death of the group following original lead singer Ozzy Osbourne's departure. The album was rereleased in the Black Sabbath box set The Rules of Hell. The album was quite successful, becoming their highest charting album (#9 UK, #28 USA) since 1975's Sabotage and the third highest selling album of Black Sabbath. Ronnie
Read Full Bio
Heaven and Hell is the ninth studio album by Black Sabbath, released in 1980. This is their first album featuring Ronnie James Dio, and first with producer Martin Birch.

Heaven and Hell became one of Black Sabbath's best-selling albums, revitalising Sabbath's fortunes after what many saw as the death of the group following original lead singer Ozzy Osbourne's departure. The album was rereleased in the Black Sabbath box set The Rules of Hell.

The album was quite successful, becoming their highest charting album (#9 UK, #28 USA) since 1975's Sabotage and the third highest selling album of Black Sabbath. Ronnie James Dio himself cites the title track as his over-all personal favourite song of his career, the one of which he feels most proud.

This was the first album after singer Ozzy Osbourne was fired from the band and replaced with Ronnie James Dio. Geoff Nicholls of Quartz also joined the band as a possible replacement for Geezer Butler who had not been around through most of the writing sessions and was going through a divorce at the time. When Butler decided to stay with the group, Nicholls switched to keyboards. Nicholls remained as Black Sabbath's keyboard player for over twenty years, usually playing live shows from off-stage.

Drummer Bill Ward completed this album, but drinking and other personal factors would eventually lead him to drop out of the subsequent tour. His mid-tour replacement Vinny Appice would become an official member.

The exact origins of much of this album's material is still a topic of debate. Osbourne apparently attempted to record some of what would become "Heaven and Hell" before being fired; all of this material was scrapped. Sabbath had in fact begun demoing material with singer Ronnie James Dio before Osbourne was formally fired.

The song "Children of the Sea" was written by Dio and Iommi during their very first session. When Butler returned to the recording studio, all but one track ("Neon Knights") had already been written for the album. Former Elf and Rainbow bassist Craig Gruber was said to have been brought in temporarily for these sessions, and rumours were circulated (although recently dispelled by Iommi) that it was Gruber who actually played on the album.

Bill Ward says he has "no memory" of making the album, due in part to his alcoholism. It is unclear how much of the album, if any, was actually written by bassist Geezer Butler or drummer Bill Ward.

The album's cover art was taken from a painting by artist Lynn Curlee, entitled "Smoking Angels". Curlee was also commissioned to do an album cover for Blue Öyster Cult by Sandy Pearlman who was at the time manager of both Black Sabbath and Blue Öyster Cult.

"Children of the Sea"

This was the first song written by the new line-up of Sabbath and resulted from an impromptu jam session with Ronnie James Dio shortly before he joined the band.

"Heaven and Hell"

The title track was written mainly by Tony Iommi, but credit is given to the entire band. The lyrics were written entirely by Dio. In Metal: A Headbanger's Journey, Dio explains the song is about how every individual has "heaven and hell" inside him or herself, as well the ability and the choice whether to choose good or evil.

In live performances by Black Sabbath or Dio, the song is usually stretched out with extended guitar solos, audience participation, and new or ad libbed lyrics. When Ian Gillan was in the band, "Heaven and Hell" featured on the US Tour and was included in the RKO "Captured Live" performance. Tony Martin also sang the song live with Black Sabbath as well as with his solo band.

The song ranked #81 on VH1's list of the top 100 hard rock songs.

The song is featured on the soundtrack for the 2007 movie Halloween and the 2008 video game Grand Theft Auto IV.
Genre not found
Artist not found
Album not found
Search results not found
Song not found
Oh no, here it comes again
Can't remember when we came so close to love before
Hold on, good things never last
Nothing's in the past, it always seems to come again
Again and again and again
Cry out to legions of the brave
Time again to save us from the jackals of the street
Ride out, protectors of the realm
Captain's at the helm, sail across the sea of lights
Circles and rings, dragons and kings
Weaving a charm and a spell
Blessed by the night, holy and bright
Called by the toll of the bell
Bloodied angels fast descending
Moving on a never-bending light
Phantom figures free forever
Out of shadows, shining ever-bright
Neon Knights
Neon Knights
All right
Cry out to legions of the brave
Time again to save us from the jackals of the street
Ride out, protectors of the realm
Capatin's at the helm, sail across the sea of lights
Again and again, again and again and again
Neon Knights
Neon Knights
Neon Knights
All right
Lyrics © Warner Chappell Music, Inc.
Written by: RONNIE JAMES DIO, TERRENCE BUTLER, TONY IOMMI, WILLIAM T. WARD

Lyrics Licensed & Provided by LyricFind
To comment on specific lyrics,
highlight them