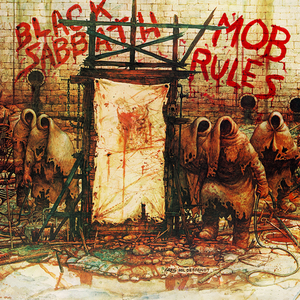 Mob Rules is Black Sabbath's tenth studio album, released in 1981 following the success of Heaven and Hell. It peaked at number 29 on the charts. It was the first album to feature Vinny Appice on drums, who had replaced original member Bill Ward on the tour in support of the previous year's Heaven and Hell. This led to Ozzy Osbourne dubbing the line-up "Geezer and the three Wops". It is rumoured that the cover art for this album, by famed artist Greg Hildebrandt, contains a heavily-disguised message that reads "KILL OZZY,". It is apparently located toward the bottom of
Read Full Bio
Mob Rules is Black Sabbath's tenth studio album, released in 1981 following the success of Heaven and Hell. It peaked at number 29 on the charts.

It was the first album to feature Vinny Appice on drums, who had replaced original member Bill Ward on the tour in support of the previous year's Heaven and Hell. This led to Ozzy Osbourne dubbing the line-up "Geezer and the three Wops".

It is rumoured that the cover art for this album, by famed artist Greg Hildebrandt, contains a heavily-disguised message that reads "KILL OZZY,". It is apparently located toward the bottom of the picture, on the ground, written in a dark, crimson colour. However, the message is barely legible, and it is widely believed that the purported text is coincidental. The artwork was not created specifically for the album, for one thing, having been done in the 1970s, but was licensed for use.

The lyrical themes are dark, notably on tracks such as "The Sign of the Southern Cross" and "Falling Off the Edge of the World".

The Live Evil album was recorded on the Mob Rules tour.

The album is included in the Black Sabbath box set The Rules of Hell.
Genre not found
Artist not found
Album not found
Search results not found
Song not found
Falling Off the Edge of the World
Black Sabbath Lyrics
I think about closing the door
And lately I think of it more
I'm living well out of my time
I feel like I'm losing my mind
I should be at the table round
A servant of the crown
The keeper of the sign
To sparkle and to shine
Never, no never again!
Listen to me and believe what I say if you can
Never, this is the end
You know I've seen the faces of doom and I'm only a man
Help me, tell me I'm sane
I feel a change in the earth, in the wind and the rain
Save me, take me away
You know I've seen some creatures from hell and I've heard what they say!
I've got to be strong
Oh, I'm falling off the edge of the world
Think you're safe, but you're wrong!
We are falling off the edge of the world!
Look out! there's danger! no where to run!
It seems like desperate measures but sometimes it has to be done
Over, it's over at last
There's a message inside as we build a new life from the past
We're falling off the edge of the world!
Yes, the edge of the world!
It's the end of the world!
Lyrics © Warner Chappell Music, Inc.
Written by: MICHAEL BUTLER, RONNIE DIO, TONY IOMMI

Lyrics Licensed & Provided by LyricFind
To comment on specific lyrics,
highlight them