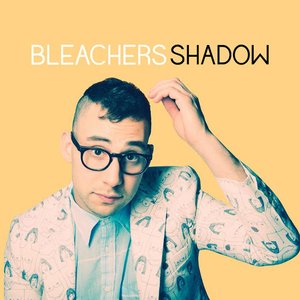 Bleachers is an American indie act based in New Jersey. It is the official stage name of songwriter and record producer Jack Antonoff. Bleachers' music is heavily influenced by the '70s, late '80s, early '90s and the high school-based films of John Hughes while still using modern production techniques.

Live Band Members, Jack Antonoff – lead vocals, guitar, keyboards, synthesizers, samples
Evan Smith – keyboards, synthesizers, saxophone, vocals
Read Full Bio
Bleachers is an American indie act based in New Jersey. It is the official stage name of songwriter and record producer Jack Antonoff. Bleachers' music is heavily influenced by the '70s, late '80s, early '90s and the high school-based films of John Hughes while still using modern production techniques.

Live Band Members, Jack Antonoff – lead vocals, guitar, keyboards, synthesizers, samples
Evan Smith – keyboards, synthesizers, saxophone, vocals
Mikey Hart – bass, guitar, keyboards, synthesizers, piano, vocals
Sean Hutchinson – drums, sampling pad, synthesizers, backing vocals
Mike Riddleberger – drums, sampling pad, backing vocals

Bleachers' debut album Strange Desire was released July 10, 2014, from RCA Records. Variance Magazine called the single "Rollercoaster" a "brilliant summer anthem." Bleachers went on their debut Come Alive! tour, which features Night Terrors of 1927 and Joywave as opening acts, from March to April 2015. From there, they went on the Strange Desire World Tour from July to November of that same year. They juggled this with the Charli and Jack Do America Tour, a tour co-headlined by Bleachers and Charli XCX.

Bleachers' second album Gone Now was released June 2, 2017. Its lead single "Don't Take the Money" has been described by Atwood Magazine as "an epic uplifting pop-rock anthem ultimately about how when love is real, its worth everything that comes along with it". In celebration of the album release, he brought his childhood bedroom on tour with him. He had it dismantled and rebuilt inside of a portable trailer. During May and June concerts, fans could enter the "moving, living art exhibit" and listen to the album prior to its official release. Antonoff explained in a press release, saying "when I thought about where this album was coming from and what it's kissing goodbye I thought of this room. I wished I could play the album for people who care about Bleachers in this space that it is coming from and leaving." The band was on its Gone Now Era: Part 1 tour from September to November 2017. The tour featured Tove Stryke, Bishop Briggs, and Tangerine as openers.

In September 2017, Bleachers performed on MTV Unplugged at The Stone Pony in Asbury Park, New Jersey. The live session was later released as an album, also entitled MTV Unplugged. The album features 11 tracks from both Gone Now and Strange Desire and was released November 10, 2017. Antonoff produced the soundtrack of Love, Simon, released on March 16, 2018. He contributed five songs, with four being credited to Bleachers—"Alfie's Song (Not So Typical Love Song)", "Rollercoaster", "Keeping a Secret", and "Wild Heart"— and one credited to his real name, a duet with MØ titled "Never Fall in Love". Throughout 2019, Bleachers released the third volume of Terrible Thrills in a series of four vinyl records, each featuring covers of songs from Gone Now by female artists as well as new demos by Bleachers.

In late 2019, Antonoff began recording the third Bleachers album. During this time the band embarked on a three-day "mini-tour" called the "I Love Making This Album but I'm Also Losing My Mind in Here & Need to Come Out and Play" Tour. On January 6, 2020, Antonoff announced on Twitter that a new Bleachers album would come within the year. In May, Bleachers was featured on Carly Rae Jepsen's song "Comeback" which was the first official release of the band in nearly two years. On the Bleachers Twitter account, a song called "Take the Sadness Out of Saturday Night" has been teased for months, and starting on November 14, 2020, a phone tree was set up for fans to call to hear clips from the song.

On November 16, 2020, Bleachers released the first two singles from Take the Sadness Out of Saturday Night, "45" and "Chinatown", the latter featuring Bruce Springsteen. The same day it was announced that the album will be released in 2021. "Stop Making This Hurt", the third single, was released on May 18, 2021. Take the Sadness Out of Saturday Night is scheduled for release on July 30.
Genre not found
Artist not found
Album not found
Search results not found
Song not found
Some girls
Some girls they really just wanna hurt you
And there's some boys
Some boys that laugh when they break your heart
But how love dies is a place that I'm not going
And we could try, 'cause
If you're feeling small
I'll love your shadow
And if you're feeling small
I'll love your shadow
There are those girls
Those girls that are waiting by the phone on the weekend
Oh yeah, like those boys,
Those boys that are home with the broken hearts
But the heart wants fear
So we're looking for a villain
I'll be there
If you're feeling small
I'll love your shadow
And if you're feeling small
I'll love your shadow
And when the lights go dark
I will stand right beside you
If you're feeling small
I'll love your shadow
I'll love your shadow
And I know that they have hurt you
And I know the love you gave feels cheap and used
And I know it's getting harder
And I know the lights have all gone dark on you
Still I will love your shadow
When the love you gave feels cheap and used
Yes I will love your shadow
When the lights have all gone dark on you
How love dies is a place that I'm not going
And we could try
If you're feeling small
I'll love your shadow
And if you're feeling small
I'll love your shadow
And when the lights go dark
I will stand right beside you
If you're feeling small
I'll love your shadow
I'll love your shadow
Lyrics © Universal Music Publishing Group, Sony/ATV Music Publishing LLC
Written by: Emile Haynie, Jack Michael Antonoff, John Graham Hill

Lyrics Licensed & Provided by LyricFind
To comment on specific lyrics,
highlight them