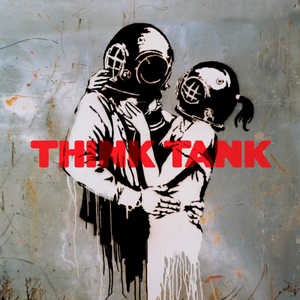 Think Tank is Blur's seventh album to date. It was released in the UK on 5 May 2003. The cover art is a stencil by the famous graffiti artist Banksy. In sonic terms, this album is distinct from earlier Blur records as it relies more on electronic and minimal textures instead of typical Britpop signifiers like big guitars and anthemic pacing. The lyrical themes deal with subjects related to modern British club culture and partying, as well as relationships and personal character problems. Many references to clubbing, consumption, and spur of the moment impulses are scattered throughout different songs. These
Read Full Bio
Think Tank is Blur's seventh album to date. It was released in the UK on 5 May 2003. The cover art is a stencil by the famous graffiti artist Banksy. In sonic terms, this album is distinct from earlier Blur records as it relies more on electronic and minimal textures instead of typical Britpop signifiers like big guitars and anthemic pacing. The lyrical themes deal with subjects related to modern British club culture and partying, as well as relationships and personal character problems. Many references to clubbing, consumption, and spur of the moment impulses are scattered throughout different songs. These illicit allusions ultimately led to the album receiving a Parental Advisory logo - Think Tank is the only Blur album to get this rating.

To record the album, Blur relocated to Morocco. Some have argued this change of scenery has obvious effects on the album as many songs have "non-Western" world melodies and sounds. On top of this geographic move, the band integrated new players into their mix. Fatboy Slim mixes two of the tracks ("Crazy Beat" and "Gene by Gene") giving parts of the album a dance music feel. During the recording of this album, the guitarist Graham Coxon quit the band; to many Blur fans, this was very upsetting, as Coxon was highly regarded as one of the greatest guitar players of contemporary times. Allegedly, the group confronted and clashed with Coxon's alcoholism and had other unresolved disputes. He did contribute to some songs before leaving, and many people agree that his stylistic signature seems to show up most on "Battery in Your Leg" with its big rush of a distorted, delayed guitar swooping down into the song seemingly out of nowhere.

The album was well received critically. On top of receiving a nomination for Best British Album at the 2004 BRIT Awards, it earned Q Magazine's Album of the Year Award.
Genre not found
Artist not found
Album not found
Search results not found
Song not found
Ambulance
Blur Lyrics
I ain't got
Nothing to be scared of
No I ain't got
Nothing to be scared of
No I ain't got
Anything to be scared of
'Cause I love you
I was born out of love
It's the only way to come into this world
I know I'm not all there
But I'm getting, getting, getting there
If you let me live my life
I'll stay with you to the end
And I know, lord
I'm nearly there
I want to tell you this
I ain't got
Nothing to be scared of, no
No I ain't got
Nothing to be scared of, no
No I ain't got
Anything to be scared
'Cause I love you
I ain't got
Nothing to be scared of
No ain't got
Nothing to be scared of
I ain't got
Nothing to be scared of
No I ain't got
Nothing to be scared
Lyrics © Sony/ATV Music Publishing LLC, Kobalt Music Publishing Ltd., Warner Chappell Music, Inc.
Written by: Steven Alexander James, David Rowntree, Damon Albarn

Lyrics Licensed & Provided by LyricFind
To comment on specific lyrics,
highlight them