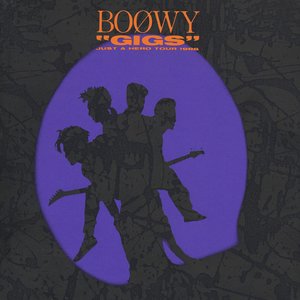 "GIGS" JUST A HERO TOUR 1986 (live)
This is one of the most commonly tagged stylizations of BOØWY (other being BOØWY (the proper), BOφWY and BOOWY), ボウイ , pron: bóui, the name of a famous Japanese rock band , formed in Takasaki, Gunma, Japan in 1981.
Band consists of 氷室京介 (vocals), 布袋寅泰 (guitar), 松井常松 (bass) and 高橋まこと (drums).
They are a rock band that reached legendary status in Japan during the 80s. Their style of play varied from punk to pop rock and they had fans of all ages.
Read Full Bio
This is one of the most commonly tagged stylizations of BOØWY (other being BOØWY (the proper), BOφWY and BOOWY), ボウイ , pron: bóui, the name of a famous Japanese rock band , formed in Takasaki, Gunma, Japan in 1981.
Band consists of 氷室京介 (vocals), 布袋寅泰 (guitar), 松井常松 (bass) and 高橋まこと (drums).
They are a rock band that reached legendary status in Japan during the 80s. Their style of play varied from punk to pop rock and they had fans of all ages. The 90s band movement was credited to Boøwy as they popularized the formation of musical groups, which caused musical instrument sales to hit an all-time high during the 90s and the record companies signed and debuted 80 bands during the 90s in hopes of finding a new Boøwy.
The group disbanded in 1988.



Members:
氷室京介 (vocals)
布袋寅泰 (guitar)
松井常松 (bass)
高橋まこと (drums)
Former Members:
深沢 (saxophone) 1980-1982
諸星アツシ (guitar)1980-1982
木村マモル (drums)1980-1981
Genre not found
Artist not found
Album not found
Search results not found
Song not found