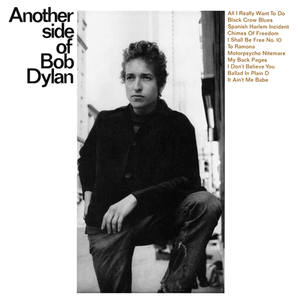 Another Side of Bob Dylan
Another Side of Bob Dylan is Bob Dylan's fourth studio album, released in 1964 by Columbia Records.

Consistent with its title, the album marks a shift away from the more overt, issue-oriented folk music that Dylan had previously been gravitating toward, dominating his previous LP, The Times They Are A-Changin'. This break from traditionalist roots prompted sharp criticism from influential figures in the folk community. Sing Out! editor Irwin Silber
Read Full Bio
Another Side of Bob Dylan is Bob Dylan's fourth studio album, released in 1964 by Columbia Records.

Consistent with its title, the album marks a shift away from the more overt, issue-oriented folk music that Dylan had previously been gravitating toward, dominating his previous LP, The Times They Are A-Changin'. This break from traditionalist roots prompted sharp criticism from influential figures in the folk community. Sing Out! editor Irwin Silber famously complained that Dylan had "somehow lost touch with people" and was tangled up in "the paraphernalia of fame". Most critics outside of these circles, however, praised its innovations in songwriting, which would have a tremendous influence on such legendary rock acts as The Beatles.

Despite the major thematic changes, Dylan still performed his songs solo, with acoustic guitar and harmonica, and even piano on one song. Another Side of Bob Dylan reached #43 in the US (although it eventually went gold), and peaked at #8 on the UK charts in 1965.
Genre not found
Artist not found
Album not found
Search results not found
Song not found
All I Really Want to Do
Bob Dylan Lyrics
I ain't lookin' to compete with you
Beat or cheat or mistreat you
Simplify you, classify you
Deny, defy or crucify you
All I really want to do
Is, baby, be friends with you
No, and I ain't lookin' to fight with you
Frighten you or uptighten you
Drag you down or drain you down
Chain you down or bring you down
All I really want to do
Is, baby, be friends with you
I ain't lookin' to block you up
Shock or knock or lock you up
Analyze you, categorize you
Finalize you or advertise you
All I really want to do
Is, baby, be friends with you
I don't want to straight-face you
Race or chase you, track or trace you
Or disgrace you or displace you
Or define you or confine you
All I really want to do
Is, baby, be friends with you
I don't want to meet your kin
Make you spin or do you in
Or select you or dissect you
Or inspect you or reject you
All I really want to do
Is, baby, be friends with you
I don't want to fake you out
Take or shake or forsake you out
I ain't lookin' for you to feel like me
See like me or be like me
All I really want to do
Is, baby, be friends with you
Lyrics © Sony/ATV Music Publishing LLC, BMG Rights Management, AUDIAM, INC
Written by: BOB DYLAN

Lyrics Licensed & Provided by LyricFind
To comment on specific lyrics,
highlight them