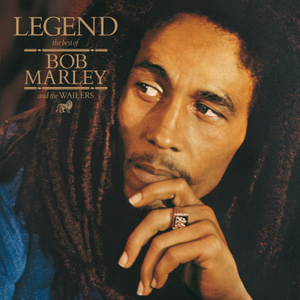 This is incorrectly tagged, Legend is an album by Bob Marley & The Wailers..
Legend is a greatest hits collection of Bob Marley and the Wailers songs, released by Island records on May 8, 1984 (see 1984 in music). It is the best selling reggae album of all time. The original compilation, first issued on LP, contains 14 songs in their edited single format. Later it was released on CD with the same listing. It includes 10 of Marley's 11 top 40 UK hits at the time
Read Full Bio
This is incorrectly tagged, Legend is an album by Bob Marley & The Wailers..
Legend is a greatest hits collection of Bob Marley and the Wailers songs, released by Island records on May 8, 1984 (see 1984 in music). It is the best selling reggae album of all time. The original compilation, first issued on LP, contains 14 songs in their edited single format. Later it was released on CD with the same listing. It includes 10 of Marley's 11 top 40 UK hits at the time, plus three songs from the early configuration of the Wailers with Peter Tosh and Bunny Livingston ("Stir It Up", "I Shot the Sheriff" and "Get Up, Stand Up"), and the last song released on Marley's final non-posthumous album Uprising, the fan-favorite "Redemption Song".

The second CD version, remastered by Barry Diament, appeared in 1990 on the Tuff Gong label. Although the disc includes the same 14 songs, the tracks are their original album versions, e.g. "Exodus" and "No Woman No Cry" are over 7 minutes long. Unfortunately, many of the track tags on this version are intentionally wrong (such as "Redemption Song" tagged as "F*ck The System."

A cassette release of the album featured two extra songs, "Punky Reggae Party" (the 11th top 40 hit), and "Easy Skanking", from the Kaya LP. These two songs were later included on both the 2002 second reissue of Legend and its two-disc Deluxe Edition counterpart.

It is the best-selling reggae record of all time. Despite some criticisms that the compilation weighs too heavily on Marley's later career and includes little to nothing from many of his earlier albums (including much of the work with Tosh and Livingston), it remains a perennial seller to this day and has served as an introduction to Marley's music for many fans. In 2003, the album was ranked number 46 on Rolling Stone magazine's list of the 500 greatest albums of all time.

"Legend" holds the distinction of being the second longest-charting album in the history of Billboard Magazine. Combining its chart life on the "Billboard 200" album chart and the "Top Pop Catalog" chart, "Legend" has had a chart run of 958 non-consecutive weeks, trailing only the 1500+ week run of Pink Floyd's Dark Side of the Moon.
Genre not found
Artist not found
Album not found
Search results not found
Song not found