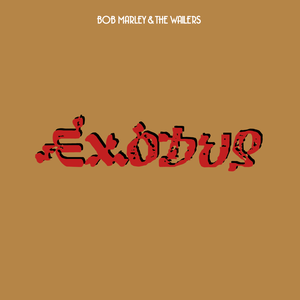 Exodus is the ninth studio album by Jamaican reggae band Bob Marley & The Wailers, released on June 3, 1977 on Island Records. Much of Exodus was recorded in London, while Marley recuperated from an assassination attempt. The success of the album propelled Marley to international stardom. A remastered version of Exodus was released in 2007, in the United Kingdom as a full length book chronicling Bob Marley's retreat into exile after his assassination attempt and the making of the album. "Jamming," "Waiting in Vain" and "One Love/People Get Ready" were all major international hits. Exodus peaked at #20 on
Read Full Bio
Exodus is the ninth studio album by Jamaican reggae band Bob Marley & The Wailers, released on June 3, 1977 on Island Records. Much of Exodus was recorded in London, while Marley recuperated from an assassination attempt. The success of the album propelled Marley to international stardom. A remastered version of Exodus was released in 2007, in the United Kingdom as a full length book chronicling Bob Marley's retreat into exile after his assassination attempt and the making of the album.

"Jamming," "Waiting in Vain" and "One Love/People Get Ready" were all major international hits. Exodus peaked at #20 on Billboard's Pop Albums chart, and #15 on the Black Albums chart as well as remaining in the United Kingdom charts for 56 consecutive weeks where it peaked at #8.

Exodus has been recognized by music critics as one of the greatest albums of all time. In 1999, TIME magazine named Exodus the best album of the 20th century. In 2001, the TV network VH1 named it the 26th greatest album of all time. In 2003, the album was ranked number 169 on Rolling Stone magazine's list of the 500 greatest albums of all time.
Genre not found
Artist not found
Album not found
Search results not found
Song not found
There's a natural mystic
Blowing through the air
If you listen carefully now you will hear
This could be the first trumpet
Might as well be the last
Many more will have to suffer
Many more will have to die
Don't ask me why
Things are not the way they used to be
I won't tell no lie
One and all got to face reality now
Though I try to find the answer
To all the questions they ask
Though I know it's impossible
To go living through the past
Don't tell no lie
There's a natural mystic
Blowing through the air
Can't keep them down
If you listen carefully now you will hear
Such a natural mystic
Blowing through the air
This could be the first trumpet
Might as well be the last
Many more will have to suffer
Many more will have to die
Don't ask me why
There's a natural mystic
Blowing through the air
I won't tell no lie
If you listen carefully now, you will hear
There's a natural mystic
Blowing through the air
Such a natural mystic, blowing through the air
There's a natural mystic blowing through the air
Such a natural mystic, blowing through the air
Such a natural mystic, blowing through the air
Lyrics © Universal Music Publishing Group, Peermusic Publishing
Written by: Bob Marley

Lyrics Licensed & Provided by LyricFind
To comment on specific lyrics,
highlight them