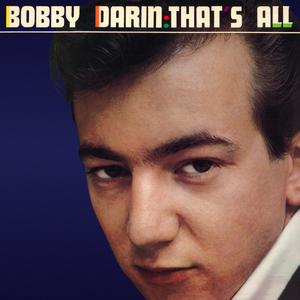 Bobby Darin (May 14, 1936 - December 20, 1973, Bronx NY.) was born Walden Robert Cassotto and was one of the most popular rock and roll American teen idols of the late 1950s. However, he is widely respected for being a multi-talented, versatile performer.

Darin was a very special and talented entertainer. He was a Grammy award winning singer ('Mack The Knife'), a respected member of the Rock and Roll Hall of Fame ('Dream Lover', 'Splish Splash', 'If I Were A Carpenter') a member of the Songwriters Hall of Fame
Read Full Bio
Bobby Darin (May 14, 1936 - December 20, 1973, Bronx NY.) was born Walden Robert Cassotto and was one of the most popular rock and roll American teen idols of the late 1950s. However, he is widely respected for being a multi-talented, versatile performer.

Darin was a very special and talented entertainer. He was a Grammy award winning singer ('Mack The Knife'), a respected member of the Rock and Roll Hall of Fame ('Dream Lover', 'Splish Splash', 'If I Were A Carpenter') a member of the Songwriters Hall of Fame, a successful record producer, an Oscar nominated actor and a strong supporter of the American Heart Association. Bobby was married to actress Sandra Dee from 1960-1967. They had one son, Dodd, born in December 1961. As a result of complications from a rheumatic heart, Bobby's life was tragically cut short in 1973.

Darin's mother, Vanina Cassotto, had given birth to him when she was 16, and as a result, her parents raised Darin as though he were there son while Vanina was presented off as his elder sister. Darin did not learn the truth about his parentage until he was 32.

For more on Bobby Darin, watch "Beyond the Sea," in which Kevin Spacey portrays the entertainer.
Genre not found
Artist not found
Album not found
Search results not found
Song not found
Oh, the shark, babe, has such teeth, dear
And it shows them pearly white
Just a jackknife has old MacHeath, babe
And he keeps it, ah, out of sight
You know when that shark bites with his teeth, babe
Scarlet billows start to spread
Fancy gloves, oh, wears old MacHeath, babe
So there's never, never a trace of red
Now on the sidewalk, huh, huh, whoo sunny morning, un huh
Lies a body just oozin' life, eek
And someone's sneakin' 'round the corner
Could that someone be Mack the Knife?
There's a tugboat, huh, huh, down by the river don'tcha know
Where a cement bag's just a-drooppin' on down
Oh, that cement is just, it's there for the weight, dear
Five'll get ya ten, old Macky's back in town
Now did ya hear 'bout Louie Miller? He disappeared, babe
After drawin' out all his hard-earned cash
And now MacHeath spends just like a sailor
Could it be our boy's done somethin' rash?
Now Jenny Diver, ho, ho, yeah, Sukey Tawdry
Ooh, Miss Lotte Lenya and old Lucy Brown
Oh, the line forms on the right, babe
Now that Macky's back in town
I said Jenny Diver, whoa, Sukey Tawdry
Look out to Miss Lotte Lenya and old Lucy Brown
Yes, that line forms on the right, babe
Now that Macky's back in town
Look out, old Macky's back
Lyrics © BMG Rights Management
Written by: Kurt Weill, Bertolt Brecht, Marc Blitzstein

Lyrics Licensed & Provided by LyricFind
To comment on specific lyrics,
highlight them