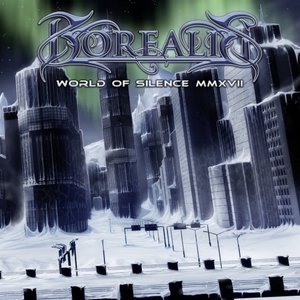 Borealis is a Canadian power/progressive metal band from Orangeville, Ontario. Their music features soaring vocals, a focus on guitar riffs, as well as a bass-heavy backing rhythm. Their sound is likened to the more melodic realms of power metal, however, with each album they have introduced progressive elements to the mix. They are known for performing in an outstanding manner live; their first album was recorded in light of a well received opening performance for Sonata Arctica When the band began in 2005, they originally employed a female opera style vocalist Siobhan O'Brian as their lead vocals frontrunner. In 2006
Read Full Bio
Borealis is a Canadian power/progressive metal band from Orangeville, Ontario. Their music features soaring vocals, a focus on guitar riffs, as well as a bass-heavy backing rhythm. Their sound is likened to the more melodic realms of power metal, however, with each album they have introduced progressive elements to the mix. They are known for performing in an outstanding manner live; their first album was recorded in light of a well received opening performance for Sonata Arctica

When the band began in 2005, they originally employed a female opera style vocalist Siobhan O'Brian as their lead vocals frontrunner. In 2006 they recorded a demo Eyes of a Dream. Siobhan left the band between 2006-2007. Matt Marinelli became Vocalist in September 2007, and 2008 marked the year Borealis released their first full-length album, World of Silence. In order to play this album live, they needed another guitarist, thus hiring Ken Fobert. In 2011 they recorded their second album, Fall from Grace, including Ken Fobert as a member of the band. Michael Briguglio replaced Ken between 2011-2013 and is a current guitarist for the band. They were signed by AFM Records in 2015 and released their third album, Purgatory.
Genre not found
Artist not found
Album not found
Search results not found
Song not found
Lost Voices
Borealis Lyrics
Come to help us please
The voices they call to me
They want to be free
For all of their pain
I'll rise up once more
I will open the door
Voices are calling
In my head
Voice of the fallen
Haunting me again
They speak of dying
Cold and bare
Children are crying
Men only stare
Voices screaming in my head
The shadows of the dead
Their time will never come
Behind me there is a noise
Of crying men and boys
Hearing the lost voice
I'm never alone
The silence they still won't go
Not until they know
They're not gone in vain
They honor us with pain
So they call my name
Beaten and torn
How could I
Rid of the scorn
Only with my mind
I'll do my best
Helping them
Peacefully rest
Silence will come then
Contributed by Claire W. Suggest a correction in the comments below.
To comment on specific lyrics,
highlight them