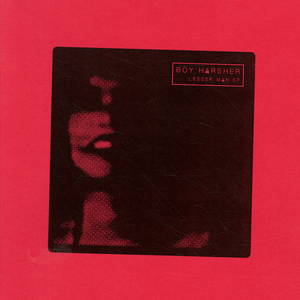 Boy Harsher is a Southern electronic / darkwave duo, formed in 2013, that produces gritty dance beats infused with ethereal vocals, creating a sound that is eerie, intense and incredibly danceable. Gus Muller of Reconss develops the underbelly of sound with minimal beats and grinding synths, where Jae Matthews whispers, screams and chants on top. Together, the music created is somewhere between dance, trance and confessional storytelling. Boy Harsher draws heavily from cinema
Read Full Bio
Boy Harsher is a Southern electronic / darkwave duo, formed in 2013, that produces gritty dance beats infused with ethereal vocals, creating a sound that is eerie, intense and incredibly danceable. Gus Muller of Reconss develops the underbelly of sound with minimal beats and grinding synths, where Jae Matthews whispers, screams and chants on top. Together, the music created is somewhere between dance, trance and confessional storytelling. Boy Harsher draws heavily from cinema, theatrics and graphic design to tailor the band's visual imagery; Matthews and Muller both have a background in filmmaking. They have likened the band to the movies Body Heat and Lost Highway, latter of which was directed by David Lynch, a professed influence on the band. Matthews has expressed appreciation for various female vocalists, including Nico, Circuit des Yeux, Alison Lewis of Linea Aspera, Chelsea Wolfe and Zola Jesus, whereas Muller named Sleep Chamber, Suicide, DAF and Yello as early musical influences on Boy Harsher.[4] Gearwise, Muller mostly employs synthesizers and samplers, stating that he "tries and borrows as much [instruments] as he can for recording."On the band's minimal instrumentation, he said: "I'm obsessed with how successful the minimalism is with 80s music. It's really a masterclass of what can be done with a drum machine and a couple of synths. A "half-functioning" Roland Juno-106 was used extensively on Lesser Man EP; their live set features synth lines sampled into an Akai MPC, as well as backing tracks. The band has amassed a cult following since their formation.
Genre not found
Artist not found
Album not found
Search results not found
Song not found
I have a place for you
Its called hell
Its called heaven
In this place
Where I'm going
This place
Its called heaven
If you ever leave
Leave me alone
In this place
Left me alone
So, if you go
Take me with you
No, I don't wanna- I don't wanna go
Take the girl
Take her with you
So I don't know
Won't know
I won't ever know
Somebody watching
Somebody's watching you
Watching you
So keep your eyes closed
So you don't see me watching you
See me watching you
I'm watching you
I'm watching you
I'm watching
Let them weep
We would die together
We were gonna die
Writer(s): augustus muller, jessica matthews

Contributed by Allison E. Suggest a correction in the comments below.
To comment on specific lyrics,
highlight them