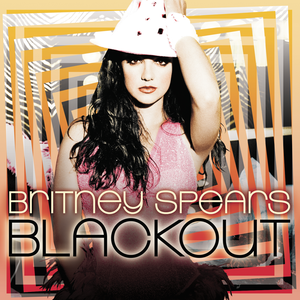 Blackout is the fifth studio album by American singer Britney Spears, released o…
Read Full Bio ↴
Blackout is the fifth studio album by American singer Britney Spears, released on October 27, 2007, via Jive Records. Spears began working on this album as early as February 2006, exploring into electropop, synthpop and techno. The album has also a more R&B/urban sound and recording with new producers such as Danja. Blackout was her first studio album in four years since 2003's In the Zone and is the first time Spears is the executive producer of one of her albums. The album's title refers to "blacking out negativity and embracing life fully". The songs on the album are thematically focused on sex, love and Spears' relationship–struggle with the media.

Blackout debuted at number two on the Billboard 200, becoming her first and so far only studio album not to debut at number one due to a last-minute rules change by the Billboard music association. According to the IFPI, the album was 32nd in terms of units shipped by the end of 2007.

The album's first single, "Gimme More", peaked at number one in the Canadian Hot 100 and became a top five hit in twelve countries. The second single, "Piece of Me", reached number one in Ireland. The final single, "Break the Ice", reached number one in the Billboard Hot Dance Club Play, making all the singles of the album go to the top position of at least a chart. All three songs frequently appeared on the lists that included the best records of the year. Even though initial critical response was mixed to positive, the album later won high critical acclaim and appeared on many lists that included the decade's best albums. The album was named the 5th "Best Pop Album of the Decade" by The Times, the 7th-best album of the decade on the Rolling Stones "The Decade-End Readers' Poll", and the 3rd Best Album of the decade on the Billboard "Readers Poll", and won "Album of the Year" at the MTV Europe Music Awards 2008. To date, the album has sold over 3.2 million copies worldwide, and was named #441 on Rolling Stone Magazine's updated list of the Top 500 Albums of All Time.
Genre not found
Artist not found
Album not found
Search results not found
Song not found
Break the Ice
It's been a while I know I shouldn't have kept you…
Freakshow
Ten p.m. ten to four And I came to hit the…
Get Naked (I Got a Plan)
''Danja... ha ha Yeah, that sounds nice Uh Yeah'' Hey! I g…
Gimme More
It's Britney, bitch I see you And I just wanna dance with…
Heaven on Earth
Your touch, your taste, your breath, your face Your hands, y…
Hot as Ice
Ah, yeah Yeah, yeah, yeah Yeah, yeah, yeah, yeah I'm just a…
Ooh Ooh Baby
The way you smile, the way you taste You know I…
Perfect Lover
Are we ready? Are we ready, ready? Are we ready? Are we r…
Piece Of Me
I'm Miss American Dream since I was seventeen Don't matter i…
Radar
Confidence is a must Cockiness is a plus Edginess is a rush …
Toy Soldier
Yeah, smash on the radio bet, I penned it! Britney (break…
Why Should I Be Sad
They couldn't believe I did it But I was so committed My…