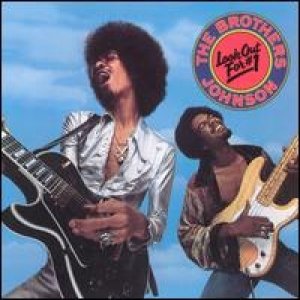 Mastercuts Classic 80's Groove
Brothers Johnson (aka The Brothers Johnson), is a band consisting of the musicia…
Read Full Bio ↴
Brothers Johnson (aka The Brothers Johnson), is a band consisting of the musicians George Johnson ('Lightnin' Licks') and Louis Johnson ('Thunder Thumbs') (April 13th 1955 - May 22nd 2015). After touring with various artists like Bobby Womack and Billy Preston, Quincy Jones hired them for a tour in Japan and produced their debut LP Look out for Number 1, released in March 1976 (#9 US). Their Right On Time album was released in May 1977 and reached number 13 on the Billboard 200. Blam!! came out in August 1978 and reached number 7 on the Billboard 200.

Their popular album Light Up the Night was released in March 1980 and got as high as number 5 on the Billboard 200. It was number 46 on the "Top 100 LP's of 1980" list in Rolling Stone Magazine. The subsequent album, Winners, was self-produced by the brothers and released in July 1981, but was less successful, going only as high as number 48 on the Billboard 200.

Among their most popular songs are "I'll Be Good to You" (Hot 100 #3 in 1976), "Strawberry Letter 23" (Hot 100 # 5 in 1977), "Ain't We Funkin' Now" (1978), and "Stomp!" (Hot 100 #7 and Hot Dance Music/Club Play #1 in 1980). Their styles include funk, disco, and R&B ballads. The duo split up in 1982.

Guitarist/vocalist George Johnson and bassist/vocalist Louis Johnson formed the band Johnson Three Plus One with older brother Tommy and their cousin Alex Weir while attending school in Los Angeles. When they became professionals, the band backed such touring R&B acts as Bobby Womack and the Supremes. George and Louis Johnson later joined Billy Preston's band, and wrote "Music in My Life" and "The Kids and Me" for him before leaving his group in 1973. In 1976, The Brothers covered the Beatles song, "Hey, Jude", for the ephemeral musical documentary All This and World War II.

Quincy Jones hired them to play on his LP Mellow Madness, and recorded four of their songs, including "Is It Love That We're Missing?" and "Just a Taste of Me." Jones took them on a Japanese tour, then produced their début LP, Look Out for Number 1, after they signed with A&M, which was also his label at the time (1976). They scored a number-one R&B and number-three pop hit with "I'll Be Good to You," and enjoyed R&B chart toppers in 1977 and 1980 respectively with "Strawberry Letter 23" and "Stomp!," while sustaining a consistent hit presence via such songs as "Get the Funk Out Ma Face" and "Runnin' for Your Lovin." Jones remade "I'll Be Good to You" in 1989 with Ray Charles and Chaka Khan on his Back on the Block release.

The Brothers earned platinum records for Look Out for Number 1 and Right on Time. Jones produced both of these, along with their third and fourth LPs, Blam and Light Up the Night. The group produced its single "The Real Thing" in 1981. It reached number 11 on the R&B charts, and the Brothers had another hit with "Welcome to the Club" in 1982. They started doing separate ventures; Louis Johnson played bass on Michael Jackson's Thriller LP and recorded a gospel album, while George Johnson worked with Steve Arrington. Leon Sylvers produced their mid-'80s return LP Out of Control; it didn't equal their past success, but got them another R&B hit with "You Keep Coming Back" in 1984. They recorded Kickin' in 1988, and co-wrote "Tomorrow" with Siedah Garrett for Jones' Back on the Block in 1989.
Genre not found
Artist not found
Album not found
Search results not found
Song not found