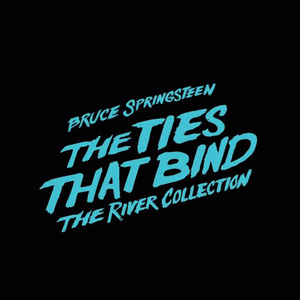 The Ties That Bind: The River Collection
Springsteen celebrated the 35th anniversary of The River by releasing a boxed set titled The Ties That Bind: The River Collection on December 4, 2015. The set contains 52 tracks on four CDs along with four hours of video on three DVDs or two Blu-ray discs. The first two CDs feature the remastered version of The River and the third CD contains the previously unreleased The River: Single Album. As is noted above, the single album was originally to be titled The Ties That Bind; it circulated as a bootleg for many years. The fourth CD, The River: Outtakes, spans
Read Full Bio
Springsteen celebrated the 35th anniversary of The River by releasing a boxed set titled The Ties That Bind: The River Collection on December 4, 2015. The set contains 52 tracks on four CDs along with four hours of video on three DVDs or two Blu-ray discs. The first two CDs feature the remastered version of The River and the third CD contains the previously unreleased The River: Single Album. As is noted above, the single album was originally to be titled The Ties That Bind; it circulated as a bootleg for many years. The fourth CD, The River: Outtakes, spans the entire The River sessions in 1979 and 1980 and contains eleven previously-unreleased outtakes. The fifth disc (DVD or Blu-ray) contains a 60-minute documentary, The Ties That Bind, which was produced and directed by filmmaker Thom Zimny and features an interview with Springsteen as he reflects on writing and recording The River. The film transitions between Springsteen telling the stories behind the music—and illustrating them with solo acoustic guitar performances—interspersed with period concert footage and photos. The remaining disc(s) feature Bruce Springsteen & The E Street Band: The River Tour, Tempe 1980, a new film produced from footage professionally filmed in 1980 using four cameras and recorded in multitrack audio. The film features 23 of 33 songs performed, clocking in at 2 hours, 40 minutes on 2 DVDs (or one Blu-ray), from Springsteen's November 5, 1980, concert at Arizona State University in Tempe, Arizona. Also included is 20 minutes of footage from the late September 1980 River Tour rehearsals held in Lititz, Pennsylvania. The boxed set also includes a 148-page coffee table book featuring 200 rare or previously unseen photos and memorabilia, including a new essay by Mikal Gilmore.

On October 16, 2015, along with the announcement of the boxed set, "Meet Me in the City", one of the eleven unreleased outtakes, was released through Springsteen's website and on iTunes to promote the release of the boxed set. On November 23, 2015, "Party Lights" was released to promote the box set and made available through iTunes. Much like with The Promise, Springsteen recorded new vocals for some of the outtakes in the set.

Springsteen announced details for The River Tour 2016 on December 4, 2015. The tour began in January 2016 and features a full-album performance of The River at every show, as well as other songs from Springsteen's career. As of the end of the U.S. leg on April 25, 2016, "Meet Me in the City" opened all but one show; the song previously made its live debut when Springsteen and the E Street Band performed on the December 19, 2015, episode of Saturday Night Live.

On December 24, 2015, Springsteen released Arizona State University, Tempe 1980, a free download through the Bruce Springsteen Archives at http://live.brucespringsteen.net. The release contained the ten missing songs from the concert video featured in the boxed set.
Genre not found
Artist not found
Album not found
Search results not found
Song not found
You been hurt and you're all cried out you say
You walk down the street pushin' people outta your way
You packed your bags and all alone you want to ride
You don't want nothin', don't need no one by your side
You're walkin' tough baby, but you're walkin' blind
To the ties that bind
The ties that bind
Now you can't break the ties that bind
Cheap romance, it's all just a crutch
You don't want nothin' that anybody can touch
You're so afraid of being somebody's fool
Not walkin' tough baby, not walkin' cool
You walk cool, but darlin', can you walk the line
And face the ties that bind
The ties that bind
Now you can't break the ties that bind
I would rather feel the hurt inside, yes I would darlin'
Than know the emptiness your heart must hide
Yes I would, darlin', yes I would, darlin'
Yes I would, baby
Oh, you sit and wonder just who's gonna stop the rain
Who'll ease the sadness, who's gonna quiet your pain
It's a long dark highway and a thin white line
Connecting baby, your heart to mine
We're runnin' now but darlin' we will stand in time
To face the ties that bind
The ties that bind
Now you can't break the ties that bind
You can't forsake the ties that bind
Oh
Lyrics © Universal Music Publishing Group
Written by: Bruce Springsteen

Lyrics Licensed & Provided by LyricFind
To comment on specific lyrics,
highlight them