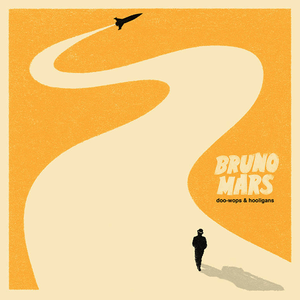 Doo-Wop's & Hooligans is the debut studio album by Bruno Mars, released October 4, 2010. The album's lead single "Just The Way You Are" was released July 20, 2010, followed by "Grenade" on September 28. "The Lazy Song", "Marry You" and "Count On Me" were gradually released as singles after the album's success (certified double platinum). The title refers to the doo-wop music style of which Bruno's music is influenced. Bruno explains in an interview that the doo-wop part is for the girls, while the hooligans part is for the guys. "I'm a big fan of doo-wop music, my album
Read Full Bio
Doo-Wop's & Hooligans is the debut studio album by Bruno Mars, released October 4, 2010.

The album's lead single "Just The Way You Are" was released July 20, 2010, followed by "Grenade" on September 28. "The Lazy Song", "Marry You" and "Count On Me" were gradually released as singles after the album's success (certified double platinum).

The title refers to the doo-wop music style of which Bruno's music is influenced. Bruno explains in an interview that the doo-wop part is for the girls, while the hooligans part is for the guys.

"I'm a big fan of doo-wop music, my album has a little bit of that influence, with the simplicity of it… you can listen to a thousand doo-wop songs, and it's the same four chords. But it's the message behind the song—its straight to the point and it's beautiful. That's what you call your girl, your "doo-wop." I call my girlfriend my "doo-wop"! On this album, I have records that women are going to relate to and men are going to relate to. So doo-wops are for the girls, and hooligans are for the guys."
Genre not found
Artist not found
Album not found
Search results not found
Song not found
Easy come, easy go, that's just how you live, oh
Take, take, take it all, but you never give
Should have known you was trouble from the first kiss
Had your eyes wide open
Why were they open? (Ooh)
Gave you all I had and you tossed it in the trash
You tossed it in the trash, you did
To give me all your love is all I ever ask
'Cause what you don't understand is
I'd catch a grenade for ya (yeah, yeah, yeah)
Throw my hand on a blade for ya (yeah, yeah, yeah)
I'd jump in front of a train for ya (yeah, yeah, yeah)
You know I'd do anything for ya (yeah, yeah, yeah)
Oh, oh, I would go through all this pain
Take a bullet straight through my brain
Yes, I would die for ya, baby
But you won't do the same
No, no, no, no
Black, black, black and blue
Beat me 'til I'm numb
Tell the devil I said "Hey" when you get back to where you're from
Mad woman, bad woman
That's just what you are
Yeah, you'll smile in my face then rip the brakes out my car
Gave you all I had and you tossed it in the trash
You tossed it in the trash, yes you did
To give me all your love is all I ever ask
'Cause what you don't understand is
I'd catch a grenade for ya (yeah, yeah, yeah)
Throw my hand on a blade for ya (yeah, yeah, yeah)
I'd jump in front of a train for ya (yeah, yeah, yeah)
You know I'd do anything for ya (yeah, yeah, yeah)
Oh oh, I would go through all this pain
Take a bullet straight through my brain
Yes, I would die for ya, baby
But you won't do the same
If my body was on fire
Ooh, you'd watch me burn down in flames
You said you loved me, you're a liar
'Cause you never, ever, ever did, baby
But darling, I'd still catch a grenade for ya (yeah, yeah, yeah)
Throw my hand on a blade for ya (yeah, yeah, yeah)
I'd jump in front of a train for ya (yeah, yeah, yeah)
You know I'd do anything for ya (yeah, yeah, yeah)
Oh oh, I would go through all this pain
Take a bullet straight through my brain
Yes, I would die for ya, baby
But you won't do the same
No, you won't do the same
You wouldn't do the same
Ooh, you'd never do the same
No, no, no, no oh
Lyrics © BMG Rights Management, Universal Music Publishing Group, Round Hill Music Big Loud Songs, Downtown Music Publishing, Warner Chappell Music, Inc.
Written by: Andrew Wyatt, Ari Levine, Bruno Mars, Christopher Brown, Claude Kelly, Jeff Tweedy, Philip Lawrence

Lyrics Licensed & Provided by LyricFind
To comment on specific lyrics,
highlight them