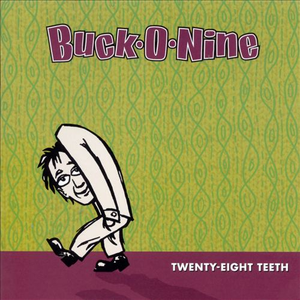 Buck-O-Nine formed in a small warehouse in the early part of 1991. Based in San Diego, the band was on the horizon of a change in the music industry. At the time the catch phrase was "Grunge." The band was eager to take a different path. With their backgrounds in Punk/Metal bands, Reggae bands and 2nd wave Ska bands, Buck-O-Nine had the formula for what was to become a new mutation of sounds. Inspired by the early founders of this new sound, Buck-O-Nine admired the works of Fishbone
Read Full Bio
Buck-O-Nine formed in a small warehouse in the early part of 1991. Based in San Diego, the band was on the horizon of a change in the music industry. At the time the catch phrase was "Grunge." The band was eager to take a different path. With their backgrounds in Punk/Metal bands, Reggae bands and 2nd wave Ska bands, Buck-O-Nine had the formula for what was to become a new mutation of sounds. Inspired by the early founders of this new sound, Buck-O-Nine admired the works of Fishbone, Operation Ivy, The Mighty Mighty Bosstones and the Voodoo Glow Skulls.

Buck-O-Nine has released several albums including Songs in the Key of Bree, Barfly, Twenty-Eight Teeth, and Libido.

Currently Buck-O-Nine still plays shows for fun. They have re-connected with the positive, fun vibe that the band originated from.
Genre not found
Artist not found
Album not found
Search results not found
Song not found
Two lovers are havin' their fight again
They're tired of sayin' goodbye
Standin' on the beach side
Listenin' to the feet of the passers
On the sidewalk there
Don't make me part of your life again
'Cause I'm tired of sayin' goodbye
Ridin' on my skateboard
Knockin' all the pretty boys in my way
'Cause I'm just a round kid
Causing mass hysteria
And I know something nobody knows
Just a round kid
Causing mass hysteria
And I know something nobody knows
You ask me if I'm real or not
But what is real or not
Am I completely right
Or am I just lost and misguided?
There is somethin' you oughta know
What is real or not
That there is nothin' wrong
So don't tell me I need any counselin'
I'm just a round kid
Causing mass hysteria
And I know something nobody knows
I'm just a round kid
Causing mass hysteria
And I know something nobody knows
Nobody knows
Bring it on
Just a round kid, just a round kid
I'm just a round kid, just a round kid
Just a round kid, just a round kid
Two lovers are havin' their fight again
They're tired of saying goodbye
Standin' on the beach side
Listenin' to the feet of the passers
On the sidewalk there
Don't make me part of your life again
'Cause I'm tired of saying goodbye
I'll be ridin' on my skateboard
Knockin' all the pretty boys in my way
'Cause I'm just a round kid
Causing mass hysteria
And I know something nobody knows
'Cause I'm just a round fucking kid
Causing mass hysteria
And I know something nobody knows
Body knows, body knows, nobody knows
Nobody knows, nobody knows
Nobody knows, nobody knows
Lyrics © O/B/O APRA/AMCOS

Lyrics Licensed & Provided by LyricFind
To comment on specific lyrics,
highlight them